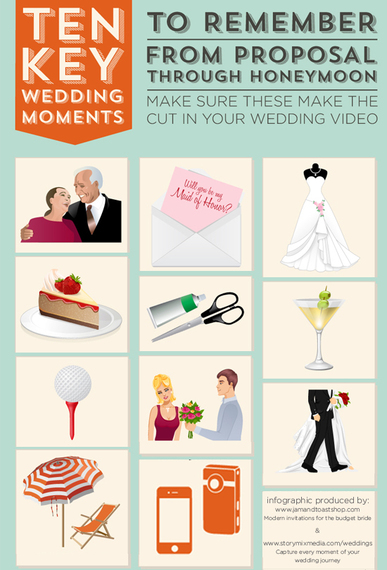 Photo courtesy of Ariane Fisher
Unlike many women, I hadn't been dreaming of my wedding day since the age of five. I had no grand vision. Backyard barbeque would have been fine by me. Luckily, my man declared, "We will have a huge party on our meager budget. I'll plan it. You make it happen."
Our priorities were the killer bar band that would refuse to play any dumb wedding songs and the top shelf liquor. Between the band, the booze, and our huge guest list, there went most of our wedding budget. So DIY it was.
Despite the strict budget, our wedding was an extravaganza to say the least. Yet, there was one crucial detail that was completely left out -- we didn't have a wedding video.
Sure, our guests took pictures of our vows and cake-cutting, but I realized too late that it was the wedding planning details and candid reception moments that actually meant the most to me.
Thinking back now, here are the five priceless moments from our wedding that I wish I had caught on video:
Dress shopping. It was fun. I went with my mom, sister and two best friends. The arguments of who looked worse in the dresses were kinda hysterical. And come on, you have to do the twirl!
DIYing While I didn't have a vision for my invitations, I did want them to be unique. So I learned how to print and emboss. We had a glue gun/embossing party. Yes, there was alcohol involved. And glitter everywhere. I'd love to relive my father-in-law sprinkling silver glitter onto purple paper. I'm sure that never happened before or since.
The Bug-Eyes Oh, the bug-eyes. I had a $500 budget for a wedding dress. What was a girl to do? So, I taught myself to sew and spent the money on top-shelf fabric. I didn't account for the alterations though. My friend, who is a seamstress, gave that to me as a wedding gift. Unfortunately, we didn't take into account that altering the neckline would have unintended consequences. The nineteen yards of fabric (literally) in the skirt portion, weighed down the top, so the alteration made the dress VERY low cut. I never wore low cut outfits. And pre-kids, I was sporting some nice boobage. The very first time my man saw me in the dress was in the church... coming down the aisle. Me and my boobage. And I wish I caught his bug-eyes on video!
Our Drunk Moms Our moms are not big drinkers, but who can refuse a live band and Jack Daniels. And what could be more entertaining than drunken moms in a mosh pit???
Camping Adventure Honeymoon Lastly, the honeymoon. We did a two week adventure around western Oregon, northern California and a bit of Washington. Skiing, hiking, dune buggies, camping... we did it all. And I have no video of it! I totally wish my man got video of my face plant on a black diamond slope of Mt. Hood.
Looking back at my own wedding day, it wasn't the "big" moments like my walk down the aisle or reception toasts that ended up meaning the most to me.
I knew I couldn't be the only one that had post-wedding regrets about not filming. I caught up with some of my favorite wedding bloggers to find out the special moments they wish they had caught on film.
According to Emma, the awesome Editor-in-Chief of Emmaline Bride, most pre-wedding DIYing is neglected as being part of the wedding fun! The clever-as-she-is-crafty blogger said: "I wish I had captured more of the DIY details that my husband and I did behind the scenes, such as making our own favors, programs and selecting songs for our playlist."
Still others love the surprise-factor moments: "The first look is such a romantic thing for couples to do on their wedding day," notes Kate from 2Life Wedding Planning . "The focus is on the couple seeing each other in their wedding day best and sharing a private, intimate moment before the ceremony...seeing each other for the first time is still special if a couple waits until the altar, of course, but then the focus is on the ceremony, and not on the reveal."
"I'd actually say that we had so much fun at our rehearsal the day before, said Summer, the amazing stylist over at Grey Likes Weddings. "We actually did a brunch afterward, we played an impromptu softball game and really had so much fun with all our friends. We had a few iPhone videos to remember the time but I would have loved more from the day."
Sometimes, photos just don't cut it. While Ariel from Offbeat Bride had wonderful wedding photos, she knows the struggle of not having a wedding video. "I was married in 2004, before the age of ubiquitous iPhones. While our photographer did a great job, the only videography we had was a cousin-filmed shaky video of our ceremony -- and his recorder's battery ran out halfway through! I super wish we had some video from our reception..."
Here's an infographic I created to help you capture those key wedding moments on photo and video. This graphic is a great cheat-sheet to make your wedding photo and video planning easier.