While we are involved with thousands of weddings per year at WeddingMix, it's still not unusual for me to make a personal connection with the brides. Kellie touched a special place in my heart as we were both unsure whether we would be able to walk down the aisle for our weddings.
We shared stories of doctors doubting our symptoms, and the hopes, fears, and doubts wrapped up in such a special day. We shared the relief in finally receiving a diagnosis, even if it was scary, because someone validated that you weren't crazy!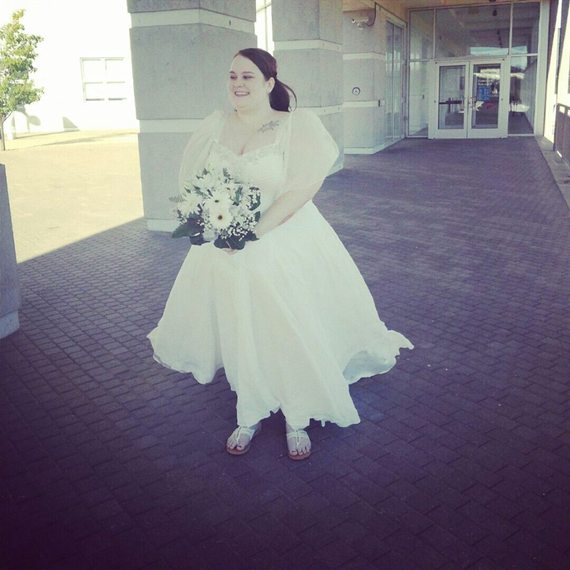 Though Kellie was diagnosed with the rare bone disorder, Ehlers-Danlos Syndrome (EDS), she was elated to get clearance from the doctors to walk down the aisle. EDS is not life-threatening, so as you'll see in their wedding video, she and David were looking forward to many happy years together.
And then came the email from David. Kellie unexpectedly passed away a few months after their wedding from pneumonia. He found it too difficult to look through their wedding video clips and wanted our editors to pick the scenes for him.
What we found was simply beautiful. While Kellie herself appeared in the video, we also found a lot of scenes filmed by her. It was like her personal memento of their big day and how she wanted to remember it forever.
As David said:
"It's impossible to convey how confusing and difficult grief is, but I'm so glad we'll have these memories forever."

"It's not easy watching the wedding video knowing I can't wake up to her beautiful face every morning, but it helps me feel the joy I felt on my wedding day.​ I felt her spirit moving inside me, urging me on and to live the best life I could in the wake of such magnificent loss. Kellie was very active in the Ehlers-Danlos Syndrome (EDS) community and a big part of the research program at the University of Washington.

To keep and cherish her memory, I became more active in the EDS community and started a nonprofit organization that makes knee-high boots with unorthodox materials like patterned duct tape, fake moss, old soda cans, etc. I started making boots for others who have EDS and was praised because the boots helped keep the wearer's joints in place and, as a result, took away some pain. The boots were also unique and, when worn, received a lot of compliments, which was an icebreaker for the wearer to tell about EDS and why research is important.

My boots started getting more attention outside the EDS community and so I created an online store for them. All net proceeds of boot sales go to the University of Washington's Ehlers-Danlos Syndrome Research Program. Every time I make a pair of boots, I know Kellie is watching and smiling down on my efforts. It is my hope that I can raise enough money to help people who cannot afford the genomic testing and DNA sequencing necessary to get an accurate diagnosis. I attached some pictures of my boots. Two are patterned duct tape and one is fake moss. You can also see more at my website: www.zboots.org."