I'm delighted to announce HuffPost's latest e-book, Beyond The Battlefield: The War Goes on for the Severely Wounded, by David Wood. As HuffPost's senior military correspondent, David spent nine months speaking with severely wounded veterans of the wars in Iraq and Afghanistan. In addition to soldiers and their families, he interviewed more than two dozen military surgeons, combat medics, rehabilitation therapists, prosthetics engineers, nurses, operating room technicians and medical officials at the Pentagon, the Department of Veterans Affairs, and military hospitals and treatment facilities across the country.
The result is both grim and inspiring, heartbreaking and optimistic. It speaks to the amazing resilience of the human spirit in the face of war's persistent horrors -- the kind of horrors that go on long after the troops come home.
Beyond the Battlefield is a clear instance of a writer being supremely suited to his subject. David's background as a Quaker and conscientious objector, and his long experience covering war, gives him a singular vantage point. In 41 years as a working journalist, he has covered war and conflict in three dozen countries, flown on B-52 and B-1 bombers, and embedded with U.S. forces in Somalia, Haiti, Bosnia, Iraq and Afghanistan. "I have been scared much of my professional life," writes David in the book. Yet he has written a book brimming with fearlessness.
Through his portraits of wounded soldiers, their loved ones and their caretakers, and through his portrayals of the dangerous conditions in which they serve and the trying world to which they return, David has crafted an immensely valuable mosaic of a vital segment of American life. He does not go about his work as a dispassionate fact-finder; much of Beyond the Battlefield's power comes from David's willingness to empathize. He is in awe of the acts of strength and grace he witnesses, and he does not try to hide it.
"As a war correspondent I have seen wounded men rescued like this from the battlefield, an intense and gratifying experience," he writes. "But I always wondered, What happened to them next? How did they fare, and what was it like for them, and what are their lives like now?"
His quest to answer these difficult questions brings him into contact with an array of heroic Americans. There is Tyler Southern, the 22-year-old Marine Corps corporal who lost both legs and an arm to an IED in Afghanistan, in an explosion so powerful that only pieces of his legs and boots were found. Then there is James Stoddard, the 19-year-old Navy Corpsman who saved Tyler's life, quickly harnessing tourniquets where his limbs had been, plunging an IV needle into his remaining arm and helping lift him onto a medevac helicopter.
And while David's time with wounded veterans forms the crux of the book, his reporting yields another powerful conclusion. "Courage is not confined to combat," he writes, "and heroes don't always wear uniforms."
For example, he profiles Luana Schneider, whose 22-year-old son Scott Stephenson was critically burned in a bomb blast in Iraq. After flying to his bedside at Brooke Army Medical Center in San Antonio, where he endured multiple surgeries, Luana lived with Scott in a tiny hotel room adjacent to the hospital and dressed his wounds twice a day. He also introduces us to Lisa Fierro, who strives to retain a sense of normalcy for her two young sons after her husband Robert is shot in the head in Iraq. Her resilience in the face of this trauma is astounding: "I was determined for the kids that this not be the kind of thing where they'd look back and say, 'Well, we had a great childhood until my dad got shot,"' Lisa told David. "I wanted it to be, 'We had a great childhood and my dad got shot and we got to go to D.C. for a month and we had a great time!'"
Of course, it is not all optimism and resiliency. Part of the strength of Beyond the Battlefield lies in David's insistence on reporting, with devastating specificity, on the "sordid, ugly business" of war. He notes, for example, that as insurgents in Iraq and Afghanistan have perfected IEDs, the number of U.S. soldiers suffering the traumatic loss of their legs and genitals has increased. As the chief physical therapist for amputees at Walter Reed Medical Center tells David, the first question many patients ask when they wake up is, "Are they still there?"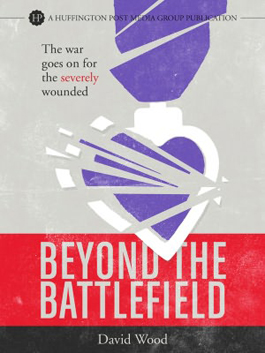 As HuffPost's executive editor Tim O'Brien wrote in his powerful series introduction, Beyond the Battlefield is "a deeply-felt, hard-won and wide-ranging exploration of what it means for a soldier to suffer extraordinary, disabling wounds -- and how friends, families, and hometowns, as well as the military and medical communities, adjust and respond to the physical and emotional struggles these wounded warriors endure."
Beyond the Battlefield is an exemplary piece of purposeful journalism and a significant feat of storytelling. It is a tribute worthy of the men and women whose lives it chronicles.
You can get Beyond the Battlefield, which was created and distributed using BookBrewer, at Amazon, iTunes, Barnes & Noble, and Kobo.