In this week's issue, Jaweed Kaleem looks at the state of American conversation around "the big questions," as students return to college campuses across the country.
"In dining halls and dorm rooms, as students come together with people of vastly different backgrounds and perspectives, they'll continue the typical college traditions of late nights, long conversations and self-discovery," Jaweed writes. "And when they graduate, they will face a challenge much steeper than any college exam or doctoral dissertation -- carrying that spirit of inquiry with them into the real world."
In other words, after graduation, what happens to those discussions?
As clinical psychologist Sherry Turkle puts it, "we have stripped away so many of the conditions that make conversations like these flourish. And the condition that makes it flourish, in many cases, is the uninterrupted full attention to each other."
Technology, in part, is to blame. The more connected we are to our devices, the more we engage in superficial interactions that create the "illusion of companionship" without the "demands of friendship," as Turkle puts it.
Jaweed also speaks with David Brooks, who has written extensively in The New York Times about the decline of the "humanist vocation," and a shortage of people asking the enduring questions. As Brooks puts it, "People are hungry for a certain kind of writing about these issues, but we no longer have that kind of group of writers widely discussing how you measure a life."
It's a change that is reflected across college campuses as well, where only 7 percent of graduates major in the humanities -- half the number from 50 years ago.
Elsewhere in the issue, we feature the voice of New York farmer Bob Comis, who reflects on his own humanity in a haunting piece about killing for a living. He charts his personal evolution from someone who felt deeply the death of every farm animal he slaughtered to one who has become inured to death and dying. As he puts it: "after taking part in the deaths of nearly 2,000 animals, death has become a shadow of what it once was to me."
Bianca Bosker explores the cultural significance of Google Glass' presence in the pages of Vogue's September issue. "Its placement in a high-fashion magazine alongside a $1,545 mohair sweater, $2,300 turtleneck and $4,490 teal coat is a step toward positioning the wearable device as a status symbol," Bianca writes, comparing it to how Apple has elevated gadgets to the level of fashion accessories.
Finally, as part of our continuing focus on The Third Metric, we look at the many ways changing your breathing can change your life for the better.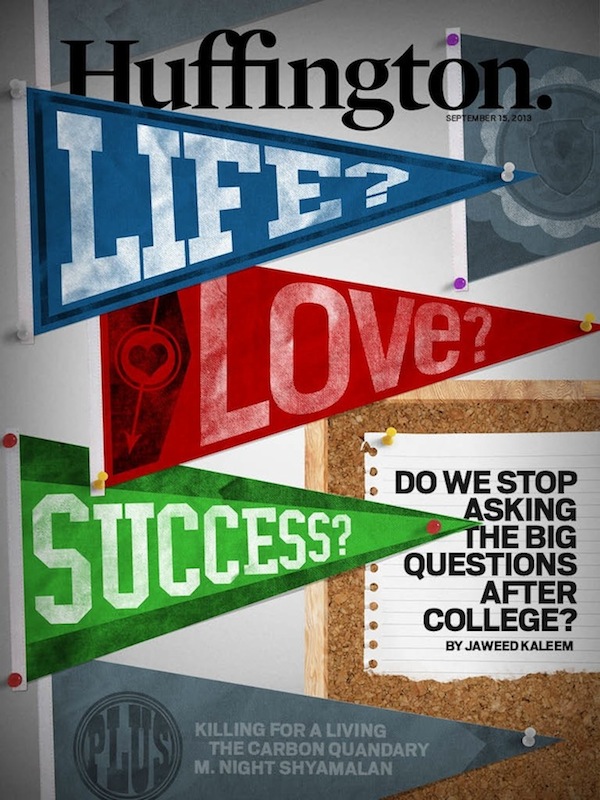 This story appears in Issue 66 of our weekly iPad magazine, Huffington, in the iTunes App store, available Friday, Sept. 13.