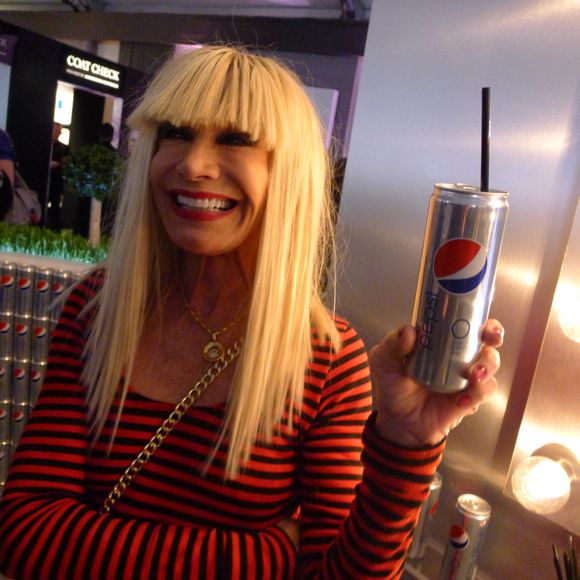 Photo: Ariston Anderson
Last year, Marc Jacobs grabbed headlines when he picked a couple of girls off the street to walk his runway show. He just loved their style, much to the envy of wannabe models everywhere. This year Betsey Johnson takes it a step further. How much further? Luxist has the scoop.
We spoke to the amazingly down-to-earth designer at the Diet Pepsi lounge at Lincoln Center this morning, where she stopped by for a brief meet-and-greet. Dressed in her lucky studded New York belt, a draped Alexander McQueen scarf, and quintessential red lipstick, Betsey Johnson was full of a shocking amount of energy after her long week leading up to the tents.
When Betsey Johnson comes to fashion week, there's never any doubt that she'll bring a wealth of surprises with her. And this year is no exception. She's going to show her collection, she tells Luxist, on "50 real girls that we employ, with all kinds of body types: tall, short, wide, slim. So it's going to be a lot of fun and very exciting." After viewing a week of maudlin waifs (no offense to waif-y women) we can't wait to see a real collection on true women. Johnson's dresses are made for the original party girl and it's refreshing to see a designer take into account her fanbase at fashion week.
And what can we look forward to during her Monday evening show? "The presentation, the opening, the celebration of a brand new moderately-priced, massed-produced Best of Betsey collection," says Johnson. "It's finally all of my favorite stuff together. I'm kind of going up a notch with the regular collection, down a notch in price for the volume collection." While her Betsey Johnson line will keep prices in the $250-$300 price range, her new fashion for the masses collection will include items as low as $30. Quality fashion at either price point is a welcome gift for any fashionista.

Read more at AoL's Luxist.com.