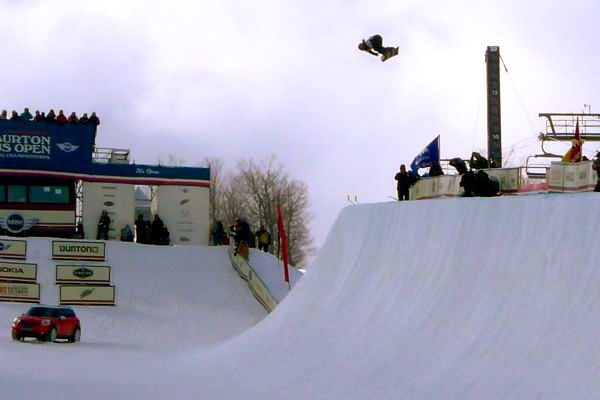 Shaun White rises above
It's hard to imagine a time when snowboarding wasn't in the mainstream, yet it has come a long, long way since the early Snurfer races of the 1970s. This past weekend wrapped the 2012 Burton U.S. Open took place in Stratton, Vt., an event founded by Jake Burton 30 years ago to celebrate the progression of the sport with new riders on the scene and established athletes continuously pushing the boundaries of what can be done on the board. "I feel like a curator," said Burton in Stratton. "It's a very valuable, established, important event," with the main emphasis still being on having fun.
In the past three decades this relatively new sport has broken into the Olympics, grown into a billion-dollar industry and, most importantly, established a new fellowship on the snow, uniting people from the U.S. to Japan. Snowboarding is one of the most consistently evolving sports: The half-pipes are getting higher and the gear is constantly improving, responding to the needs of its riders every year. Prizes have also blossomed, with this year's U.S. Open giving away a total purse of $240,000.
The 2012 Burton U.S. Open did not disappoint in showing the latest death-defying tricks, while also paying homage to the history of the sport. The whole cast of characters was on hand from the gods of snowboarding to the sport's newest players.
Shaun White played his usual rock star role, killing the half-pipe with a flawless first run that instantly landed him at the top of the leader board. With half a dozen tricks including a backside double McTwist 1260 and an alley-oop backside rodeo, no one could compete with his initial 90.44 score. Dressed like a motorbiker in his trademark skinny black, White struck more poses than Angelina at the Oscars and appeased fans with dozens of autographs after his run. Elena Hight won first place for the women's half-pipe with impressive back-to-back 900 degree spins.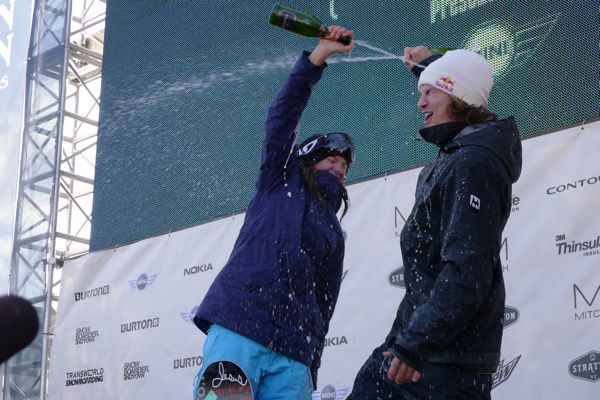 Iouri Podladtchikov and Kelly Clark have reason to celebrate
Iouri Podladtchikov and Kelly Clark took home the 2012 Burton Global Open Series half-pipe championship titles, with the Vermont competition rounding out similar events in Europe, Canada and New Zealand. The 28-year-old Clark, who has been competing since she was 15, credits the sport for providing ample room for creative expression. "You can never really arrive," she said. "It's always progressing." Jamie Anderson and Sebastien Toutant swept the slopestyle finals, earning both U.S. Open and Global Open titles, each one carrying a $25,000 cash prize.
Presenting sponsor MINI awarded $5000 "Creative Use of Space" awards for best tricks to Ellery Hollingsworth and Taku Hiraoka for the half-pipe competition and Enni Rukajarvi and Seppe Smits during the slopestyle competition. Big winners Jamie Anderson and Ryo Aono took home new MINI Countryman vehicles for scoring the most points across all events.
The sheer camaraderie of the sport was exemplified in the youthful energy of some of snowboarding's biggest names present. Kevin Pearce of the Frends Crew, after being critically injured in 2009, is now back on a board but is unlikely to get back into competition. It hardly mattered though, as the wide-grinning athlete hung out at the bottom of the half-pipe and encouraged the thousands of spectators present to keep cheering loudly for the riders.
Burton's nonprofit Chill represented by bringing a lucky group of kids to the slopes to watch the magic. Chill gives at-risk youth an opportunity to learn snowboarding, all while learning about the persistence and patience necessary to do well in a sport that emphasizes friendship over competition. "That's what Chill is all about, exposing kids to new stuff that they never would have seen," said Burton, who founded Chill with his wife Donna. "I rode with them yesterday for a few hours and it was so much fun. They're so stoked to be here."
Today's generation of boarders are constantly on the hunt for new tricks to transform the sport. Yet they haven't forgotten the steps taken to make snowboarding what it is today. A tongue-in-cheek Washed Up Cup allowed some of the original legends to compete in the original style with no hard boots or alpine race equipment allowed. The race featured U.S. Open legends like Seth Neary, Seth Miller, John Gerndt, Chris Doyle, Tricia Byrnes, and Ian Price competing on a gated course with freestyle elements. Curt Gurry and Amy Herrmann took home top prizes.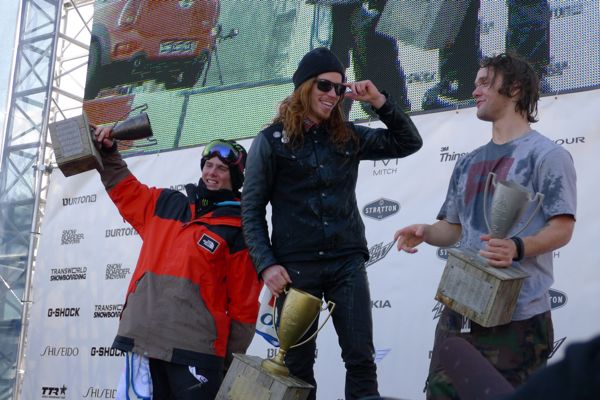 Half-pipe Winners Benji Farrow, Shaun White & Louie Vito
"The U.S. Open has so much heritage behind it. You look at the list of people who have won the Open and it's just really legend after legend." said Louie Vito, who took home the second place half-pipe prize. "Seeing all these snowboarding legends at the Washed Up Cup ride by you, it's hard not to be starstruck because no matter how good of a snowboarder you are, those guys made the sport what it was. You'll never trump that no matter how well you do in snowboarding."
But no man gets more credit for shaping the sport into what it is today than the U.S. Open's pioneer, Jake Burton. "I still get stoked to see him at the bottom of the pipe," said Vito. "You get starstruck because Burton's such a big company. And when you have Jake Burton who started it there, who has been backing this for 30 years, you know shaking hands with the riders, cheering for people and mingling with the crowd, that's a really cool thing to see. And I think it's rare to see it in any other sport but snowboarding. It's all about making sure people are having fun because that's what our sport is all about."