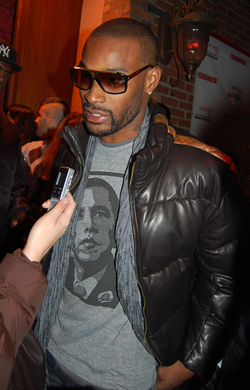 On his Saturday Night Live guest appearance this weekend, Senator John McCain poked fun at his own lack of celebrity endorsements, noting that "My only showbiz connections are Jon Voight and Heidi from the Hills." Wait, are you forgetting about your Daddy Yankee press op? That was huge. Perhaps the revelation that Daddy Yankee can't actually vote in this election diminished his star support. It's no secret that Obama has the monopoly of endorsements. If your zipcode is 90210 and you haven't been paparazzied in a Shepard Fairey "Hope" T-shirt, or made a homemade YouTube PSA, you haven't done your patriotic part.
But how much do celebrity endorsements matter? If Joe the Plumber is a Coldplay fan, will he think twice when Chris Martin screams "Obama!" at the end of his SNL act? Will the Republican housewife who loves Sex and the City do a double-take at Sarah Jessica Parker's phone bank volunteering? And what about the complacent youth, who might just decide to get off the couch when they see their favorite hip hop and heavy metal acts line up for the polls? At least one household name can back their support with numbers. Obama's campaign has estimated that the Oprah effect has led to 10,000 new volunteers and increased attendance at rallies.
While many studies (from Gallup, CBS News, and Pew) have announced that celebrity endorsements won't change a voter's opinion, a new study by Washington State University shows that campaigns such as those run by Christina Aguilera, Sean "Diddy" Combs, and Beyonce Knowles have been extremely affective in galvanizing the youth vote. "Celebrity endorsed campaigns successfully lowered complacency and helped young people believe in their own impact on the political system," reads the study. "Young people got involved at higher levels and became increasingly aware of societal issues." So while, celebs might not be changing minds, their increased exposure in this election is expected to raise the number of voter turnout.
We decided to ask the celebrities themselves what they thought. At the DNC this summer in Denver, Joy Bryant told us they may matter, and they may not, but ultimately she's just happy that people in general are making their voices heard in this election. "When John Kerry was running for president you had all the celebrities come out and whatever. I was one of them," she says. "I signed my name with people who were hosting this thing or that thing. But it's not about the endorsement really. That's really the key." Bryant was one of Obama's early supporters, saying that when she met him years ago when he was running for Senate, she was excited. "I was just like, "I'm shaking the hand of the President of the United States!" I don't know why I said that, but I did."
Last Thursday, we hit up The Source Magazine & The Hip-Hop Summit Action Network's I AM C.H.A.N.G.E. Initiative Event, which was a last effort to get out the youth vote. HSAN co-founder, President/CEO Dr. Benjamin Chavis believes that celebrity endorsements absolutely will affect voter opinion. "Celebrity endorsements make a big difference, but it depends on who's the celebrity," he says. "If it's a hip-hop celebrity, it makes a huge difference."
Rapper Bow Wow, who used to think voting was for old people, went from hanging out at malls and catcalling girls to launching a 15-city bus tour to encourage youth voter turnout after he witnessed firsthand how the financial crisis was affecting his friends and family. Bow Wow told us that of course celebrity endorsements will affect voters, " because you might have some kids who pay attention to a sports figure or a rap figure more than their own parents. It's sad but they might look at 50[Cent] as a hero, or T.I. as a hero, or [Lil'] Wayne as a hero. And if Wayne said it, then they'll do it. So I definitely feel as a hip-hop artist and with regards to celebrities, we definitely have a big push on what we say."
Ice-T tells us he didn't really believe celebrity endorsements matter, and can even be used against the candidate. "I don't flatter myself in thinking that anybody cares," he says. "I mean, honestly, I was more concerned with endorsing Barack and [the McCain campaign] trying to say, "Oh, Ice T, he made 'Cop Killer'." You know, they're doing such dirty things that if you come out and say something, they'll pull out my jail record and try to twist a man. Ludacris made a record and they went there. So I'm just like, I'm going to keep it on the DL, because they're playing such incredibly low tactics."
And Tyson Beckford tells us, "I think it does because a lot of people do believe in what we say. But people should have their own opinion, basically. You don't have to have a Paris Hilton, or a P. Diddy, or myself to tell you to go out and vote. You just should go and vote because you have an opinion."
Well just how the celeb endorsements will affect the ballot numbers, only time will tell. With less than a day to go, if Obama secures the presidency, there'll be no denying that Hollywood did their part in making it happen.
For more celebrity endorsements, check out CelebsGoneGood.

Additional reporting by Christiana Molina and Julia Steers