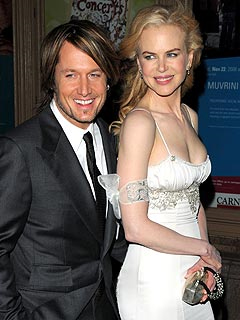 The 19th Annual Glamour Women of the Year Awards last night filled Carnegie Hall with a slew of A-listers from the art world, Hollywood, and Washington, as well as some international activists ready to inspire the audience into...Change.
The ceremony opened with a dolled-up Fergie, wearing a full-length white ball gown singing her inspirational song "Finally." Her attempt at soul was a bit distracting. My friend leaned over and asked me, "Did she just say, 'finally, now my life doesn't stink so bad?" That's what I thought. Turns out the actual lyrics are "finally, now my life doesn't seem so bad." Damn, we love us some Fergie, but wished she would have just pulled out some Fergalicious or London bridges.
Kate Bosworth introduced her style icon, CEO of Chanel, Maureen Chiquet, a woman from Missouri who fell in love with France. Her career path went from Old Navy to Banana Republic to...Chanel. That's quite the career path. Imagine getting freebies from Old Navy one day and the next day your wardrobe is full of comp Chanel. How she did it? She asked. "When you know what you want, you have to ask for it," she advised the ladies in the audience. That's what landed her top dog at BR, anyways. Maureen, could I have some Chanel leftovers, please? It doesn't hurt to ask.
Next up, Mayor Michael Bloomberg introduced media mogul Tyra Banks. He told a little story of how Maya Angelou had encouraged Tyra to be a swimsuit model, but Tyra thought she had too many swimsuit ads in her past for that. "Funny, I thought the same thing [about myself]," said Mayor Mike. But that didn't stop him. Another thing they have in common? "She's 6'2 in heels," he joked. That's no joke, as Tyra came out, towering over our dear Mayor.
Tyra gave us some inspiring words from her mama: "If the front door is locked, go thru the backdoor. And if that is locked, go thru the basement or the cellar. And if that doesn't work, climb in through the window." You could see Bloomberg leaning forward (the White House on his mind?) as Tyra told us, "the path to get inside is not always a straight path. So get in any way you can."
Salman Rushdie next introduced his friend, artist Cara Walker, comparing her silhouette work to the man in the Hans Christian Andersen's story, "The Shadow," whose shadow ultimately becomes bigger than his being. Cara accepted her award saying, "As a visual artist, we're not really required to say much." I guess she leaves that up to the critics. But she did explain, "I draw stories that are too hard to verbalize." And thank goodness for that, Cara.
Next up former Glam award winner Barbara Walters presented to Condoleezza Rice, offering that Condi should be awarded just for waking up early enough to exercise an hour each day. She hoped that Condi can one day stop and have time to smell the roses, "and maybe even to fall in love." JAB! BABS! Condi was looking very Thandie Newton (read: gorgeous) in a brown and gold brocade gown. She said that Obama's win as the first black president, "is pretty special to a little girl from Birmingham, Alabama."
Everyone's favorite NBC page Jack McBrayer came out in Oakley shades to present to his Olympic idols Misty May-Treanor and Kerri Walsh. We must say Jack was acting very "Kenneth-like" throughout the ceremony, all smiles and giggles. His 30 Rock co-star Jane Krakowski came out, and they translated the meaning of various volleyball high-fives (e.g. a double high five, down low means "Ooh we nailed that girl!").
The highlight of the night was when Debra Messing presented the Lifetime Achievement award to primatologist Jane Goodall. Who didn't want to be Jane when they were a kid? Jane did a special chimpanzee call to a group of girls from her not-for-profit Roots & Shoots, who were sitting in the upper balcony. The 74-year-old activist shared with us the secret of having the energy to travel 300 days a year: all of the amazing people she gets to meet (present company not excluded). Jane reminded us that activism is threefold: animals, people, and the environment, and it wouldn't be prudent to focus solely on one of those.
Nicole Kidman then took the stage, revealing that she had only achieved balance in her life when she met Keith Urban. "Three and a half years ago a man came along and said, 'I'm going to take you to Tennessee.' And he took me down there and he said, 'I think you deserved to be loved. Let me love you, let me give you a home, and let's make a baby.' (And not some weird scientology baby). Keith jumped out of his seat to lead Nicole's standing ovation the second she finished her speech. Awwww.
And to top off the night, none other than the trailblazer herself, Hillary Clinton. Friend Mary Steenburgen presented the American Idol fan with a surprise, a one-on-one serenade from David Cook with "The First Time Ever I Saw Your Face." A flashback video revealed to us that Hills was the original Gossip Girl Blair Waldorf, rocking headbands way before they were cool. And she thanked Glamour, who always did like her pantsuits. Hillary told us that no matter how many amazing people Barack Obama is surrounded with, "He can't do it alone," and thus we all need to be his partner in the next four years. Honoring her former opponent the night of her award? Definitely a Do.