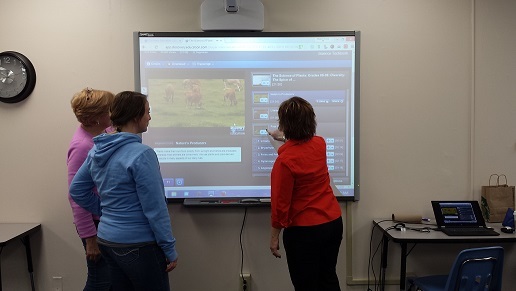 Discovery Education trainers guiding teachers in Missouri on how to maximize student engagement in a "science techbook" course.
Photo provided by Discovery Education
Blended learning models, designed to deliver highly personalized education, call for radically different teaching techniques than those leveraged in traditional K-12 classrooms. But there are no system wide policies to create or implement this evolving tech-driven, education approach, which combines online classes with face-to-face class time -- typically where students go at their own pace. So in the scattered regions where these models are sprouting, schools are figuring out on their own how to reinvent curricula. How to address technology challenges, and how to prepare teachers for a brand new role.
Faculty need to be tech-savvy as new tools are introduced to the classroom. They have to be versed in assessing volumes of digitally-generated, real-time data on each student. And they must to be ready to change course fast to reinforce or reintroduce concepts, depending on what the data shows.
But it's not about the technology. It's about how teachers use the tools to take learning to the next level, according to Wendy Drexler, chief innovation officer at International Society for Technology and Education, who guides school systems in implementing digital curricula.
"Teachers need a professional model to support them in their changing role where they no longer make one lesson plan for everyone, but are facilitating learning with different students doing different lessons at the same time in the same class," she said.
Several Colorado schools are making the transition largely through peer-to-peer collaboration and by tapping into open-education resources, said Matt Samelson, director of Special Projects at Donnell-Kay Foundation. The nonprofit focuses on statewide education policy in Colorado.
"There are free lesson plans online. Districts with low per-pupil funding, especially, are utilizing these resources," said Samelson, citing examples like software called Clever enabling students to log on, one time, from one location, to link to all digital lessons. Teachers access continually updated student data from a dashboard [a user interface that presents information in one location]. And schools can add new learning applications.
American Federation of Teachers has an online lesson-sharing website called Share My Lesson, with free, downloadable teacher-generated instructional materials.
"The most successful schools are also relying on grassroots networks of teachers, principals and IT professionals who are on the ground, implementing blended learning. There's a blog called BlendMyLearning.com, facilitated by educators. Schools can reach out to contributors directly, or link to their schools or foundations where they work to learn more," said Samelson.
The schools forging ahead have cultures to support teachers within their brick and mortar spaces--from training them on the software, to giving them time during the day to collaborate.
"Faculty meet regularly to exchange ideas, to talk about where students are and how to provide information to them that is on point," said Samelson.
Still, Michael Horn, co-founder of Clayton Christensen Institute, involved in education policy, said technology issues can run deep.
"I worry about districts investing in computers for students without a plan for their use. Some are raising money on a 100-year school bond for devices that last three years. They need to understand how they want them to work," he said, citing a disastrous roll out at Los Angeles Unified School District--who invested in an iPad for every student.
Kids were losing devises. They were hacking into websites that the administration had blocked. And in general, there was no instruction design for technology use.
With a move to individualized, mastery-based learning, transitions between classes become harder to navigate.
Consequently, said Horn, "We need a system wide process to transmit student data to the next school to understand students' needs.
"And there should be a way that, at each stage of instruction, [schools] can expect students have gained certain knowledge and skills, regardless of where they received their last segment of instruction," said Horn.
Policy should focus on how much each student grows rather than what percentage are at a given grade level, he believes.
"Say a student enters fifth grade at a second -grade math level and the teacher gets him or her to a fourth-grade level in one year. In today's system, that student would be seen as failing, but such progress should be applauded. It would make expectations more realistic for teachers who would likely spend more time with the kids they may have otherwise felt no hope for," said Horn.
There are technology gaps that the Federal Communications Commission (FCC) is addressing at a national level. Funding for schools' broadband services for Wi-Fi connections, available through FCC's E-rate program, was expanded in 2014 to accommodate the growing number of schools leveraging digital learning. The program now provides schools with discounts on broadband ranging from 20 percent to 90 percent.
While policy evaluators agree that some system wide approaches are needed, primarily to address technology-related logistics and demands, many believe that a universal standard for program development would be a mistake.
"Schools need to be able to figure out different ways to make blended learning work, with consideration to their student population, how to utilize existing resources, and what resources need to be added," said Samelson.
There are learning curves. Andrea Bingham, an education policy researcher at University of Southern California, saw one model break down. She recently presented her ideas on why, and what might bring improvement, to the World Education Research Association.
"Teachers ended up returning to more traditional practices because [blended learning] created more work than was intended," she said of the large urban area school whose name she cannot disclose.
"There was no plan for keeping students on track, and teachers couldn't be everywhere at once, so many students fell behind."
Further, there were not enough teachers' aides to assist, and some teachers reported working 15-hour days. One teacher was facilitating 12 different math courses at one time.
"But many of these issues can be addressed at the school level or at the district level," she said.
For example, the principal at the school she followed invested in a "teacher dashboard" called Hapara that allows faculty to see students' online activity in real time.
"If a teacher saw that a student was messing around, she/he could send the student a direct chat instructing them to get back on task. This cut down on time spent off task," said Bingham.
The bottom line, she said, is that it's all in planning ahead, and having supports in place before rolling out. Namely there should be a way to ensure students are using technology productively. There has to be planning around how students will be trained to self-direct, if that's part of the model. And there should be consideration to how teachers will facilitate learning.
Meanwhile, a few states have taken large administrative leaps to support programs: North Carolina and Washington DC Public Schools appointed high-level managers to oversee blended learning. Ohio and California designated funds for digital learning initiatives. Colorado and a few other states allow Title I funds to flow to online schools (funding for low-income area schools and school districts).
"In talking to providers, we know there are now in excess of 7 million online learners in K-12," said Horn.
"Still, blended learning is in early stages of implementation," he said. "But we hope that the current efforts will force innovation in mainstream schools."
Read Blended Learning (Part 1): Changing the Face of Education