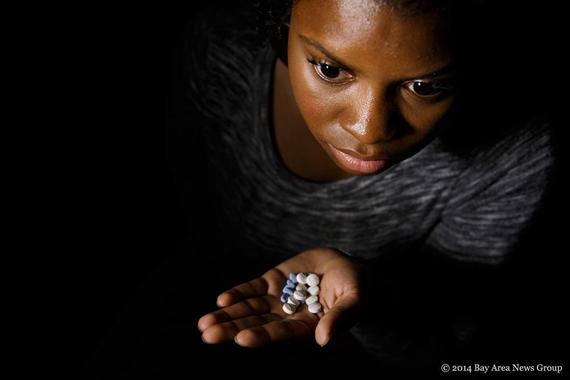 Photo credit: Dai Sugano/The San Jose Mercury News/Bay Area News Group
The release in late March of an alarming new report by federal investigators has confirmed in shocking new detail what has been known for years: Poor and foster care kids covered by Medicaid are being prescribed too many dangerous antipsychotic drugs at young ages for far too long -- mostly without any medical justification at all. The report by the U.S. Department of Health and Human Services (HHS) Inspector General examined in depth nearly 700 claims filed in 2011 in five of the biggest prescribing states -- California, Florida, Illinois, Texas and New York -- and discovered that two thirds of all the prescribing with these popular and costly "second generation antipsychotics" (SGAs) raised high-risk "quality of care" concerns.
The new report noted several disturbing examples, just a few months after an overmedicated teen in foster care, Steven Unangst, died in Antioch, California. The report cited a 10-old-year with ADHD given an antipsychotic -- without any medical documentation -- mixed in with other psych drugs; a 4-year-old on four psychotropic drugs, including two antipsychotics; and a 16-year-old with bipolar disorder on six psychiatric medications, including variously three antipsychotics. Among the side effects of this polypharmacy assault: "This child experienced paranoia, hostility, unstable mood, hallucinations, and suicidal thoughts. This child also experienced significant side effects potentially resulting from the prescribed drugs, including a 22-pound weight gain, insomnia, and edema (swelling) of hands and feet."
Perhaps even more damning, the report found, 92 percent of all kids on Medicaid receiving antipsychotics don't have any of the limited "medically accepted pediatric conditions" supposedly justifying their use. These "accepted conditions" include the authority to use antipsychotics even for autistic children as young as 5 for such dubious FDA-approved conditions as "irritability."
So just how far outside the bounds of sensible prescribing must a doctor be that government approval to provide antipsychotics to a 5-year-old child is somehow considered too limiting? Yet that's precisely the sort of free-fire-zone prescribing underway now for 92 percent of those kids receiving antipsychotics in foster care and the broader Medicaid program.
The Inspector General's report also noted that over half of kids receiving antipsychotics are victimized by "poor monitoring" of the drugs' risky health side effects -- which can include breast growth in boys, cardiac arrest, extreme weight gain and diabetes.
But the report and most of the few mainstream media accounts ignored altogether an even more fundamental example of failed oversight: the federal government's lax monitoring of state Medicaid programs dispensing these potentially life-threatening medications to children
Medicaid spends about $3.5 billion a year on antipsychotics for all ages, largely for unaccepted uses, with nearly 2 million kids prescribed them. Nationally, about 12 percent of all the nation's 500,000 foster care children have received Medicaid-paid antipsychotics at some point, often because they haven't been offered proven, "trauma-informed" intensive therapies, according to Kamala Allen, director of Child Health Quality for the Center for Health Care Strategies.
But Medicaid programs are generally all too glad to look the other way at such antipsychotic spending run amok. Why? "They're not willing to go up against the doctors or the pharmaceutical industry," says Jim Gottstein, a crusading Alaska-based attorney with the Psychrights.org advocacy group; although he hasn't won a whistleblower fraud lawsuit yet, he has been pursuing legal strategies -- with the recent go-ahead of a federal appeals court -- to force state and federal Medicaid programs to follow federal law and to stop paying for fraudulent, unproven uses of the antipsychotics. Even so, "Prevention of [improper] payment [is] beyond our statutory authority," HHS's Center for Medicare and Medicaid Services (CMS) insisted in response to a related 2011 Inspector General report about massive overprescribing in nursing homes.
With that sort of philosophy, it shouldn't be surprising to learn that federal officials aren't too keen on enforcing drugging protections for either nursing home residents (whose meds are usually paid by Medicare) or children on Medicaid. "The federal government has done absolutely nothing of significance to rein in overprescribing," says Bill Grimm, a senior counsel with the San Francisco-based National Center for Youth Law (NYCL) that has launched a PsychDrugs Action Campaign, now focused primarily on pending reform bills in the California legislature. "A mere 8 percent of the youth are receiving these drugs for 'medically accepted conditions,' so why is the federal government paying for the rest of them?" The agency within HHS charged with overseeing the joint federal-state Medicaid program, CMS, agreed to what Grimm and other critics see as mild suggestions from the IG to step up monitoring of pediatric antipsychotics, echoing the low-keyed stance of the GAO last year.
Facing little in the way of public accountability, officials at CMS and the sister Administration for Children and Families (ACF) overseeing foster care declined repeated phoned and emailed requests from me for comment on the specific, mounting criticisms of their prescription drug monitoring.
(They did send a few emails containing their assorted requirements that state governments send back their plans of "action." But these "protocols" don't require any specific, measurable goals or face any federal prescribing targets, mandates, sanctions or accountability, notes Anna Johnson, a policy analyst with NYCL. "Anything that the states copy and paste to send in will be approved," she says, describing what she sees as essentially a "toothless" charade.)
This lack of rigorous enforcement is especially disturbing in light of the real-world experience of clinicians who are seeking to help kids with emotional problems even as they've already been horrifically damaged by overdrugging. "I've certainly seen obesity up to a 100-pound weight gain in six months. Boys with gynecomastia [breast growth] have had breast lumps and have been lactating, and some of them have had mastectomies," says Harrisburg-based psychiatrist Dr. Stefan Kruszewski, who is also noted as a successful whistleblower in four separate lawsuits challenging illegal marketing of antipsychotics and dangerous psychiatric care. (That pattern was also involved in his own wrongful firing by a Pennsylvania welfare agency in 2003 after he reported medication-related deaths.)
"Imagine trying to be a 17-year-old black male in inner-city Philadelphia with breasts so large you should be wearing a D-cup bra -- and then trying to get along with your peers," he points out. "My introduction to this was a 16-year-old African-American boy and when I asked him to take off his shirt, he had massive breasts. He had been prescribed Risperdal for sleep for three years by his family doctor."
Federal Cheerleaders for Flawed Texas Response to Drugging Crisis
So just how bad is federal oversight? One sign of federal indifference, I have found, is that in 2012 the federal government touted to state agencies a Texas prescription monitoring program then so lax that Texas foster care children were 52 more times likely to be prescribed five or more psychiatric drugs at the same time than non-foster children, according to the GAO and a stinging ABC News report in 2011, based on the latest available data. But the Texas drugging "parameters," which helped turn too many kids into drooling, tremor-ridden "zombies," were lauded by ACF in 2012; they were subsequently revamped by state experts and replaced in 2013 with tougher standards that only began to take effect early last year.
Amazingly, the guidelines panel originally praised by HHS was stacked with two drug company-subsidized academics cited in court records for helping defraud Medicaid -- and an accused child-molester psychiatrist who was fired from a state hospital and is now facing sexual assault charges involving five minors in his care.
Even so, the state has made some progress in recent years reining in psychotropic use. State officials and even outside reform advocates proudly note that the use of such drugs by foster care kids for more than 60 days dropped from 30 percent in 2004 to just under 20 percent in the fiscal year ending in August 2013. Professor F. Scott McKowan, the director of the Children's Rights Clinic at the University of Texas Law School, declares, "Our guidelines were the best in the nation when they came out [in 2005] and they've only gotten stronger. We did have a problem and we did something about it."
This sort of provincial pride, though, downplays some stubborn problems, such as the fact that nearly a third of Texas foster care kids of all ages are still placed on psychotropic medications for some period of time. In addition, the percentage of children 2 and under getting psychiatric drugs rose nearly 50 percent between 2005 and 2013, the years when the ballyhooed reforms were put in place -- and today, an alarming 62 percent of all foster care teens are on psych meds, with nearly two thirds of those medicated youth on antipsychotics. Strikingly, that is a rise from the 58.2 percent of foster teens using psych drugs in 2008 cited in the shocking 2011 GAO report that prompted national cries for reform.
Indeed, after nearly a decade of hyped reforms, by 2013, just over half of the Texas foster care kids getting psychotropic meds were still receiving antipsychotics, mostly for unproven and unaccepted uses. These off-the-rails practices are common in all states, but even amid a grim national picture, Texas stands out: Its antisychotic use is higher than the national average of 42 percent for medicated foster care children. (On the plus side, the total long-term use of antipsychotics, 60 days and over, has dropped about a third for foster care kids since 2004.)
"Kids' bodies aren't meant to take that many meds," says Susan Rogers, a leading reformer who served on the board of the Texas Federation for Children's Mental Health and was a foster care parent for nearly 30 years. Texas removes relatively fewer kids from their homes to live with strangers than most other states, so there is a higher proportion of those in Texas foster care who are more seriously disturbed than such children in other states, Texas officials argue. In some ways, Rogers found that to be true: "The severity of the kids' problems increased every five years and it got to the point we were running a mental health facility," she says, who gave up with her husband in 2011 after they couldn't handle a psychotic teen they took in who also sought to wreck their long-standing relationships with foster care officials.
"We would take in kids so strung out and crazy on meds that we had to try to make their psychiatrists back off," she says. Yet before she ceased being a foster parent, she found that state-funded psychiatrists and social workers were too often indifferent to the disastrous side effects of the antipsychotics they gave to troubled kids who shouldn't have gotten them in the first place. "We had a foster daughter who blimped right up on Risperdal, gaining 60 pounds and who was so miserable she became anorexic," she recalls. "I had to buy her a totally new cheerleader's uniform."
Yet the child's psychologist, psychiatrist and social worker all insisted that she just keep taking the "wonder drug" Risperdal that, it turns out, had been fraudulently marketed to Texas Medicaid and promoted by drug industry-funded influential doctors throughout the state. "The psychiatrist wouldn't take her off this, and I said I'm going to do this anyway even if I lose my license [to provide foster care]," she says, noting that she had to slowly taper her off the medication and work extra hours with the school system to ensure the girl got added therapeutic services. "I'd rather have her on nothing and be crazy than be like this," she told the professionals who didn't seem to know much -- or care -- about what was happening to the distraught girl.
"We were screwed by the state," she says now of the apparently corrupted practices and rigged protocols that harmed her foster children.
Even though Rogers averaged about four foster kids at a time, another key factor driving the relatively high percentage of kids on psychotropic medications in Texas is the continuing use of larger "congregate care" settings for many Texas foster care children. "I don't believe we are making progress, and we don't know what types of non-pharmaceutical services these children are getting," says Katherine Barillas, a policy fellow with the reform organization One Voice Texas. "What are we doing to ensure that children in foster care are getting appropriate, trauma-based assessments, not just psychological diagnoses that lead to medications?" But the role of larger group homes and facilities clearly isn't the sole explanation, because, by some measures, they comprise only about 12 percent of foster care placements.
The most significant reform in Texas to monitor, track and provide care has been the centralized role since 2008 of a managed health care firm, STAR Health. Using an electronic "health passport" and a series of medication assessments triggered by excessive prescribing, it has been hailed recently by some experts as a national model for its multi-level reviews.
But all that wasn't enough to protect Jo Angel Rodriguez, a troubled 11-year-old girl who bounced around the foster care system until her death in 2009 that prompted a wrongful death lawsuit; it was quietly settled in 2013 with Pfizer, the maker of the antipsychotic Geodon. As reported by the San Antonio Current, she was taken to the Laurel Ridge treatment center and was first given the antipsychotic Abilify, which caused vomiting and diarrhea, then spurred withdrawn and later aggressive behavior. Solution? More drugs:
A University of Texas Health Science Center resident moonlighting on a weekend shift prescribed Rodriguez a 1-milligram dose of Risperdal, another antipsychotic. When Rodriguez refused to take the pill, [the resident] gave her a 20-milligram shot of Geodon instead.

Three hours later, nurses found Rodriguez in her bed, unable to speak or move, with "shallow and labored" breathing. Due to a stunning breakdown in communication, as evidenced by facility records detailed in court, it took nearly two hours for an ambulance to show. When paramedics arrived, Rodriguez couldn't move her limbs and had cold, clammy skin. She gasped for air. Her lips were pale, and her blood pressure had tanked so low the paramedic couldn't get a reading.

Emergency room doctors later determined Rodriguez suffered from a cardiac arrhythmia that triggered a full-blown heart attack. She slipped into a coma and died the next day.
Her death took place when the Texas foster care guidelines and STAR Health were, in theory, all supposed to offer some level of protection. The prescribing doctor, now in private practice, and the treatment center have declined to comment on the tragedy. A year later, there were no major revisions offered in the new prescribing guidelines issued in 2010.
But the continuing dangers facing Texas foster care children shouldn't have been surprising to anyone paying attention to the dubious make-up of that 14-member "working group" designing the guidelines that were hailed by the federal government. Two of the 2010 foster care panel's most influential researchers, Dr. Peter Jensen, the founder of Columbia University's children's mental health research center, and M. Lynn Crimson, dean of the University of Texas's College of Pharmacy, were previously cited by the Texas Attorney General in its fraud lawsuit's court documents because they were paid by Johnson and Johnson to help lay the groundwork for an earlier set of corrupt psychotropic guidelines known as TMAP that looted Texas Medicaid and 16 other state programs. (Both have declined to talk to the press, including me.)
A third panelist, Dr. Charles Fischer, a child psychiatrist at Austin State Hospital, was fired in November 2011 because of allegations that he had molested teenage boys at this hospital during "counseling" sessions over a 20-year period, according to a Texas Medical Board order that temporarily suspended his license. Presumably, his alleged victims/patients may have been made more pliant by all the psychotropic medications he prescribed, but that wasn't addressed in the board's findings. One of the seven cases it described:
Patient 4 was a patient at the Austin State Hospital in 2004. Respondent [Fischer] was treating Patient 4 for psychological issue including past sexual abuse by a family member. At the time of his admission Patient 4 was approximately 15 years of age. During counseling sessions with Patient 4, conducted in Respondent's office behind a closed door, Respondent forced Patient 4 to perform oral sex on him. Respondent also performed oral sex on Patient 4.
Fischer was indicted in June 2012 on multiple child sex crimes involving five youths under his care and the case is still pending, with a pre-trial hearing set for late April. Fischer has denied wrongdoing and his latest attorney, "Gerry" Morris, declined to comment. His bail was revoked following an arrest in January 2013, when he was charged with public lewdness after being caught having sex with an adult in a park.
Virtually all of this has been public knowledge, easily available to federal officials. His firing in late 2011 -- along with the allegations of ethically questionable shilling for Johnson and Johnson raised against his two co-panelists -- were well publicized before the federal government in April 2012 started promoting in memos, conferences and webinars the apparently sham Texas guidelines the three helped craft. "Those three panel members who drafted the guidelines were ridiculous!" says Anna Johnson, the NCYL policy analyst, who was so alarmed by federal support for the Texas program that she and her colleagues sought to warn California officials and others. "Why the Texas Parameters are Not Safe and are Not Enough," one memo they drafted was headlined. "Texas parameters should not be adopted by California or other states," the document read, citing such flaws as allowing five psych drugs at one time before any review was triggered, later lowered to four in 2013.
State officials reject claims that the Texas foster care guidelines have been ethically compromised or undermined at any time. Indeed, the UT pharmacy dean, M. Lynn Crimson, still took his usual leadership role on the panel shaping the state's latest guidelines. Dr. James Rogers, the medical director of the state Department of Family and Protective Services, says of all of the guideline versions, "They've been significantly helpful. We reduced the use of meds, and they've been recognized by the Rutgers Center for Education and Research on Therapeutics as a national model." He dismisses with a laugh the ethical questions raised in the Texas Attorney General's lawsuit citing the drug industry-funded panelists: "That was just part of a lawsuit and the way it was handled by the prosecution. You know about lawsuits." He proclaims, "I can't imagine a better situation than we have here in Texas."
Still, the two Big Pharma-paid researchers were in the news again by January 2012 when the Attorney General went to trial against Johnson and Johnson, seeking $1 billion in damages. On the day the trial opened in Austin, the Dallas Morning News outlined the J&J marketing scheme that masqueraded as "evidence-based" medicine offered in a fabricated algorithm of choices favoring the expensive new antipsychotics. The official name for these authentic-seeming guidelines was the Texas Medication Algorithm Project (TMAP). Indeed, the ruse worked so well that another HHS division, the Substance Abuse and Mental Health Services Agency (SAMHSA), adapted TMAP as part of its national evidence-based "toolkit" project and supported it even after the scheme was exposed in The New York Times in 2004, but ultimately disavowed it over a year later. It was first uncovered by a Pennsylvania government investigator, Allen Jones, who stumbled across a suspicious pattern of lucrative trip and perks given by drug companies to Pennsylvania state officials who influenced Medicaid drug selection.
A similar pattern seemed to be at work again for the foster care drug guidelines rolled out by Texas in 2010 and earlier years as "best practices" by some TMAP doctors and other drug company-paid influentials who had been lavished with pharmaceutical payouts once again. The news accounts were especially damning for the respected academics involved in both the foster care and TMAP guidelines panels. A shocking 86-page expert report for the Texas AG by Columbia University Medical School professor David Rothman ripped the veil off the alleged shady hustling of doctors trading their prestige for drug company money and gifts. As The Dallas Morning News reported on the esteemed university pharmacist and foster care panelist, M. Lynn Crimson:
[He was] a professor and member of the TMAP advisory panel in the mid-1990s when he "cultivated a financial relationship with J&J, accepting substantial fees and honoraria and soliciting research grants from the company," according to Rothman's report. "As a result, Dr. Crismon subverted the scientific integrity of his research and educational presentations, and biased his decision-making capacity as a member of TMAP."
A key component of creating the impression of scientific evidence for both TMAP and the foster care "parameters" was a series of rigged, skewed and ghost-written studies funded by Johnson and Johnson's Janssen division. Their goal: to tout the effectiveness of Risperdal while downplaying side effects, including weight gain, diabetes and male breast growth due to elevated prolactin levels.
Indeed, just two months ago, a Philadelphia jury found that Janssen hid the breast-growth dangers of the drug Risperdal and owed $2.5 million to a 20-year-old autistic man who developed size 46 DD breasts as a teenager. "This was the first case related to the condition called gynecomastia that went to a jury, but thousands more lawsuits are lined up in Philadelphia, California, Missouri, and other locations," The Philadelphia Inquirer reported. "J&J paid $2.2 billion in 2013 to settle federal and state criminal and civil charges related to illegal marketing of the drug, but that did not stop individual lawsuits related to adverse events."
Helping make these sorts of deceptions possible were respected researchers, such as that foster care panelist Dr. Peter Jensen, who put their names on studies as principal author that were actually churned out by J&J's ghost-writing firms. Others just took the cash and cooked up studies with positive results pleasing to Jannsen's marketers. As the Texas Attorney general explained in a filing before the TMAP fraud trial: "Defendants thus 'seeded the literature' and increased the 'noise level' in the Texas health care community, including the Texas Medicaid community, with their false and misleading tale of Risperdal's superiority to other antipsychotics and suitability for off-label use on vulnerable populations."
In articles that the federal ACF chose to ignore before trumpeting Texas's foster care guidelines, The Houston Press and journalist Allison Bass explained just how Dr. Jensen was recruited to add his weight to these schemes. Johnson and Johnson's hired ghost-writers, Excerpta Medica, went shopping for an expert to sign on to a paper proclaiming Risperdal's superiority. The pseudo-study was included in the now-discredited 2010 "parameters" report promoting polypharmacy to a foster care system already eager to drug its young charges into submission if they misbehaved. Allison Bass, author of Side Effects, about the lawsuit over Paxil's suicidal dangers, outlined Dr. Jensen's role:
In yet another egregious example of ghostwriting outlined by Rothman, Excepta Medica drafted a study purportedly showing that Risperdal was the established treatment in children and adolescents with severe behavioral disorders and then went looking for some key opinion leaders (KOLs) to attach their names to the article. They finally found Dr. Peter Jensen, a pediatric psychiatrist (who was paid more than $80,000 by J&J in consulting and speaking fees between 2002 and 2004) to attach his name to the study, which was published in The European Journal of Child and Adolescent Psychiatry in 2007, again with no acknowledgement of the ghostwriter's role. Rothman cites example after example of overlap between the ghostwriter's draft and the published piece and concludes that "the authors improperly put their name on it and failed to credit EM's work."
Ultimately, J&J settled for $158 million shortly after the TMAP fraud trial started in January 2012, looking to end the battering to its image it was taking in court -- even before Rothman was to scheduled to testify about its misdeeds.
Federal Officials: We Can't Stop Groundless Drug Spending in the States
All the Texas Attorney General's revelations about the questionable panelists or the wave of Texas overdrugging didn't change federal officials' hands-off approach to state Medicaid and foster care programs. Part of the problem, of course, is that federal Medicaid officials still insist that they don't have the legal authority to stop paying for worthless and dangerous drug uses; that's in apparent opposition to a series of federal court rulings and Justice Department fraud lawsuit concluding, as in a $2.3-billion settlement with Pfizer, that the federal government has been defrauded when it's asked to pay for drug "uses that were not medically accepted indications and therefore not covered by those programs."
On top of that, federal officials apparently believe that they can't even advise the states to stop paying for these groundless uses of antipsychotics, although states do have the option to refuse to make fraudulent drug payments. For instance, a spokesperson for the Inspector General wrote me in a statement, "Medicaid coverage of drugs prescribed for non-medically accepted uses is permissible, at State option," indicating that the federal government, in turn, has no power to halt such uses.
"This doesn't make any sense," says Toby Edelman, a senior policy attorney with the Center for Medicare Services, which has been fighting CMS's ongoing failure to crack down on an epidemic of nursing home overmedication. "We're spending so much money, and the drugs are so dangerous. Don't tell me you can't try different strategies to stop it; if one doesn't work, try another -- even if you think you don't have statutory authority." But what's especially absurd to Edelman and other critics is the notion that federal officials think they're not allowed to suggest to state Medicaid authorities to stop paying for the unaccepted uses of these and other drugs. "That's totally bogus," she points out. "To say 'it's not our responsibility' while 92 percent of the [pediatric] Medicaid antipsychotic use is inappropriate and killing children, that's not acceptable."
At the same time, Department of Justice attorneys spend years building cases that have led to $26 billion in fines and settlements from the drug industry for defrauding Medicaid and illegal marketing to doctors and agencies, although such payouts are viewed in the industry as "chump change" given the billions in revenue annually each successful drug can make in the course of a typical 20-year patent.  This struggle by DOJ to recover billions in waste will never catch up with Medicaid's heedless spending on unaccepted uses of antipsychotics. "They're just pretending to address the issue of overdrugging with a wink and a nod -- the Justice Department gets billions from drug companies for causing off-label uses that aren't supported by the law, while CMS is continuing to pay for these same prescriptions," Gottstein observes.
As a result, the hard truth is that no vulnerable populations, except in a few states, are granted any meaningful safeguards. Roughly 200,000 nursing home residents annually, Toby Edelman points out, are given these potentially life-threatening medications without medical justification despite dire FDA "Black Box" warnings and rarely enforced laws going back nearly 30 years. Meanwhile, Medicaid gives close to 2 million kids antipsychotics overwhelmingly to control "bad" behavior rather than for any proven psychiatric uses. As Dr. David Rubin, the director of the Policy Lab at the Children's Hospital of Philadelphia, told Mental Health Weekly, "The medications are being used particularly for disruptive behavior and to control the children." Yet nearly half of all kids getting the drugs aren't getting other behavioral health services such as therapy, according to research by the Center for Health Care Strategies.
California: Nearly One in Four Foster Care Teens Is on Antipsychotics
California, for example, is one state whose controls over foster care antipsychotic prescribing are supposed to be monitored by HHS's Administration for Children and Families (ACF) under a 2011 law, but the agency has simply rubber-stamped California's and other states' slow-walked foster care medication plans -- with disastrous consequences for many of its 60,000 foster care children, according to critics and youth advocates. California is typical of most states that haven't bothered yet to even develop formal plans or have just crafted feeble "guidelines" that are rarely enforced; Illinois, Oregon and New York are among the few states that have sought to do more. A shocking five-part series by The San Jose Mercury News, published last year, highlighted dangerous overprescribing that showed that thousands of foster care kids over a decade -- nearly one in four foster teens -- had been essentially "chemically restrained" for their behavior with antipsychotics drugs that left many drooling, lethargic and obese.
That, in turn, has spurred the introduction of new state legislation to promote improved monitoring, the training of staff to use alternative approaches and the strengthening court oversight of prescribers -- after the legislature ignored the same crisis a decade ago. But if it wasn't for a single dedicated reporter, Karen De Sá, an investigative journalist with 20 years of experience specializing in covering social services, and a paper willing to give her over a year to develop the game-changing series, literally nothing would be happening to stir interest in reform.
But those long-overdue changes can't come too soon for Iris Hoffman, 18, who now works with a Sonoma County-based youth advocacy group, Voices, and the state-wide California Youth Connection, working to change the ongoing government failures to protect them and remedy abusive, overmedicated care. In testimony before a state senate health committee in February, she said, "Most of those medications prescribed to me were almost forced down my throat, and there's all kinds of punishments if you refuse your medication," she recalled about her adolescence, largely spent in assorted juvenile detention facilities and large group foster homes. "It's really hard to trust someone who's forcing you to take pills that you don't feel are right for you taking," she pointed out. "Seroquel, Abilify, Ativan -- all of the things I was prescribed before I was 16 -- they never helped me heal from the trauma I suffered."
Unfortunately for young people like Iris Hoffman still in the foster care system, they're especially endangered in large group homes, says Jennifer Rodriguez, a former California foster care youth and now executive director of the Youth Law Center. "Caregivers push to have youth evaluated for and prescribed psych meds in order to suppress problem behaviors in homes and keep control and order in often chaotic, institutional settings," she pointed out at hearings in February before a state Senate committee considering a reform package; the committee indeed passed it unanimously last week. Yet despite a sweeping legal settlement roughly a decade ago that was supposed to reduce the percentage of group homes, where 40 percent of all Medicaid antipsychotic prescribing for kids is concentrated, she told me, "The rate is about the same."
Equally troubling, not much has changed on the oversight front yet. Even so, there are mounting hopes for change because of the Senate committee's support of the reform bills. If passed, those bills would also enforce another promising development: new non-binding quality care guidelines on psychotropics issued by state health officials in tandem with advocates from groups such as NYCL. Again, this initiative likely wouldn't exist yet -- after years of foot-dragging by California officials -- if it wasn't for the pressure created by The San Jose Mercury News series. The paper, in reporting these new guidelines, pointed out, "While many youth advocates applauded the recommendations as long overdue, they say legislation in the works is needed to ensure reforms are put into practice."
The need for genuine enforcement became clearer when Jennifer Rodriguez testified about how these dangerous medication practices a decade ago caused her and other young witnesses a range of alarming problems. "Heart murmurs, rapid weight gain, fertility problems, and emotional side effects worse than the original condition prompting meds," she told legislators. But the legislators did nothing then and, in the absence of a massive grass-roots campaign this time around, they may succumb again to powerful medical and drug company forces opposed to virtually any restrictions. After all, as the San Jose Mercury News series pointed out, drugmakers spent more than $14 million in just three years to entice 60 percent of the state's foster care prescribers in amounts twice that paid other physicians.
Edward Opton, an attorney with the National Center for Youth Law's PsychDrugs Action Campaign, has underscored why foster care kids are especially vulnerable. Even though they make up just 3 percent of all Medicaid children, they account for roughly 30 percent of all Medicaid behavioral spending for kids: "Foster children are a lucrative market for psychotropic drug sales. Unlike adults, they can't say, 'No, I won't take any more of that drug,'" he wrote in a recent column on the Mad in America website, reaching out for national support for a fledgling grass-roots campaign.
The very real dangers facing young people in California were perhaps best expressed in a powerful short documentary based on the prize-winning San Jose Mercury News series. "They are California's most powerless children: abused, neglected, deeply traumatized," the film's narrator begins, as photos of kids rescued from addicted, violent and sexually abusive family members unfold; then the children, now grown, tell their own stories later in the movie. "When it came to managing their complicated histories, state foster care failed to provide them with a stable home: instead it gave them a pill...We found a system dependent on quick-fix, profit-driven pharmaceuticals to control troubled children."
A Psychiatrist Battles the Drugging Epidemic
It's hard for a psychiatrist like Dr. Stefan Kruszewski to undo all the damage wreaked by overmedication when his patients come to him. "About 95 to 97 percent of the children that I treat that are getting antipsychotics are given them for reasons that aren't approved by the FDA," says the Pennsylvania psychiatrist. The Harvard-educated doctor treats poor and uninsured teens as part of his private Harrisburg practice and also oversees their care as a psychiatric medical director of two Pennsylvania-based behavioral and addiction clinical care groups. Even those young patients who had been given antipsychotics for approved but controversial pediatric uses such as bipolar disorder are usually improperly diagnosed and treated, he finds, because their associated substance abuse which causes mood swings is almost never addressed before they're dosed with antipsychotics. "It doesn't make any sense," he points out. "They're not even being screened for [illegal or dangerous] drugs."
Just as troubling, he says, are the wide range of side effects they suffer that aren't much emphasized in the new federal Inspector General's report: "Many of the young patients I've seen have cardiac and metabolic problems, elevated prolactin levels [which causes breast growth in boys], neurological problems with severe tics, severe neuromuscular disorders," he observes.
In part because of his pioneering role as whistleblower, his extensive research on medications and addiction, and his work as a court-approved expert in legal and criminal cases involving prescription drugs, he speaks with special authority and long experience about the dangers of overmedication with antipsychotics. He also serves part-time as a member of the core faculty of Johns Hopkins University's Center for Drug Safety and Effectiveness, lecturing about prescription safety and utilization.
In the early 2000s, most of his fellow psychiatrists were falling under the sway of drug-industry-fueled boosterism and payments to promote the new "wonder drugs," atypical antipsychotics. But he soon sought to expose deadly overdrugging in government-funded residential treatment programs in 2001 as a consultant to a Pennsylvania welfare agency -- and then successfully challenged his 2003 firing. He subsequently went on to help expose the illegal marketing of antipsychotics by Pfizer and AstraZeneca after being hired to lecture his peers on the drugs. For good measure, he also won a Medicaid fraud settlement against a Pennsylvania psychiatric chain for abusive and dangerous care of youth.
So it's especially to disturbing to him that neither the youth he sees, ages 12 to 19 -- about a quarter of his practice -- nor their families have been warned about the side effects or even the potential benefits of the drugs they're given. Most commonly, those antipsychotics have been Risperdal, Seroquel and Abilify, given for bipolar disorder, insomnia (primarily Seroquel) and ADHD. Surprisingly, although there have been far more lawsuits over boys' breast growth resulting from Risperdal use, he's seen more of those side effects in his patients from the heavily sedating Seroquel because it's so widely prescribed, often for insomnia.
One of the key challenges in slowing the epidemic of overmedication, Kruszewski observes, is this dilemma: "We have to overcome the expediency of giving a prescription to solve a problem that will actually make the problem worse. As long as doctors are being expedient in their prescription writing, we can't win this battle."
Can Medicaid Kids Survive the Wave of Unchecked Prescriptions?
Unfortunately for Steven Unangst, he didn't have a doctor like Stefan Kruszewski looking out for him. Just a few months ago, in December 2014, the 16-year-old foster youth died in his bed after friends and family saw him drooling and staggering around "like a drunken zombie," the San Jose Mercury News quoted his grandmother as saying. She saw him on the afternoon before he died during a supervised visit, but her pleas to the social worker to take him to the hospital were ignored. "A 16-year-old child does not just die peacefully in their sleep," Karla Garvey said later. "Nobody paid attention to this child."
A coroner's report this month found that he had ingested a deadly combination of anti-anxiety, painkillers, alcohol and anti-depressant drugs, but only one of the drugs -- Zoloft -- was formally prescribed him, the San Jose Mercury News reported. But the coroner's report said there were no signs that this was a deliberate attempt to end his own life, and his death underscores just how shoddy protections can be for those in foster care. As the newspaper reported, "The lanky, curly-haired skateboarder received no medical attention -- even though the day before he died, a social worker had difficulty waking him up and relatives later filmed him struggling to walk and even keep food in his mouth."
Other young people have somehow managed to survive the assaults of needless medication, and are turning to grass-roots activism to raise awareness about this ongoing crisis. Young adults like Cecelia Najera, 23, a speaker and advocate with California's Youth in Mind, seeks to use her own experiences to better protect others. Starting as a low-income, depressed kid at 13, also labeled as having ADHD, she kept getting plied with more and more meds but given little in the way of useful therapy. "The drugs were forced on me: 'You take these,'" she recalls. By the time she reached college in 2011, still on Medicaid, she was feeling suicidal but the college clinic's only solution was to refer her to a strip-mall osteopath who put her on high doses of the mood stabilizer Depakote and the antipsychotic Seroquel to add to the ADHD stimulant and antidepressant Prozac. "I became more suicidal and zombified," she says -- and she even suffered petite mal-type seizures. Within two weeks of starting the risky new regimen, she cracked up and had to be committed to a hospital to prevent her from killing herself. After her release, she gradually found herself by connecting to other young people with mental illness through drop-in centers and peer counseling. She still takes some lower doses of two medications, but with peer counseling and her activist work, plus volunteering at a juvenile justice center, she's found a new purpose: fighting stigma against young people with mental illness. "I'm not my mental illness; I live with it and I thrive," she points out.
The activism by groups of former foster care youth and young people with mental illness battling overmedication is particularly robust in California. But this local and state work has become especially critical because of the political vacuum they are filling: Virtually none of the leading national health or children's advocacy groups (with the exception of the Anne E. Casey Foundation) has yet chosen to make this a top priority. As a result of this inaction, too many vulnerable children, especially in foster care and Medicaid, have no protections against risky antipsychotics and other drugs that they may not even need: "I was given all these medications, but I wasn't functioning," as one former California foster care youth who asked to remain anonymous recalls. For those still trapped in the system in her state, she says, "I need to advocate for them." But at the national level, the federal government still isn't looking out for their best interests.