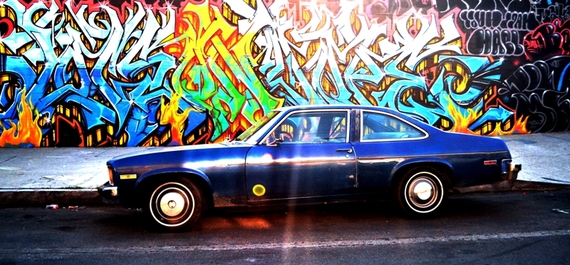 - Glendale Boulevard - Photo by Art Tavana
After decades of being the hippest part of town, the Westside of L.A., particularly West Hollywood, is now mostly a pacified laboratory of plastic surgery and over-policed streets that make even Andy Griffith's Mayberry, a docile small-town, look like a rioted near future Detroit.
Today's more placid version of Sunset Boulevard (once the site of the cocaine-fueled L.A. metal scene), has been castrated by gaudy SBE nightclubs and the 'Old Money' snobbery best captured in an episode of The Hills, where Lauren Conrad and her boyfriend share cocktails and awkward stares over vapid exchanges and Fergie.
The Eastside is just a bit more punk rock, and right now, Echo Park is the epicenter of the genuine L.A. experience; a bit too sketchy for the BMW-driving residents of West Hollywood, and offers just the right amount of graffiti-covered steps and lowriders to make a city feel like a city, as opposed to an amusement park of reserved parking spots and expensive shit. Speaking of parking, Echo Park is still one of the only places in town where $2 can provide all-day parking near music venues like The Echo, where L.A.'s best indie bands perform on a nightly basis.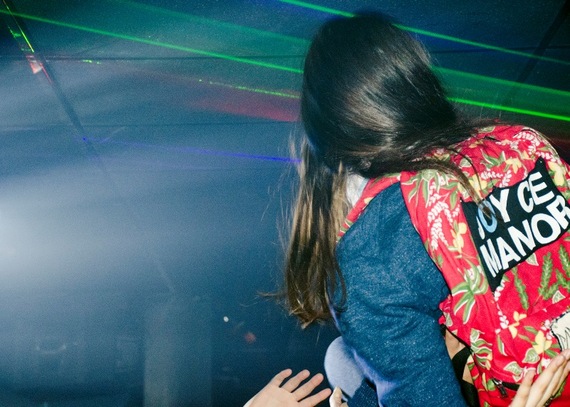 A GROWLERS Fan Crowd Surfing - Photo by Leonard Drorian
Prior to the street gang takeover in the '80s and '90s, glorified in films such as Mi Vida Loca and Blood In, Blood Out, Echo Park was where the Chavez Ravine housed a thriving Mexican-American community, and the earliest silent film studios lined Glendale Boulevard. But then in the '90s, Echo Park became a hotbed of LAPD corruption and gang violence; The Short Stop, one of today's most popular local bars, was once a frequent LAPD hangout for corrupt cops like Rafael Pérez, who was at the center of the Rampart Scandal. Today, the Short Stop is a Dodgers bar where the drinks are cheap and the dance floor is always packed with a diverse crowd that now seems to exist exclusively on the Eastside. Truth be told, Echo Park's rough past is probably what gives the city so much character. The Sunset Boulevard and Echo Park Avenue murals, vandalized by competing gangs over the years, are part of the aesthetic that separates Echo Park from Silver Lake - where the streets are cleaner and the coffee is better, but the lack of parking and occasional eye-rolling snobbery is more of a San Francisco thing.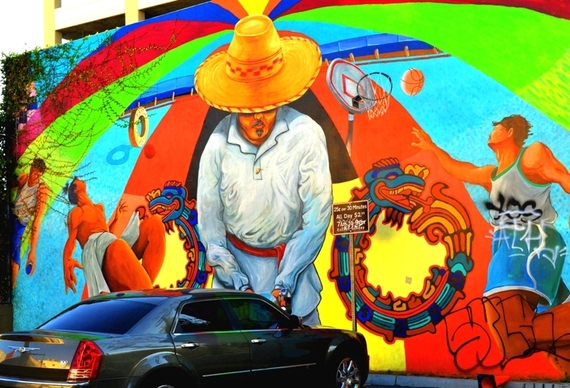 Echoplex - Photo by Art Tavana
Walking around the newly renovated Echo Park Lake during Christmas Day, I couldn't help but notice the elements of beauty that are unique to Echo Park: the dormant lotus plants scattered over the lake, the mix of local artists and working-class immigrants, and best of all - a sense of community that even the local gangs can't destroy.
While Highland Park, the city's second most vibrant neighborhood, is less gentrified than Echo Park - it's hardly a hipster-free zone. If York Boulevard is any indicator of a hipster takeover, where local L.A. bands like Sandy Pussy make the rounds and local joints like The York serve craft beer, Highland Park is on the tipping point of becoming just as gentrified as Echo Park. The tattooed bartenders and Echo Park transplants are all indicators that Highland Park is nothing more than a mirage for hipsters who don't want to be called 'hipsters.' Truth be told, Highland Park is a bit too quiet, and a bit too close to Eagle Rock to provide the vibrant noise of city life; whereas Echo Park, home to Dodger Stadium with a gorgeous view of Downtown Los Angeles over the lake, is about as L.A. as it gets.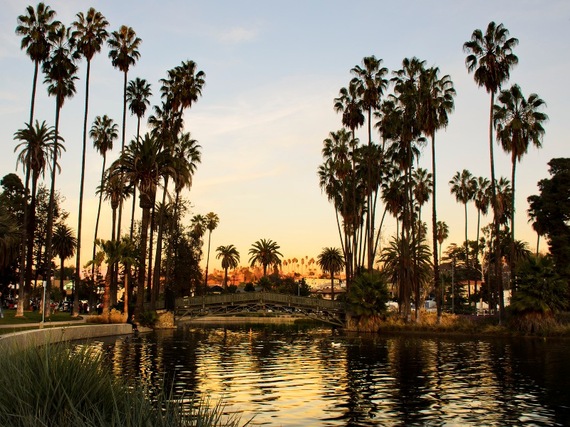 Echo Park - Photo by Leonard Drorian
In 2011, during the renovation of the Echo Park Lake, two guns, hundreds of pieces of trash, and six office chairs were discovered at the bottom of the lake. Apparently, gang members share the same disdain for murder weapons as they do yuppies - so Westsiders stay away!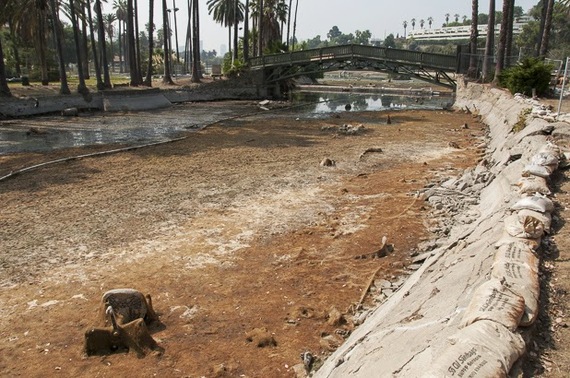 Echo Park Lake - Photo by Martin Cox
Today, the area around the Angelus Temple is home the beautifully renovated Echo Park, which is just a block or two away from Lolipop Records - where you can collect vinyl, get your band signed, buy studio time, and drink PBR's with the kids that run the joint.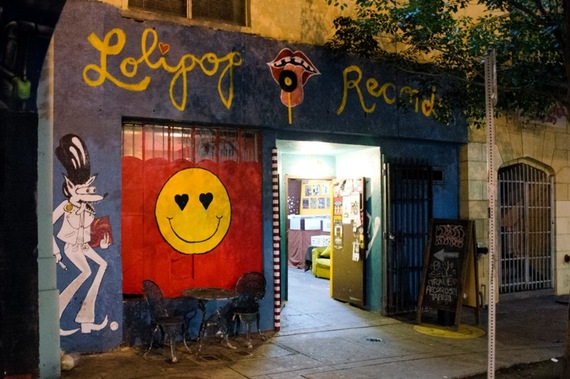 Lolipop Records - Photo by Leonard Drorian
Unlike Silver Lake, Echo Park's rough edge has been preserved during a half-gentrification process that has made the city home to scrappy residents who have the chutzpah to live near the infamous Bellevue Avenue stairs, claimed as property by Big Top Locos gang members that mug wide-eyed hipsters and steals fixed-gear bikes on a regular basis. Echo Park is still a bit too raw for full-blown gentrification, but then again, that's what makes it special. While breweries like Mowhawk Bend cater to the more posh residents, the American Apparel types, local pubs like El Prado Bar play records from local bands, where bartenders are willing to chew the fat with locals and provide a safe home for musicians and lovers of gluten-free beer.
Echo Park has the local feel of a Williamsburg, where patrons and local business owners are on friendly terms, while the Westside of L.A. feels more like a detached theme park experience of a city, like the suburbs of the Valley, except more expensive. If the occasional news of Echo Park gang violence scares you, you can now worry less, as a recent injunction was granted against the six major gangs of the city by the Los Angeles County Court; making Echo Park a safe enough place to enjoy the Victorian-era homes on Carroll Avenue, without worrying about getting stabbed a few blocks down the street.
But then again, it's that fine line between dystopian nightmare and Rockwellian utopia that makes Echo Park the hood that continues to be L.A.'s most vibrant halfway point between the big city, and the small neighborhoods that make L.A. the most diverse city in the country.
Echo Park Photo Gallery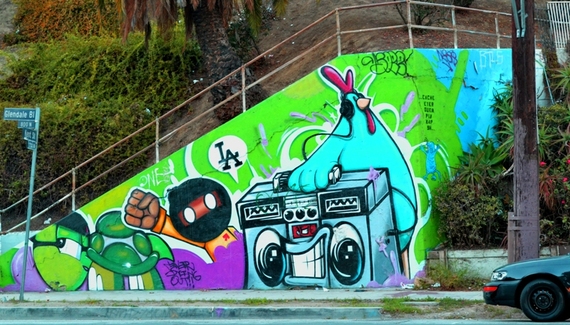 Bellevue Stairs - Photo by Art Tavana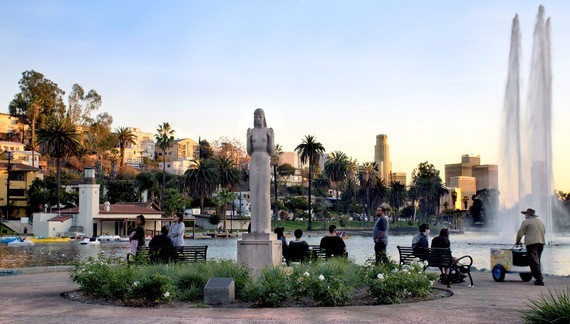 Echo Park - Photo by Leonard Drorian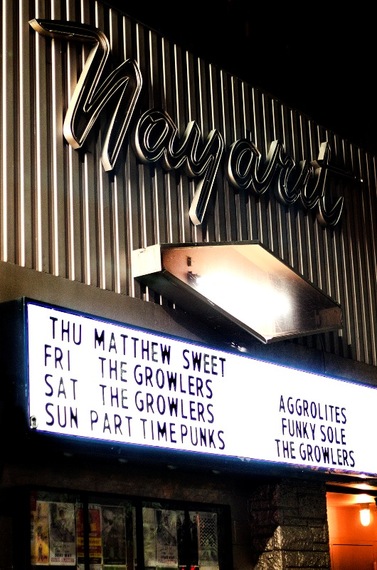 The Echo - Photo by Leonard Drorian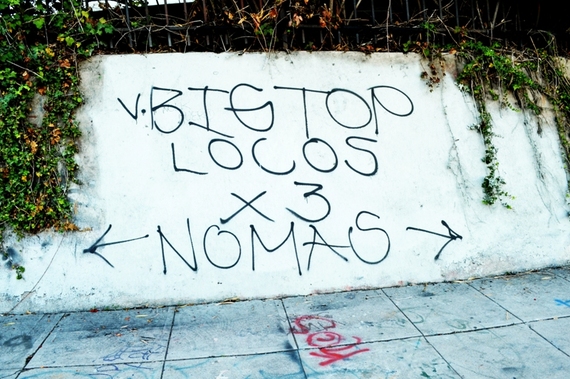 Big Top Locos - Photo by Art Tavana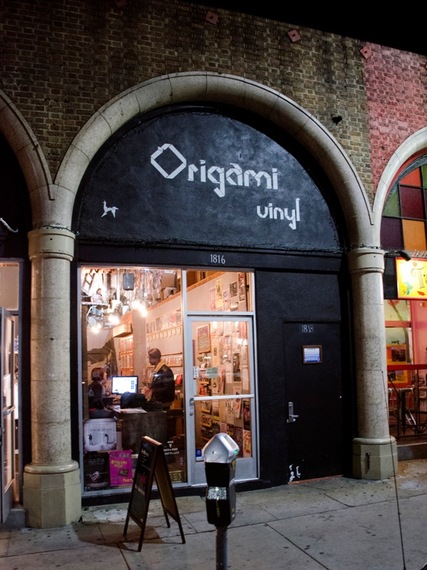 Origami Vinyl - Photo by Leonard Drorian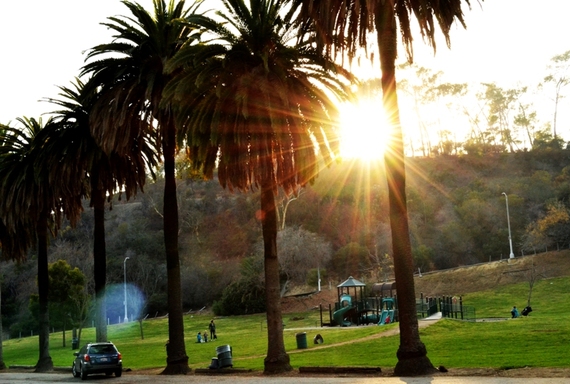 Elysian Park - Photo by Art Tavana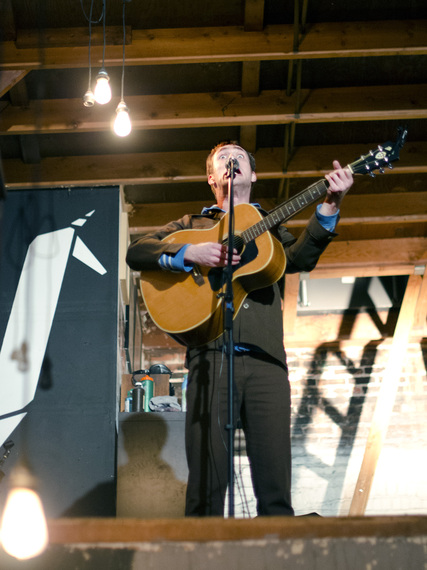 Dead Western Performing at Origami Vinyl - Photo by Leonard Drorian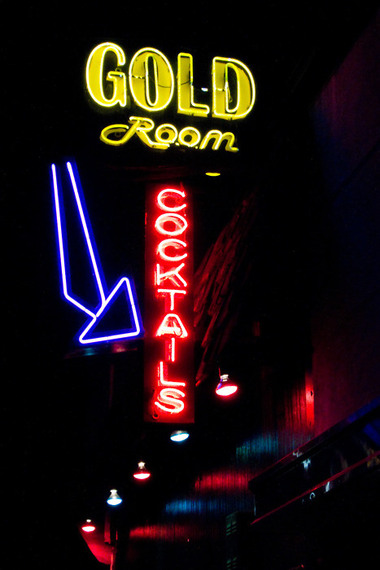 The Gold Room on Sunset Boulevard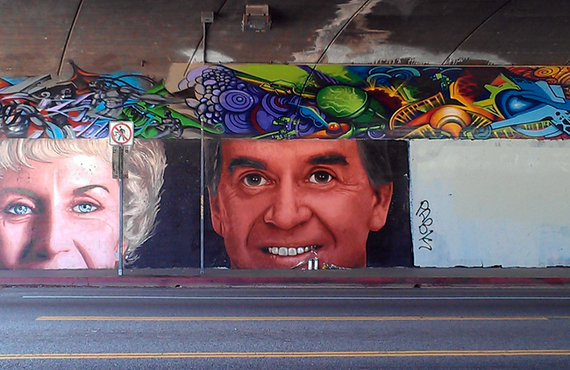 The Sunset Boulevard Bridge in Echo Park - Photo by Echo Park Now