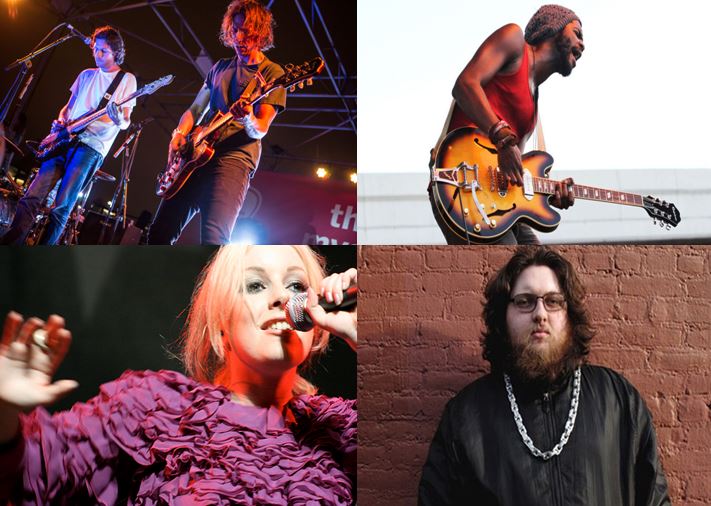 Monday, September 23
Jonwayne @ The Echoplex
Born from the L.A. underground, Jonwayne's homemade mixtapes are making some serious noise as of late. A producer, rapper, and experimental noise artist - his first album as an MC drops October 29th on Stones Throw Records. If you haven't heard his 2011 geek-experimental-noise masterpiece Bowser, you should.
Little Boots @ The Troubadour
If you were living in a cave in 2009, you missed out on Brit dance-pop darling Little Boots. "Stuck on Repeat," a feverish dance-pop anthem was everywhere that year. Now, on the heels of collaborations with NYC' s The Knocks and garage producer Ted Edwards, Victoria Hesketh (Little Boots) seems to be embracing a more experimental-disco side on her way to turning the Troubadour into Studio 54.
Thursday, September 26
Beck, Dan Deacon, Sun Araw, and No Age @ Union Station
Art will be on display as the Station and Station project comes to downtown L.A. with Beck, No Age, Dan Deacon in a hodgepodge of culture, visual arts, and live music. On a side note, I saw No Age live at FYF Fest this year and their stripped-down, punk sound makes this duo one of my favorite bands of the last couple years. And like me, they also aren't fans of Walmart.
Deer Tick @ UCLA
UCLA Bruins (myself included), listen up: Deer Tick knows how to put on a wild show! This band combines folk, Nirvana-inspired rock, and the lyrical prowess of their leader, John McCauley (Deer Tick is his brainchild), and best of all: it's FREE. Welcome back, Bruins.
Gary Clark Jr. @ The Wiltern
Austin-based blues guitar warrior Gary Clark Jr. has been all over town lately - gigging and causing some major noise. Some think he's the "New Jimi Hendrix," well I'm not one of them, but I think in terms of blues-based garage rock (the purest of the form), GCJ has flashes of brilliance and needs to be heard.
Saturday, September 28
Jimmy Eat World @ Hollywood Palladium
I first saw Jimmy Eat World in college, you know, when emo was everywhere. They've been around for 20-years, and in their new album Damage, Jimmy Eat World continues to craft the same nostalgia-driven sentimentality (in power pop form) that you've come to expect from the coolest band from Arizona, well, maybe ever. Their live shows are passionate, pure and simple, and Jim Adkins is relentless during each performance.