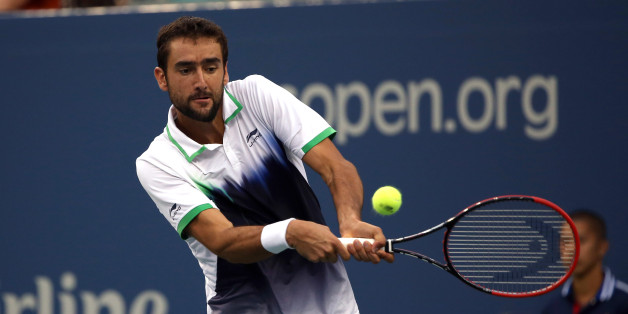 As football season opens to more news of domestic violence by thuggish players and reports of injuries, concussions, and jail terms, it was refreshing to spend two weeks watching professional tennis being played at the United States Open Championships in Flushing Meadow, New York. Tennis is a game that preserves many of the values traditionally ascribed to sport -- honor, pride, respect, decency -- but lost now in the narcissistic, self-celebratory posturing of most professional athletes playing football, basketball, and baseball, America's big three. Tennis is also a sport that makes great demands on the athlete's skill, stamina, determination, and self-control. Though vastly under-appreciated by the majority of American sports fans, tennis is a sport that requires of its athletes more courage, training, and resolve than any other sport, with the possible exceptions of marathon running and Tour de France cycling.
Tennis pros compete for eleven months of the year, a longer schedule than any other sport. They earn (aside from endorsements) only what they win on the court through their play. From their earnings they must pay their coach, their fitness trainer, and their travel expenses. They begin each year with no guarantees of their earnings, no certainty. If injury prevents them from playing, no paycheck. They travel all around the world, playing on varied surfaces under conditions that range from the scorching heat of Melbourne, Australia to the damp and windy grass courts of England to air-conditioned indoor arenas. It is not uncommon for men's singles matches to last as long as three or four hours, and some go on for more than five hours in temperatures that exceed 100 degrees. The men play without the benefit of coaching or pep talks from supporters. They perform alone on a large stage, watched by upwards of fifteen thousand people at some stadiums, where their mistakes and failures and disappointments as well as their brilliance and their triumphs are on display for all to witness.
And what a display of tennis we were given at this year's U.S. Open. The dramatic run of the little known Japanese star Kei Nishikori to the final, taking down the number five seed Milos Raonic from Canada, the number three seed Stan Wawrinka from Switzerland, and the number one seed Novak Djokovic from Serbia, showed spectators how truly international a sport tennis has become, bringing together on the tour players from every corner of the world. Facing him in the final was Marin Cilic from Croatia, who toppled the Czech giant Tomas Berdych and the legendary Roger Federer, also of Switzerland, in straight sets. In the championship match, Cilic was simply awesome, overwhelming Nishikori with his power, accuracy, and court speed. Then the gentlemanly embrace at the net, followed by Cilic's gracious and humble words, thanking his team, honoring his opponent, and sending words of encouragement to other players on the tour to believe in the value of their hard work.
Though American male tennis players have come under criticism for their weak showing at recent U.S. Opens, American fans had much to cheer about in the singles victory of Serena Williams, her sixth, the men's doubles championship of Bob and Mike Bryan, probably the greatest doubles team ever to play the game, and the mixed doubles success of Taylor Townsend and Donald Young, who reached the semi-finals.
The good will, the camaraderie, the sportsmanship, the dazzling exhibition of talent and skill by all the competitors made me proud to be a tennis player and proud of the sport.