It is fairly well known that art market prices have, on the whole, risen substantially -- definitely over the last century, and particularly at the top of the market. However, the "art market" is not a real thing; it's a combination of the markets for works of a large number of individual artists. Thus, while buying into the art market in the 1970s or '80s provided quite a return for those collectors who were lucky enough to believe in the staying power of Jean-Michel Basquiat or Andy Warhol, there are also plenty of collectors who weren't as lucky, investing their money in this or that forgotten star.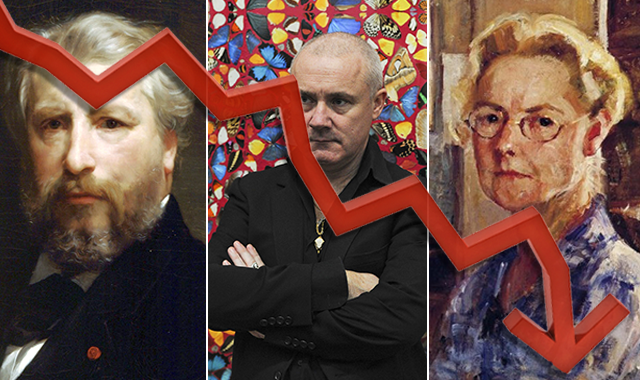 Courtesy Wikipaintings; Photo: Carl Court/AFP/Getty Images

To see the slideshow of 10 Former Art Sensations That the Market Has Left Behind, click here

Art history -- or its footnotes, at least -- is littered with the names of once-acclaimed artists who are now relative unknowns. More recently, there are plenty of examples of once-overheated market niches that have now cooled -- though in the contemporary sphere it can be hard to say whether art history will eventually vindicate those movements. Taste can be fickle.
ARTINFO has complied a list of ten artists whose careers demonstrate the frustrating and finicky nature of the secondary market.
William Adolphe Bouguereau (1825-1905)

Poor Bougeuereau, cast into near-obscurity simply because he lived 50 years too late. This French academic painter was a quite famous salon artist just in time to run up against the Impressionist avant-garde, by whom he was reviled. While a $2.66 million record is nothing to sniff at, neither is it comparable, market-wise, to the Impressionists, many of whom were just slightly younger (Edouard Manet was born in 1832), and whose work today is worth more than 10 times as much.
Seiki Kuroda (1866-1924)

Kuroda was a Japanese Impressionist painter, one of the leaders of those in the country who painted in the Western style. His star rose with the craze for Impressionism in Japan in the 1980s, and in 1987 one of his paintings was one of the top lots of the year at Christie's London, selling for $2.5 million (the same year, the top-selling Mark Rothko work hammered down for less than a million). But interest in Kuroda faded along with the Japanese economy in the late '80s and early '90s. More recently, a still life by the artist sold at Christie's South Kensington for less than $10,000.
Martha Simkins (1869-1969)

The Florida-born, Texas-raised Simkins was a budding international art star in the United States at the turn of the 20th century, having attended the Art Students' League in New York and spent a significant amount of time in Europe under the instruction of John Singer Sargent and with her friend Mary Cassatt. By the late 1920s she had exhibited at the Corcoran Gallery of Art, the National Academy of Design, the Charleston Museum, several New York galleries, and the Paris Salon. However, in the 1930s she returned to Dallas. Not being very good at self-promotion, she fell into obscurity. Her paintings now sell for $3,000-6,000, mostly regionally in Texas.
Theo Van Doesburg (1883-1931)

It's not so much that Dutch De Stijl founder (and lesser-known Dada poet) Theo Van Doesburg hasn't found the fame he deserved, but more that his work has been less appreciated by the market than his contemporary and friend Piet Mondrian. Their work is remarkably similar -- although, later in their careers Van Doesburg's introduction of diagonal lines into his geometric, color-blocked paintings created a major rift between the two friends. The real reason that a Mondrian is more valuable than a Van Doesburg may have less to do with the former's purity than his more commercial side. Mondrian owes his superstar status to his collaboration with French fashion designer Yves Saint Laurent in the 1960s (at least according to one Guardian article). Unless the market really does hate diagonals...
Ernest Trova (1927-2009)

Pace Gallery scion Marc Glimcher recently told the Daily Beast that Trova was "the most famous artist in the world" -- or at least he used to be. In the 1960s, Trova showed work at Documenta 4, several Venice Biennales, and at every major New York museum. But history seems to have forgotten the once-celebrated Surrealist sculptor. Even his own website declares his work "almost completely forgotten, neglected in even the broadest art historical accounts of that same period." Indeed, his auction record -- $110,000 -- hasn't moved since it was set back in 1989. Still, perhaps a scattering of strong recent sales at Los Angeles Modern Auctions and Bonhams suggest that he is poised for a comeback.

Jennifer Bartlett (1941-present)

A budding contemporary art star under the umbrella of Paula Cooper in the '80s and early '90s, secondary market prices for Bartlett's work have dropped precipitously, with the majority of her most recent works bought in at auction. Perhaps providing a negative demonstration at the power of having a high-profile dealer behind you, Bartlett's market began slipping at auction in the mid-'90s, around the same time as the artist's split with Cooper. Her better paintings went for low six figures in 1991, but had dropped to the mid-five-figures by 1997. Things may be looking up for her, however. Bartlett's work is currently being exhibited again at Cooper's gallery in the group show "Répétition: 1960-1975."
Ross Bleckner (1949-present)

In 1991, Vanity Fair called the Ab-Ex painter the "Godfather of SoHo." Four years later, the New York Times, profiling the artist ahead of his Guggenheim survey, said, "Ross Bleckner has to face an unpleasant fact. He's just too, too popular." In 2013, these gushing proclamations might baffle a young art lover. Bleckner himself has admitted as much in an interview with Gawker, in reference to a "Sex and the City" episode in which a man tries to seduce Charlotte by inviting her upstairs to see his "Ross Bleckner." When asked if the plug helped him career-wise, the artist said that it did: "You could have all the art shows and be displayed in all the museums in the world, but when you tell somebody in their 20s, 'Look at the first episode of Sex and the City,' that really registers." (For the record, Charlotte doesn't sleep with her suitor, but she does go up for long enough to appraise the 1989 painting at $100,000.)
Donald Sultan (1951-present)

The large-scale still-life painter made his New York debut at Artists Space in 1977. Just 10 years later, he found himself mounting simultaneous exhibitions at the Brooklyn Museum, the Museum of Modern Art, and Blum Helman Gallery. Back then, his works sold at auction for six figures (his record is $440,000 for a painting on masonite in 1990). Today, similar paintings might fetch as little as $50,000 at auction.
Anselm Reyle (1970-present)
Even with the might of Gagosian Gallery behind him, Reyle's 10-year-old flame appears to be dimming. The German artist's big signature foil paintings used to bring in a half-million dollars in the boom years, and became ubiquitous at art fairs -- and somewhat symbolic of the "bling art" favored by contemporary collectors. Now you can find them for less than $100,000. What's worse, nearly half of the paintings that came to auction in 2012 failed to find buyers at all.

Damien Hirst (1965-present)
Okay, this one is speculative. It's too early to say what's going to happen to the onetime YBA's career now that he has left Gagosian amid what some analysts have called a "crash" in his market. Recent works by the artist seem to have dropped by a third when they have come up at auction recently. Does the drop in his secondary-market prices signal the end to his reign as the wealthiest artist in the world? Or is his primary market still holding strong? We'll have to wait for time to tell on this one.


To see the slideshow of 10 Former Art Sensations That the Market Has Left Behind, click here

-Author, Shane Ferro, Rachel Corbett BLOUIN ARTINFO
More of Today's News from BLOUIN ARTINFO:
See Salvador Dali's Unsurprisingly Surreal Illustrations for "Alice in Wonderland"

Isabelle Huppert and David Cronenberg Team Up for a Don DeLillo Adaptation

Cyprien Gaillard's "Crystal Worlds" at MoMA PS1 Trace the Fragility of Empire
Psychoanalyzing Bruce Nauman: Curator Philip Larratt-Smith on "Mindf*ck"
The Stories Behind 5 Key Manet Works, as Told by Curator MaryAnne Stevens
Like what you see? Sign up for BLOUIN ARTINFO's daily newsletter to get the latest on the market, emerging artists, auctions, galleries, museums, and more.