Name: Kim Gordon
Age: Beyond

Occupation: Artist/objecthood
City/Neighborhood: Northampton, Massachusetts
Your current exhibition with Karen Kilimnik at 303 Gallery presents videos that examine the nature of performance. Why did you want to do a show with Karen? What does your work have in common?
I always liked Karen's work, her work with pop culture from the point of view of a magazine reader/TV watcher from a home/bedroom position. I also like that she's somewhat of an eccentric artist in that she's not in New York networking.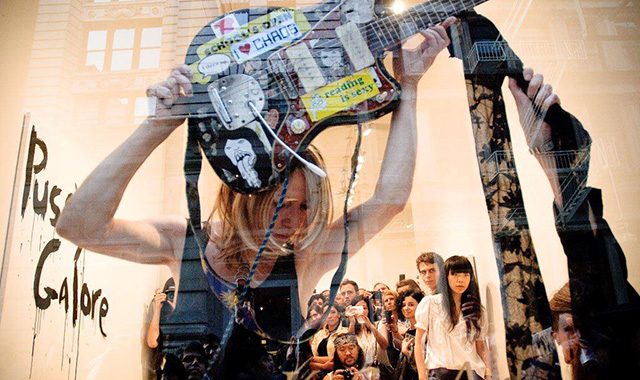 Kim Gordon / Courtesy SAM/Silva Artist Management

The exhibition includes "Proposal for a Dance," a video in which you and another female performer create an aggressive reverb from two electric guitars with gestures traditionally associated with male rock guitarists. It's tempting to connect this work with the fact that you've been the sole female member of Sonic Youth since you co-founded the band in 1981. How does your music career relate to your artwork?

I started out writing about male bonding in music.
This month, the six-track album "YOKOKIMTHURSTON," a collaboration between you, Yoko Ono, and Thurston Moore, is being released. What was it like to work with Yoko Ono, who like you is recognized for both her visual and performance-based art?
It was pretty effortless, although of course a bit intimidating, but after the initial playing live with her it felt very natural. It was a day we spent improvising in the studio a year and a half ago. Improv music is very performative and visual/ spatial.
What project are you working on now?
Some painting on clothes as canvas.
What's the last show that surprised you? Why?
Hélio Oiticica. I'd never seen his work before; it reflected so much the free spirit of the 60s 70s and still appears so much freer or radical than most contemporary work.
What's your favorite place to see art?
I saw a Blinky Palermo show at LACMA. It was nice because no one was there.
What's the most indispensable item in your studio?
Couch.
Where are you finding ideas for your work these days?
I like to walk around Home Depot.
What's your art-world pet peeve?
The idea of a CAREER.
What work of art do you wish you owned?
One of the plastic tarp paintings by David Hammons.
What would you do to get it?
Trade.
Who's your favorite living artist?

John Hammons.
What are your hobbies?
Making art.
-Allison Meier, BLOUIN ARTINFO
More of Today's News from BLOUIN ARTINFO:
In Belgium, A Daft Manifesta 9 Is Strong on Coal Metaphors, Light on Coherence
Asian Buyers and a Hot Air Balloon Lift Paris's Biennale des Antiquaires
"Imagining the Lowline" Sheds Light on the Potential for an Underground Park
Canvasses on the Catwalk: Art-Inspired Looks at New York Fashion Week
The 10 Best Booths of Art Berlin Contemporary 2012
Like what you see? Sign up for BLOUIN ARTINFO's daily newsletter to get the latest on the market, emerging artists, auctions, galleries, museums, and more.