NEW YORK -- The possibility of a potentially life-threatening derecho storm yesterday evening could not stop the art world from turning out to say goodbye to its one of its preferred news sources, Artnet Magazine. Luckily, the rain was light, and an impressive crowd of art critics, artists, and other luminaries turned up for a "Farewell Party" for the online publication at Haunch of Venison, where the publication's former editor-in-chief Walter Robinson has curated a four-person show, "Claxons," featuring work by Elisabeth Kley, Robert Goldman, and John Drury, as well as canvases by Robinson himself. (Sources tell us that several of Robinson's paintings were snapped up by a prominent collector even before the exhibition opened -- so he seems to be doing alright, post-Artnet.)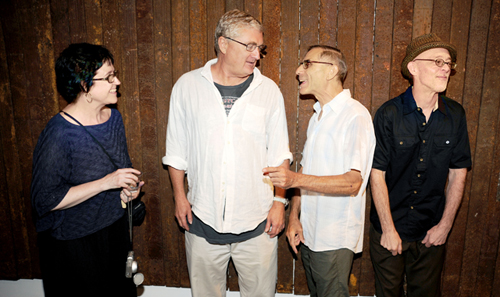 Elisabeth Kley, Walter Robinson, Robert Goldman, and John Drury / Photo: Billy Farrell/BFAnyc.com

Art journalism's past, present, and future were represented in the crowd, including the New York Times writers Roberta Smith and Karen Rosenberg, the great Glenn O'Brien, and a variety of Artnet alums, from recent scribes Emily Nathan and Rachel Cohen to elf-about-town Reverend Jen (the brainy Donald Kuspit and fire-breathing Charlie Finch, among Artnet's most well-known writers, were both sadly absent). Guests nibbled on pieces of Neapolitan pizza from Pie by the Pound and drank Asahi beer, with the refreshments being just enough to take a bit of the edge off what was, after all, something of a bittersweet event, giving the whole thing a convivial and even celebratory air.
Click on the slide show to see guests at Artnet Magazine's farewell party.
Click here for a slideshow of the work on view:
-ARTINFO, BLOUIN ARTINFO
More of Today's News from BLOUIN ARTINFO:
The 50 Most Exciting Art Collectors Under 50 (Part 2)
Documenta 13 on Track to Break All Documenta Attendance Records
Flamboyant and Political, Danny Boyle's "Isles of Wonder" Reinvents the Olympic Opening Ceremony
Material Gestures in a Social World: Hoberman on "Ai Weiwei: Never Sorry"
Tate Britain Retraces 50 Years of Photography in London With First Exhibition Drawn From the Landmark Eric and Louise Franck Donation
Like what you see? Sign up for BLOUIN ARTINFO's daily newsletter to get the latest on the market, emerging artists, auctions, galleries, museums, and more.