Photographer Willy Rizzo was about to walk away with 12 original Pablo Picasso drawings in colored chalk. His assistant had already started spraying fixative over the images. It is still painful for Rizzo to recall what happened next. "Picasso said, 'What are you doing? It's finished,' and he erased them all. The goat, the dove, and the naked women. For about 20 minutes, I felt like a billionaire. It's a weird feeling, especially since I was about 20 years old."
Rizzo recently shared this memory and others with ARTINFO France in his Paris studio, describing how he had brought 12 slates to Picasso for a photo shoot of the master at work for the French magazine Paris Match. "He made me 12 drawings, and they were mine. They were very pretty, also, quite ravishing with the chalk, and we had a very funny conversation while he was sitting at his easel." When the photos of Picasso at work were published, Paris Match received a deluge of phone calls. Not knowing that the drawings had been destroyed, every museum, it seemed, wanted to acquire them at any price. "We were flooded with requests," the photographer remembers. "And afterward, someone stole my negatives."
Visit ARTINFO to see some of Willy Rizzo's more famous photos, including portraits of Dali, Picasso, Dietrich, and Monroe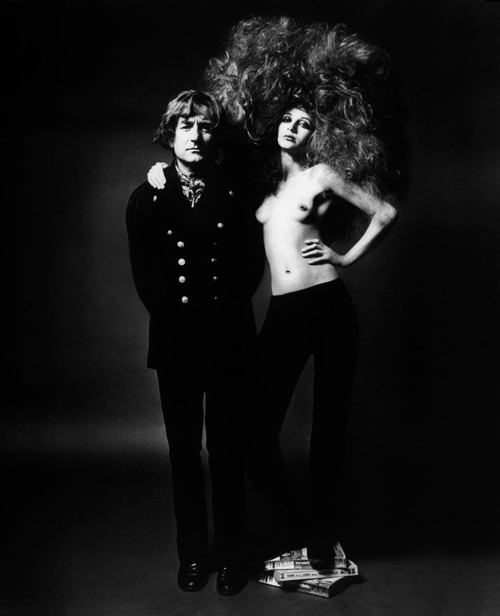 Willy Rizzo photographed with a model in Milan, 1973 / © Olivero Toscani
The Picasso photos were thus a high point and a low point in the amazing career of Willy Rizzo, who is now 82 years old. The photographer -- who was also a successful modern furniture designer in the 1970s -- covered the Nuremberg trials before traveling to the United States for the Blackstar agency. He then returned to France to work for Paris Match, Life, Marie Claire, Playboy, and Vogue. During his career, he created unique portraits of celebrities such as Marilyn Monroe, Brigitte Bardot, Orson Welles, Jane Fonda, and Jack Nicholson, with whom he became friends. Now Rizzo has his first large-scale retrospective in France at the annual Paris photography exhibition Salon de la Photo, which will show about 90 of his prints this November.
Capturing Salvador Dali
Rizzo's photo shoots with famous artists remain some of his most revealing work. Of Picasso and Dalí, his most eccentric subjects, Rizzo says simply, "They were exceptional beings." In his sessions with Salvador Dalí in Paris, he used found objects, such as the five magnifying glasses of different sizes and shapes that Dali grabbed at random in Rizzo's studio and which gave the Surrealist master a grotesquely enlarged eye and a huge half-moustache.
"Salvador did crazy things. One time, he told me, 'I have an idea, but I need 100 pounds of green beans, 100 pounds of lentils in a bag, two dozen croissants, and a stage at the Opera with a dancer,'" Rizzo remembers. The success of the Picasso photo shoot opened doors at the Paris Opera, whose leadership was thrilled to accommodate the artist.
"I thought they were going to kick me out. I didn't yet see the genius in the whole idea," adds Rizzo. Standing on the stage with the dancer next to him, Dalí asked Rizzo to photograph him at the moment when he threw everything into the air, with the help of some stagehands -- an echo of his famous Atomicus series with photographer Philippe Halsman, in which the artist and his assistants threw black cats and buckets of water skyward.
A Focus on Fashion
But Willy Rizzo's true passion was the world of celebrity and luxury. While Rizzo admits that his idol, Gaston Paris, would have snapped a fashion photograph anywhere, even "in front of a natural gas plant," the photographer acknowledges that personally he was "more attracted by a young woman getting out of a Rolls-Royce." Rizzo also contrasts his own approach with that of Robert Doisneau or Willy Ronis. "In the morning, Doisneau would say, 'I'm going to the studio,' and he would leave with his lunchbox. Even when he made money, he didn't spend it. But as for me, I was more tuxedos and evening gowns.'"
One of his photographs of fashion icons brought about a remarkable reconciliation. Yves Saint-Laurent and Pierre Cardin had had a falling-out in 1966 and were no longer speaking. There was no way that they wanted to appear in a photo together. But Willy Rizzo recalls how he pulled it off: "We had invited them to my studio separately, for the same time. A car with a chauffeur pulls up and one of them gets out. Two minutes later the other car arrives. They saw each other in the studio and they weren't happy, they got a little bit angry. But they were smart, they played the game, and during the session, they made up, they were more affectionate. Cardin leaned his head on Yves Saint-Laurent's shoulder and he was won over -- and me, too."
Defending the Paparazzi
The line between celebrity photographers and paparazzi can easily become blurred. But Rizzo defends the much-maligned paparazzi, saying, "They do a little harm from time to time, but they are not to blame. Stars like to have 10 photographers around them and afterward they pretend to complain." Rizzo's account of an experience at the Cannes Film Festival in the 1960s seems to corroborate this observation. Rizzo and Cary Grant were on the director Sam Spiegel's boat.
"Cary Grant was getting ready and he told Sam that he hoped there wouldn't be any photographers. He got off the boat and walked along the docks. There were indeed photographers, but they must not have recognized him and no one was expecting him. Afterward, he yelled at Sam and called him a son of a bitch. 'But we did it on purpose, so you wouldn't be bothered,' Sam laughed. He knew that Cary Grant would take it badly."
Rizzo even went so far as to call his classic photo of Winston Churchill a 'paparazzi photo.' "He said 'no photos' and blocked my lens with his hand. But without his hand, it wouldn't have had any importance," Rizzo said of the iconic image. The photographer said that he is "very flattered and very happy" about his upcoming retrospective at the Salon de la Photo, adding that for him, "photography started off as a pleasure, a grown-up children's game -- and it still is."
Visit ARTINFO to read more about the highs and lows of Willy Rizzo's tumultuous career tailing the stars and to see his most iconic images of the artists, actors, and other celebrities he called his friends.
- Nicolai Hartvig, ARTINFO France
Follow ARTINFO on Foursquare: http://foursquare.com/artinfo