The Iowa Straw Poll shook up the Republican primary contest this Saturday, handing Michele Bachmann her first toutable campaign victory and knocking Tim Pawlenty out of the running. The event also saw the emergence of the latest candidate to enter the race, an unlikely newcomer with a lot of popularity but little Washington experience: the Iowa State Butter Cow.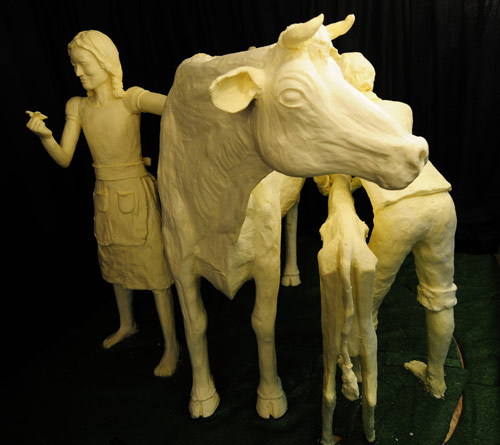 Butter Cow sculptures have been a tradition at the Iowa State Fair for 100 years. / Courtesy of Iowa State Fair
The oldest butter sculpture of its kind in the country -- it celebrated its one-hundredth year at the fair this weekend -- the cow is running a "Campaign for a 'Butter' Tomorrow," according to buttercow2012.com, which advertises the new entrant as "an udderly fantastic candidate" with "grass roots values." Created by 75-year-old Des Moines prankster Jack Mathews and Web designer Michael Reid, the site is currently conducting its own poll that shows the butter cow coming in with a 61.8 percent lead (254 votes) over President Barack Obama (16.06 percent, with 66 votes) and an impressive margin over its Republican adversaries, the closest being Herman Cain (5.6 percent, with 23 votes).
"Nobody seems to know who to support in the election, but Butter Cow has wide support in the public," Mathews told the Des Moines Register. The campaign, he added, "is probably going to last about two weeks, but it could go into 2012 if the interest is there."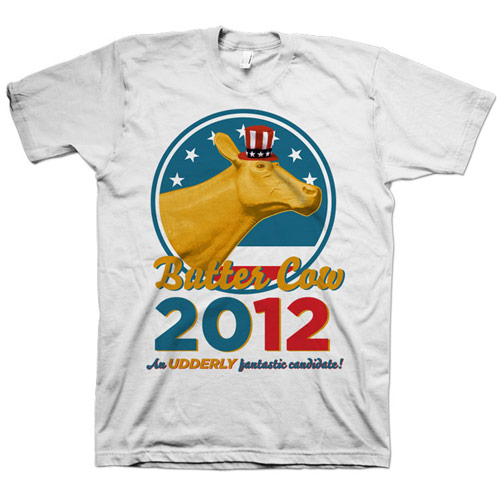 The Butter Cow campaign t-shirt / Courtesy of ButterCow2012.com
The sculpture itself has been a massive draw at the fair's Agricultural Building, with both potential wild card candidate Sarah Palin and new aspirant Jon Huntsman -- neither of whom participated in the straw poll -- paying visits, perhaps to warily gauge their new rival. In honor of the cow's centennial it was displayed on a revolving platform alongside two butter children and a butter calf, a faithful recreation of its original 1911 appearance. The whole composition was sculpted from 1,200 pounds of dairy product by Sarah Pratt, who succeeded local luminary Norma "Duffy" Lyon as Iowa's official "Butter Cow Lady" after a 15-year apprenticeship in the venerable art. (Neoclassical sculptor Antonio Canova, one noted precursor, is said to have excelled in the medium).
Lyon herself, who passed away in June, was memorialized in the fair's parade by a car decked in yellow roses. What she would have thought of her handiwork's new political aspirations is anyone's guess.
-Andrew M. Goldstein, ARTINFO
More of Today's News from ARTINFO:
Warhol's Portrait of a Late Art Dealer Sparks a Family Feud in Philadelphia
The McQueen You Didn't See at the Met: 9 Insights Into the Late Designer From the "Savage Beauty" Catalogue
Contemporary Art Stars Create a Custom Skate Shop in Chelsea - And Skater Kids Get a Discount
What's Lindsay Lohan Doing With That Knife?: A Q&A With Tyler Shields, Young Hollywood's Hottest -- and Most Twisted -- Photographer
Polishing the Apple: Highly Evolved Minimalist Redesign of Apple's New York Flagship Cube Revealed

Like what you see? Sign up for ARTINFO's daily newsletter to get the latest on the
market, emerging artists, auctions, galleries, museums, and more.