Nobody, it seems, has a bad thing to say about Wade Guyton these days. Critic Roberta Smith called the artist's current mid-career survey at the Whitney Museum of American Art "beautiful" and "brilliant." Art advisor Lowell Pettit described him as "a southern gentleman, the sweetest guy you'll meet." And perhaps the most generous compliments come from collectors, who have been shelling out upwards of $650,000 for his abstract inkjet prints.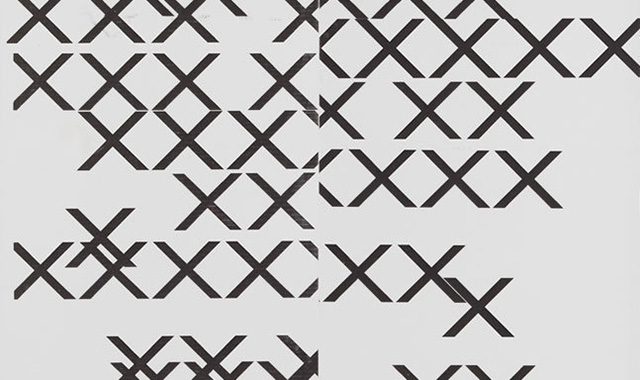 A detail of Wade Guyton's "Untitled," 2006, Epson UltraChrome inkjet / © Wade Guyton. Photograph by Lamay Photo

With the endorsement from the Whitney -- as well as induction into the permanent collections of the Museum of Modern Art, the Los Angeles Museum of Contemporary Art, and the San Francisco Museum of Modern Art -- the 41-year-old artist seems to possess all the ingredients of success.
But, then again, Guyton's generation has changed the rules. Affirmation from institutions like the Whitney has evaded many of his peers -- a group of 1970s-born, abundantly male, stars of the speculator circuit, including Nate Lowman, Anselm Reyle, Josh Smith, Dan Colen, and Joe Bradley -- and aren't these guys doing just fine? They have been collected by the likes of Charles Saatchi, Peter Brant, Dakis Joannou, or Mera and Don Rubell; many have been shown at White Cube's youthful secondary-market gallery, Modern Collections; and they've all seen their prices catapult without having serious backing from critics and museums.
"I had people come up to me -- people I don't even know -- asking me about Nate Lowman," said Santa Monica art advisor Nancy Chaiken, referring to a recent trip to Art Basel Miami Beach. "They don't even know who Jackson Pollock is, but they know Nate Lowman. Seriously."
So does museum validation still matter? Four years ago, a large painting by Lowman and Colen, both 33, cost $15,000; today Lowman's auction record is $240,000 and Colen's is $386,500. Joe Bradley's market buoyed more than 1,000 percent between 2006 and 2011, Bloomberg reported, and multimedia artist Rashid Johnson's prices have quadrupled within the last two years, noticed art advisor Lisa Schiff.
But, without outside support, some experts doubt the sustainability of some of these numbers. "Prices don't just keep going up forever. They stop, and they probably will for a lot of these guys," said Schiff.
Enthusiasm, at least on the secondary market, already appears to be cooling for 42-year-old Reyle, who has the potent backing of Gagosian Gallery, but a short museum exhibition history. He hasn't sold one of his trademark foil paintings for anywhere near his 2007 record of $631,193 in the years since (even after the bubble the works were going for nearly half a million). Nearly half of his paintings that hit the block this year--and there are plenty--failed to sell, according to the Blouin Art Sales Index.
Guyton is different. He instead seems to have found an intellectual and financial sweet spot. His timeless, neo-minimalist aesthetic--typewritten Xs, inky monochromes, razor-sharp lines, all manufactured by an Epson inkjet printer--is highly collector-friendly, and his market was strong even before the Whitney exhibition. "That just added rocket fuel to something that was already burning pretty hot," Pettit said.
Guyton's auction numbers spiked in 2010, when a bidder bought one of his now signature "X" canvases for $181,173 at Christie's. The following year, prices leapt in $100,000 increments to a record that now towers at $649,107.
But critical relevance matters too. The intersections between painting and technology in Guyton's work contribute to a larger historical conversation tied to Marcel Duchamp, Andy Warhol, and Agnes Martin. This is partly why observers bet that Guyton, along with perhaps his frequent collaborator Kelley Walker and Sterling Ruby, have the conceptual chops to outlast their peers.
"Wade is the best and most influential artist of his generation, the only one who actually pushed a bit further the boundaries of what art is capable of," said Loic Gouzer, senior vice president of postwar and contemporary art at Christie's. "He has a rigor that few artists of his generation have. We should see Wade crossing the mark of $1 million very soon."
"The success of this show should also be a testament to Wade's integrity as an artist," said Guyton's dealer, Friedrich Petzel, in an email. "His interest in showing his work in public institutions always superceded immediate market considerations."
Having a museum exhibition doesn't guarantee success, but it could position Guyton to follow in the footsteps of an artist like John Currin, who had a traveling exhibition that went to the Whitney, the Serpentine Gallery, and the Museum of Contemporary Art, Chicago, when he was Guyton's age. Or Matthew Barney, whose "Cremaster Cycle" showed in full at the Guggenheim when he was 35.
Or maybe it's a little of everything. As Pettit put it, "Wade's personality, his gallery, his institutional following, the beauty of his work is all a weird, perfect storm."
-Rachel Corbett, BLOUIN ARTINFO
More of Today's News from BLOUIN ARTINFO:
Big Names Bomb at Christie's Slack $36.8-Million Postwar and Contemporary Sale
VIDEO: A Trip Through Frieze London With ARTINFO Reporter Judd Tully
Danspace Project Revisits the Seminal Oeuvre of Judson Dance Theater
4 Artists to Watch at the Sunday Art Fair
The Perfect Gift for Anyone Who Thought Damien Hirst's Spot Paintings Were Garbage
Like what you see? Sign up for BLOUIN ARTINFO's daily newsletter to get the latest on the market, emerging artists, auctions, galleries, museums, and more.