On Tuesday afternoon U.S. Army private first class Bradley Manning was found not guilty of "aiding the enemy," but guilty on five charges of espionage and guilty on another five charges for theft related to the charge that he provided classified documents to WikiLeaks. Artist Debra Van Poolen has been sitting in the courtroom for the entire eight-week trial sketching Manning and his trial, making the torturous bike-train-carpool commute every day.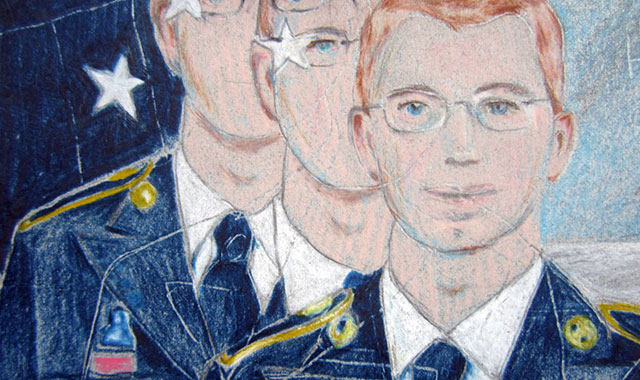 Debra Van Poolen's drawing of Bradley Manning
"It's been logistically challenging," she told the Associated Press.
She's selling the resulting drawings on eBay, with 80 percent of proceeds from the sales going to the legal fund of the Bradley Manning Support Network, and to help fund a production of Claire Lebowitz's play "bradass87" in Washington, D.C.
Van Poolen's works range from conventional courtroom sketches of Manning, lawyers, witnesses, military judge Army colonel Denise Lind, and other members of the audience, to stylized images like a tear-soaked American flag with Manning's face emerging from its billowing folds. She has already sold nine of her drawings, with another 10 currently up for auction.
"He's been incredibly attentive 100 per cent of the time," Van Poolen said of Manning when speaking to the Guardian on Tuesday morning, in the build up to the verdict. "Usually he's sitting on the edge of his seat, often with a pen in his hand, often taking notes, staring straight ahead at whatever is happening in court at the time."
Van Poolen works currently available include a solitary portrait of Manning from the back against a stark white backdrop, and a cinematic rendering of the courtroom during the recent testimony of Harvard professor Yochai Benkler.
Though he avoided the most grievous charge, Manning's multiple guilty verdicts could add up to as many as 130 years in prison. Sentencing hearings are due to begin Wednesday.
-Benjamin Sutton, ARTINFO
Like what you see? Sign up for ARTINFO's daily newsletter to get the latest on the market, emerging artists, auctions, galleries, museums, and more.