Your pockets might not need to be as deep as François Pinault's or Victor Pinchuk's to get your hands on a genuine Damien Hirst skull. OK, you'll have to forget about the 1,106.18 carats of diamonds encrusting the artist's sparkly "For the Love of God" (2007) and be content with a sketch doodled at the back of a wrestling match poster, but instead of the £50 million allegedly paid by a consortium of businessmen, this skull could be yours for as little as £4,000 -- £5,000 if it reaches its higher presale estimate.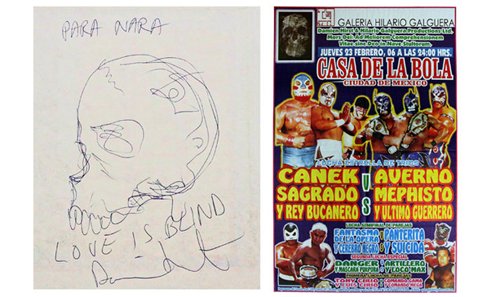 Damien Hirst, Untitled (Skull), inscribed Para Nara, Love is Blind and signed biro on wrestling poster
The piece will go under the hammer at regional auctioneers Chorley's of Prinknash, Gloucester, on May, 24. It was given as a present by the artist to the vendor in Mexico City in 2006, after a show at the Hilario Galguera Gallery. "During the after show party which included a wrestling match Hirst sketched a skull and the slogan 'Love is Blind' on the back of one of the discarded wrestling posters for a friend," explained a spokesman for the auction house. "She now wishes to sell the drawing locally in light of Hirst's connection with Gloucestershire -- he owns Toddington Manor and has a studio in Stroud."
"We don't know if there is any chance of someone buying it locally," Chorley's later told ARTINFO UK. "There's been a lot of interest in it throughout the country and abroad."
Two signed exhibition catalogues are also part of the auction, with presale estimates of £500-700 and £800-1,200 respectively.
-ARTINFO UK, BLOUIN ARTINFO
More of Today's News from BLOUIN ARTINFO:
Join the Crew of Tom Sachs's DIY Mission to Mars at Park Avenue Armory
Don't Expect Aaron Sorkin's Steve Jobs Biopic to Present a Shiny Apple
David Chipperfield Reveals the Theme for His 2012 Venice Architecture Biennale
Bergdorf Goodman to Celebrate its 111th Year With a Special Collection, Documentary, and New Boutiques
Like what you see? Sign up for BLOUIN ARTINFO's daily newsletter to get the latest on the market, emerging artists, auctions, galleries, museums, and more.