Street artists are feeling the Olympic pinch. Although organisers Locog stated that there were no official rules on the removal of graffiti and murals, several pieces of street art have been painted over, including some featuring the strictly-copyrighted interlocking Olympic rings.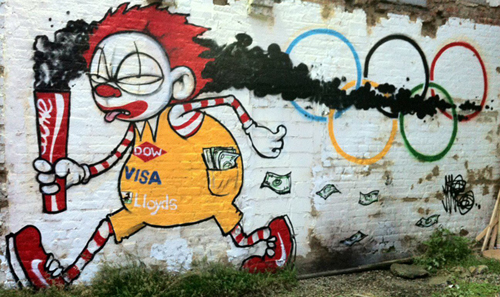 Mau Mau's Olympic mural
"There's a more widespread clean-up operation than normal, definitely," street artist Mau Mau told the Telegraph. "There's loads of work disappearing from the tracksides by the railways." One of his pieces critiquing, he said, "the corporate takeover of the Olympics" and featuring a fat McDonald's clown running with a Coke-shaped torch, was removed only six days after it was installed -- and this even though it had been painted on the side of a private building in Ealing with the owner's approval. "I kind of expected it," Mau Mau told the BBC. "I guess someone deemed it was offensive to the public."
According to Geoff Whitehouse from street art magazine Very Nearly Almost, the removal of street artworks started long before the Olympics, and is the result of the city's drive to show its cleanest side during the Games. Local authorities end up arbiters of taste, forced to decide what should or should not be preserved. "It's been going on for over a year or more with a general clean-up around Hackney," Whitehouse told the BBC. "This is part of a wider issue where councils proclaim to a zero tolerance policy on graffiti as it is vandalism and deemed illegal, yet will also help protect work by Banksy."
Campaigns manager for Keep Britain Tidy Helen Bingham acknowledged that this could be a bit of a conundrum. "There's a difference between low grade tagging and the work people like Banksy do," she said. "You have to look at it and know the difference -- it's not a black and white thing."
When James Cochran, aka Jimmy. C, sought permission to realize his large mural of Jamaican sprinter Usain Bolt in East London, he was warned: "'By the way, don't touch the Olympic rings -- there's very strict copyright control on that'." "They're getting a bit authoritarian," he told AFP. "The Olympic Committee have got to be careful that they don't infringe on freedom of expression. Sometimes you think, 'Jeez, Beijing was more open-minded'."
Banksy has recently released a picture of an Olympic-themed mural on his website -- a javelin thrower hurling a rocket -- but the location has been kept secret, some believe for fear of removal by the Olympics authorities.
"I have no idea why the authorities are trying to clean the street up," said artist Darren Cullen, who was arrested last week on suspicion of incitement to commit criminal damage and is now banned from all Olympic venues. "That is what East London is known for. It is the Mecca, the number one place for street art in the world."
-ARTINFO UK, BLOUIN ARTINFO
More of Today's News from BLOUIN ARTINFO:
Facebook Censors Pompidou's Gerhard Richter Nude, Fueling Fight Over "Institutional Puritanism"
Is the Dallas Art Museum on the Brink of Buying Leonardo da Vinci's Spooky Jesus Painting?
The New Architectural Wisdom of Airports: Ikea, iPads, And Ice Skating Rinks
Digital Crystal: London's Design Museum Reveals Details of its Forthcoming Swarovski Exhibition
Tate Britain Retraces 50 Years of Photography in London With First Exhibition Drawn From the Landmark Eric and Louise Franck Donation
Like what you see? Sign up for BLOUIN ARTINFO's daily newsletter to get the latest on the market, emerging artists, auctions, galleries, museums, and more.