As a seemingly inexhaustible reservoir of 20-something Chelseaites in plastic rimmed glassed sipped Brooklyn lagers and trepidatiously bopped along to the tunes of Derrick Adams and DJ Imposter at the red-carpeted opening of "Young Curators/New Ideas" at Meulensteen Gallery, I wondered what we all came here for. Was it for the art? The free microbrew? Or the false sense of exclusivity fostered by the velvet rope, tight guest list, and around-the-block line? Or was it the ever-seductive, insatiable allure of youth and novelty -- the now-classic avant-gardist notion that the next generation will upend the pieties and pretenses of their fathers, and look cool and sexy while doing it.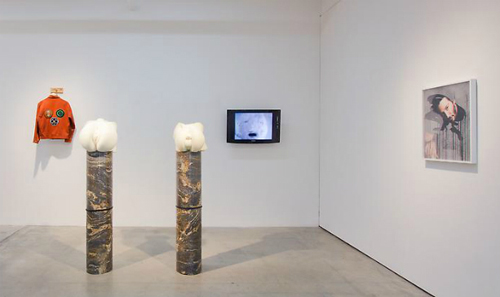 An installation view of "Young Curators" at Meulensteen / Courtesy Meulensteen

Now in its 4th edition, "Young Curators" is the labor of curator-about-town Amani Olu, who currently works under the moniker "Mr. and Mrs. Amani Olu." Mr. Olu and his fictitious Misses put out an open call back in May for curatorial proposals. With 29 artists and 12 curators between the ages of 21 and 32, this is the largest, most ambitious, and most ceremonious "Young Curators" show to date. Meulensteen's sprawling upstairs space, storefront annex, and cavernous basement are subdivided by petitions and moveable walls to showcase 12 semi-autonomous mini-exhibitions.
The shows run the gamut from naively altruistic participatory installation to kitschy pop painting to post-minimalist sculpture to diaristic video art to monochrome painting, though new media seemed palpalbly absent. If anything, this year's "Young Curators" less of an intrepid march into the future than of a thoughtful, retrospective glance at the past. If one were to take "Young Curators" as the voice of a generation (or "a voice of a generation," to quote zeitgeisty millennial Lena Dunham), you might get a fragmented picture of what self-aware, tiptoeing post-postmodernism looks like. Call it a crisis of historicity, a crisis of faith, a skepticism towards metanarratives, or people just doing their own thing, man, these curators bypassed the much-ballyhooed New Aesthetic in favor of a potpourri of painting, sculpture, film, and everything in between.
Here's a selection of highlights from the show:
-- Upon entry, visitors are greeted by Teresa Henriques's colossal text painting spelling out the word "Problem." Looking through a binocular kaleidoscope that rotates by turning a crank, the word dissipates into a churning psychedelic maze of pattern and color. The overall effect reminded me of Yoko Ono's effervescent "Ceiling Painting (YES Painting)." Courtesy of New York curators Susi Kenni and Tali Wertheimer, it's a rare moment of open-ended affirmation -- and one of the few you'll get at "Young Curators."
-- Fellow New Yorker and Bard CCS alum Rachel Cook's "Not-Not-Not Image-Objects" show was phenomenological in nature, attempting to tease out the sculptural qualities of photography, a medium that "no longer has simply an indexical relationship to the object," she wrote in her curator's statement, "It can also embody a form." This neo-formalist theory of photography might be as old as Moholy Nagy, but sculptor Jillian Conrad's slide projections on provisional-looking-wooden beams pit light and matter against each other, questioning our boilerplate notions about both.
-- San Francisco-based curator and founder of HungryMan Gallery Robin Juan's painting show plays on the dreary truism that "there are no new ideas, just new forms of cultural production." While her thesis is somewhat of a bummer, Josh Reame's "Refraction" paintings -- wiry abstract acrylic passages that looked shattered and pieced together willy-nilly -- are anything but tentative.
-- Art blogger and independent curator Legacy Russell's "ERRATUM" asked artists to display work in juxtaposition to an existing text. Amy Beecher's "Please Read this for me," based on a self-help book written for women in 1988, took the form of a long spool of paint-splattered paper cascading from the ceiling to the floor. Julia Weist's "After Mike Kelley" paid rather literal homage to Kelly's famous blanket and stuffed animal floor sculptures, while W.A.G.E cofounder A.K. Burns's "a very special delirium" -- a plaster cast of a banana propped up to spotlight its own shadow -- plays on the same semiotic playground as Rene Magritte's "Ceci n'est pas une pipe" and Jasper Johns's "Fools Broom." Russel's show was a thoughtful -- if slightly haphazard --contemplation of art history, gender, and power.
-- Blogger, business student, and self-described "modern day flaneur" Larry Ossei-Mensah's show of Hugo McCloud's oxidized copper combine paintings, titled "Beautiful Refuse: Materiality," makes aestheticized reference to shanty dwellings in Africa and Brazil. A touchy proposition, though it goes to show that "Young Curators" isn't all morbid critiques of painting and ontological games. The show also includes some collectable, attention-grabbing objects.
-- FLAG Art director Stephanie Roach's "Losing My Religion" explores the intersection of pop idolatry and iconography with Jenny Spota's gooey, intimately scaled religious tableaux and Jeffrey Vallance's kitschy reliquaries. Neither secular nor pious, Roach opts to hang out agnostically in the empty space left by religious allegory.
-- London-based curator Tiernan Morgan offered a post-Warholian look at the decline of America's soft power. Alongside screwball documentarian Adam Curtis's montage film "It Felt Like a Kiss," Morgan shows Darren Coffield's kitschy acrylic portraits of midcentury celebrities with upside-down faces. Coffield's Marilyn Monroes and fright-wigged Warhols are carefully hand-rendered, rebuking the factory-forged slickness of Warhol's silkscreens. A highlight is Jerry Kearn's awesome and terrible "Mortgage," a 6-by-7 foot painting of a heat-packing, redneck Jesus. It's unclear if the second amendment-worshipping messiah is out to defend his suburban track mansion by fire, or to stage a home invasion robbery.
-- Calder Zwicky -- a teen educator at MoMa and performance art curator -- was the only curator to tackle sex head on, with Adam Parker Smith's (literally) steamy portrait of Keanu Reeves and the artists's crowd-pleasing foam butts and vagina sculptures (which made the rounds at this year's Bushwick Open Studios). Shown alongside Peter Hobbs's viscerally creepy shaving cream video portrait, "Space Foam," the work explores, in Zwicky's words, "the transformation of sex from the procreative to the performative."
-- Finally, ArtBridge director Jordana Zeldin's conceptually tight, two-person show, "All the Boys and Girls," was a Proustian meditation on memory and nostalgia. Ben Alper's scans of photo album pages emptied of their contents accompany Judith Shimer's video, "Grow Up," in which she tries to replicate the babbling baby talk and inchoate gestures her five-year-old self. The authentic home video and the reenactment play out concomitantly, separated by a split-screen. Together, both bodies of work eloquently communicate the inexorable sense of displacement and loss that accompanies on onset of adulthood -- a feeling that all young folks, curators or no, can understand.
-Chloe Wyma, ARTINFO
More of Today's News from Blouin ARTINFO:
Dolce & Gabbana Decamps to Sicily for Its First-Ever Couture Show
Santiago Calatrava Takes the Hermitage Museum's Winter Palace With His Sprawling Retrospective
"Don't Kill the Goose That's Laying the Golden Egg": Knoedler Racketeering Suit Makes Spicy New Accusations
Wood Veneers, Leica Lenses, and Gramophones: 8 Retro, Low-Tech Accessories to Outfit Your High-Tech Devices
Hans Ulrich Obrist 2.0: The Voluble Curator Heads to L.A. to Launch Online Compendium of His Famed Interviews
Like what you see? Sign up for Blouin ARTINFO's daily newsletter to get the latest on the market, emerging artists, auctions, galleries, museums, and more.