In March, Iran-born painter Nicky Nodjoumi accompanied his New York gallery, Priska C. Juschka Fine Art, to the Art Dubai fair, where he sold a large triptych drawing for $36,000. Seven months later, Nodjoumi says he still hasn't received his half of the proceeds from the sale, or for several other works sold by the gallery over the years. So, he's hired a lawyer.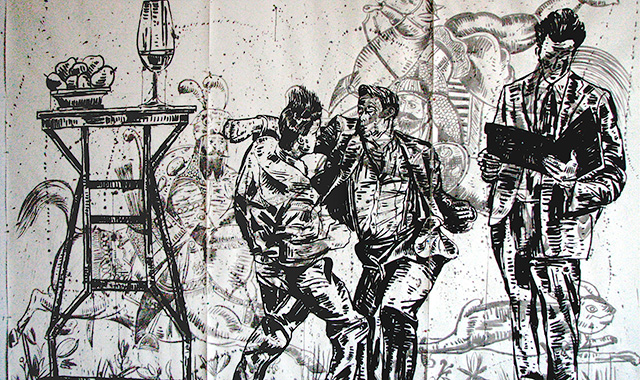 It's hardly the first time that an artist -- or a freelancer of any other stripe -- has complained about art dealers paying late, if at all. It's not even the first time such charges have hit Priska Juschka's gallery, which closed its space in Chelsea last year after sculptor Dana Melamed sued for her 50-percent share of sales brokered by the gallery at the 2009 Pulse art fair in Basel.
"It's very common, and that's the problem," Melamed said. She ultimately recouped her half in an out-of-court settlement, but still had to pay 30 percent to her lawyer. "From what I hear from other artists, it's very rare that they get paid on time."
Nodjoumi, who lives in New York, claims the gallery still has several of his paintings in storage and owes him up to $70,000 for sold work. "I don't know if it's possible, but this should be considered a criminal act," he said.
It is possible. Starting November 6, failure to pay consignors -- a category that includes artists, heirs to artists' estates, and collectors -- can be considered just that, at least in the state of New York. Last month, governor Andrew Cuomo signed into law provisions that strengthen the "New York Arts and Cultural Affairs Law," which requires galleries to separate proceeds for consignors from their own operating accounts. Now, if a dealer breaches fiduciary obligations to an artist, he or she can be convicted of a criminal misdemeanor, subject to fines and jail time.
"What we found in New York was that the galleries were not respecting [the law]," said Dean Nicyper, chairman of the New York City Bar Association's Art Law Committee, which drafted the amendments. "Galleries sold paintings they didn't separate as trust, and the legislation had no penalty. It said, 'you can't do that,' but it didn't say what would happen if you did."
Nicyper said the trouble first came to light when Massachusetts lawmakers passed an even stricter version of the bill in 2006. Then, news broke of the $120-million Salander-O'Reilly scam, in which the Upper East Side gallery was caught selling artworks without paying -- or even informing -- its consignors. When its owner, Lawrence Salander, filed for bankruptcy in 2007, First Republic bank and other creditors came after the gallery's assets, consisting partly of artworks for which the sellers were never paid.
Because Salander never separated this property from the gallery's, creditors were able to seize it as security, including several paintings by Robert De Niro, Sr., which incited a legal battle between his son, the actor Robert De Niro, Jr., and gallery director Leigh Morse. In order to retrieve their artworks, many clients ended up buying them back from the bankruptcy estate.
"Obviously that provided a perfect example of what was needed," Nicyper said. Now the law prohibits creditors from making off with trust property or funds. It also allows claimants to recover attorneys' fees if they bring successful lawsuits against galleries.
But the law provides a loophole for dealers that concerns some observers. Under the legislation, galleries can ask consignors to sign away their new rights with a waiver -- an exception that will undoubtedly target artists who have the least bargaining power.
"I think it's a step in the right direction, but I'm not sure it's a cure-all. What a well-advised gallery is going to do is come up with a proper waiver," said Maurice Lefkort, a prosecutor in the Salander suit with the law firm Willkie Farr & Gallagher LLP. "If you're a struggling artist and the gallery says, 'sign this,' what are you going to do?"
Nicyper admits that the waiver provision was a "compromise," but added that he isn't too worried. Stipulations require that waivers be "clear, conspicuous, in writing and signed by the consignor." Plus, the contract has to identify the specific law that the artist is waiving. "Most artists are not even aware that there's a statute out there that protects them," Nicyper said, reasoning that the waiver process is "going to suddenly bring awareness to artists of what this legislation is."
The revised law isn't intended to have an impact on galleries who already conduct their transactions properly. That may be why Chelsea dealer Casey Kaplan doesn't seem to think it will affect his business. "You cannot run an art gallery on other people's money," he said in an email when asked about the legislation. "As soon as I am paid for a sale, I pay the artist."
It remains to be seen if judges will allow the new rules to apply retroactively, to sales made before September, such as in Nodjoumi's case. But, in that particular instance, it may not matter. Priska Juschka is apparently in the process of moving to Kazakhstan -- where it's probably safe to assume such laws don't apply.
-Rachel Corbett, BLOUIN ARTINFO
More of Today's News from BLOUIN ARTINFO:
Can a Beefed Up Law Protect New York Artists From Deadbeat Dealers?
An Exclusive Preview of Artist Charlie White's "Experimental Teen Pop Album"
Sale of the Week, October 21-27: A Motley Mix of Surrealism, Pop Art, and More
Duchamp Prize Nominee Franck Scurti on Being an Artist Without a StyleY
Hadid, Herzog and de Meuron Shortlisted for Redesign of Iconic Melbourne Railway Station
Like what you see? Sign up for BLOUIN ARTINFO's daily newsletter to get the latest on the market, emerging artists, auctions, galleries, museums, and more.