Hurricane Sandy is long gone after having cost Broadway an estimated $8 million in lost revenue. But the losses are still piling up for a couple of high-profile shows, including "Scandalous" and "Chaplin," which have been flooded with red ink since their respective openings. Indeed, "Chaplin," the new musical about the iconic tramp, which opened last September, announced on Monday, that it would play its final performance on January 6th.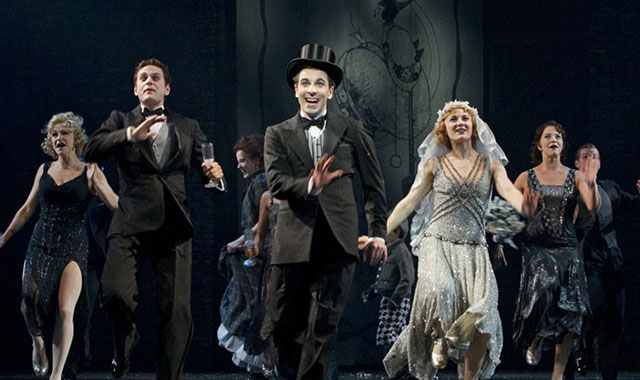 "Scandalous," which follows the twisting journey of charismatic evangelist Aimee Semple McPherson, cannot be far behind in hanging up a closing notice. Both shows opened to tepid reviews and have been posting grosses far below their running costs, racking up losses of hundreds of thousands of dollars.
"We are so disappointed to close this show," said Mindy Rich on behalf of the producers of "Chaplin." "We've been moved by the countless theatergoers who have loved 'Chaplin' as much as we do. We are so proud of our extraordinary cast and creative team, and 'Chaplin' will live on through productions on our national tour in 2014 and around the world."
Mindy Rich and her husband, Bob Rich, along with husband-and-wife team John and Claire Caudwell are the billionaire producers who are said to have been soaking up the red ink on "Chaplin" over the last couple of months. In the case of "Scandalous," the sugar daddies have come in the form of lead producers Dick and Betsy DeVos and, according to a New York Times report, the Foursquare Church, which was founded by McPherson in the 1920s. The show itself is a decade-long labor of love for Kathie Lee Gifford who wrote the libretto and co-wrote the lyrics to the songs with composer David Friedman. She's been tirelessly flogging the show in the media and attending nearly every performances where she poses for pictures and signs autographs for fans. Heir to the Amway fortune, Dick DeVos spent millions on a failed bid to be the governor of Michigan so a campaign on behalf of a Broadway show must seem like peanuts in comparison. The Foursquare Church no doubt sees it as an evangelizing opportunity since "Scandalous" -- despite its title -- treats its protagonist and her beliefs with sympathy and respect. Still, despite the infusions of cash, it may be increasingly difficult for "Scandalous" to hang on; some performances are played to scant audiences.
There are several reasons why a deep-pocketed producer might want to keep a struggling show alive, including the ability to participate in future royalties, the strategy of branding the show as viable, the possibility of Tony nominations, and that perennial motivation, ego.
"It's absolutely ego," said a Broadway producer unaffiliated with the shows. "No one wants to be humiliated, especially the first time out. Reviews are forgotten after six weeks. Then you're hoping for good word-of-mouth to carry you through."
Nor can one discount the deep emotional investment that develops between producers and their creative team over the course of months and years. In the case of "Chaplin," the four-month run resulted in an original cast album, a national tour, and the possibility of international engagements. Next spring, Tony nominators may well remember the acclaimed performances of Rob McClure, as the Little Tramp, and Carolee Carmello, as the barn-storming Aimee. And when "Chaplin" rolls out on tour, the marketing will no doubt include the phrase, "the Broadway hit."
-Patrick Pacheco, BLOUIN ARTINFO
More of Today's News from BLOUIN ARTINFO:
Miami's SEVEN Fair Shows Sandy-Impacted Galleries Bouncing Back From Damages
Report from the Front: NYFCC Garlands "Zero Dark Thirty," "Lincoln"
Art+Auction's Power 2012, Part 1: Auction Power
Art+Auction's Power 2012, Part 2: Power of Tradition
Art+Auction's Power 2012, Part 3: Power Collectors
Like what you see? Sign up for BLOUIN ARTINFO's daily newsletter to get the latest on the market, emerging artists, auctions, galleries, museums, and more.