Abramovic's Museum of Modern Art retrospective has popped back up in Russia at contemporary art impresario Dasha Zhukova's Garage space. The new iteration of the exhibition also features trained performers re-enacting Abramovic's iconic pieces, but the Russian stand-ins might have bettered their U.S. counterparts -- "I was really surprised by the determination of the Russian performers," the artist said.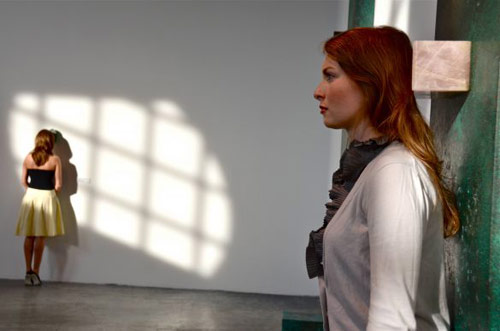 "Courtesy Alli Rath / Moscow Times"
Another new feature of the show is a team of scientists (Russian and American) turning Abramovic's "The Artist is Present" performance into a science experiment. In "Measuring the Magic of the Mutual Gaze," the scientists record the brainwaves of the artist and her sitting partner "in an effort to understand the ability of the brain to unconsciously perceive the emotions of others." Science is definitely a new arena for Abramovic's myth-making, fantastical art, but who knows what's coming up next? Maybe she'll don a lab coat instead of that snake skin leather jacket. [Moscow Times]
More of Today's News from ARTINFO:
See the 1924 Edward Steichen Photo Haunting Fall Fashion, From Karl Lagerfeld to Anne Hathaway
Designs for the Developing World: New Show Spotlights Innovative Solutions for Global Crises
Shows Around the World: 9 Global Art Picks From Takashi Murakami to Patti Smith
Bianca Jagger Gives Ai Weiwei an "Award for Courage" as Her Charity Auction Raises $1.1 Million at Phillips
What Occupy Wall Street Can Learn From the Situationists (A Cautionary Tale)
ARTINFO's Adventures at Comic Con Uncover Some Serious Art and... the Sucklord
Like what you see? Sign up for ARTINFO's daily newsletter to get the latest on the market, emerging artists, auctions, galleries, museums, and more.