WASHINGTON, D.C. -- Some people wait all their lives to find the One. Not so, DC-based artist Kathryn Cornelius. With the support of her gallery, Curator's Office, and the Washington Project for the Arts, Cornelius followed through with her plan this past Saturday to marry and then divorce seven suitors (two women and five men) in seven successive ceremonies at the Corcoran Gallery.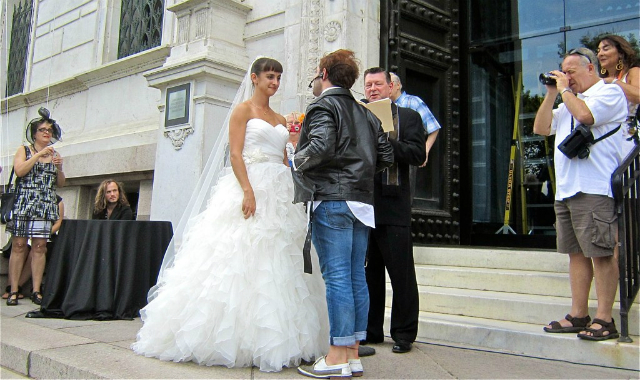 Kathryn Cornelius marrying Andrew Bucket / Courtesy anokarina via Flickr

The artwork, titled "Save the Date," was described to the viewing public as an attempt to comment fruitfully on the institution of state-sanctioned marriage and the ritual's "complex mix of private emotion [and] public spectacle." In preparation, Cornelius bought a dress, hired a DJ, composed invitations, and arranged for a first date with each of her seven suitors, two women and five men. "We talked about their relationship history, and their feelings and thoughts on marriage and divorce," Cornelius told ARTINFO on Monday. "What sort of things had been said to them over the years, or what they wished they said to someone who maybe broke their heart."
The final product was a consummate mix of solemnity and joy. After one, 30-odd guests formed an immense conga line. Later in the day, people wrote gleefully on Twitter that Cornelius's marriage to Eames Armstrong and Holly Bass were the first same-sex marriages they had ever witnessed -- a timely fact given the Obama administration's recent endorsement of gay marriage and the Concoran's proximity to the White House.
Throughout the day of weddings, exchange of vows and "first dance" segued into Cornelius and her new partner moving from a legally unofficial marriage to ceremonial -- though also unofficial -- divorce. Though the time allotted for this aspect of the performance was much shorter, Cornelius hoped it would carry as much weight as any other. From experiences among her friends and family, she hoped the work would prompt people to rethink the value of commitment versus separation, respectively, as achievement or failure. "We don't really talk about divorce a whole lot." Cornelius told ARTINFO. "That's the sort of private matter that doesn't get as much public recognition or consideration."
-Reid Singer, BLOUIN ARTINFO
More of Today's News from BLOUIN ARTINFO:
ARTINFO's Definitive List of the 30 Best Dressed People in the Art World, From Klaus Biesenbach to Olympia Scarry
Rio Olympics Masterplan Highlights an Emerging Focus on Leaving a Sustainable Legacy (And Farmers Markets)
Etsy Artistes: 20 Surprisingly Excellent Avant-Garde Artworks From the Online Craft Mecca
Dressing Marilyn Monroe: Seven Designers Behind the Bombshell's Iconic Wardrobe
In the Wake of Facebook's Richter Blackout, Does the Social Network Still Stand for Censoring Art?
Like what you see? Sign up for BLOUIN ARTINFO's daily newsletter to get the latest on the market, emerging artists, auctions, galleries, museums, and more.