Landmines are very expensive reminders of sometimes long-resolved conflicts. In addition to the 15,000 to 20,000 lives it takes annually, each costs between $300 to $1,000 to safely deactivate and remove. But that's where the power of innovative design comes in. The Mine Kafon, a Kickstarter project by Eindhoven-based designer Massoud Hassani, is a wind-powered invention that could wipe out up to four landmines during its life for the low, low cost of €40.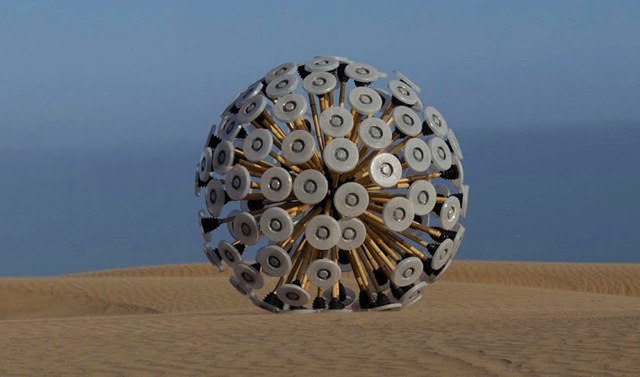 The Eindhoven Design Academy graduate who came to the Netherlands as a child refugee was inspired by the toys of his youth -- simple devices that raced across the desert, rolled by the wind. In a stroke of brilliant adaptive reuse, Hassani reinvented those principles using bamboo rods and reused plastic lids, which, with the proper funding, will rove large tracts of land, detonating whatever it may come across. Thanks to its resilient design, it can explode, shed just a few legs, and keep rolling.
-Author, Janelle Zara BLOUIN ARTINFO
More of Today's News from BLOUIN ARTINFO:
SHOWS THAT MATTER: Exploring Henry Darger's Mysterious Universe at Ricco/Maresca
21 Questions for Time-Stopping Artist and Filmmaker James Nares
All the World's (Really) a Stage at New York's Under The Radar Fest

New York Dealer Couple Must Pay Collector $18 Million for Running Off With His Art
John Malkovich Will Liaise Dangerously Again as Casanova
Like what you see? Sign up for BLOUIN ARTINFO's daily newsletter to get the latest on the market, emerging artists, auctions, galleries, museums, and more.