Just over a year after New York-based practice Diller Scofidio & Renfro (DS+R) was selected to transform the center of Aberdeen, Scotland, the city council has pronounced the scheme for the Aberdeen City Garden Project all but dead. Conservatives who had originally backed the Labour-opposed plan when the council came to a vote in August 2012 are now backing Labour's alternative proposals, which seek to pedestrianize parts of the city center and build a new civic square, minus the entangled webs of pedestrian paths and pastoral greenery.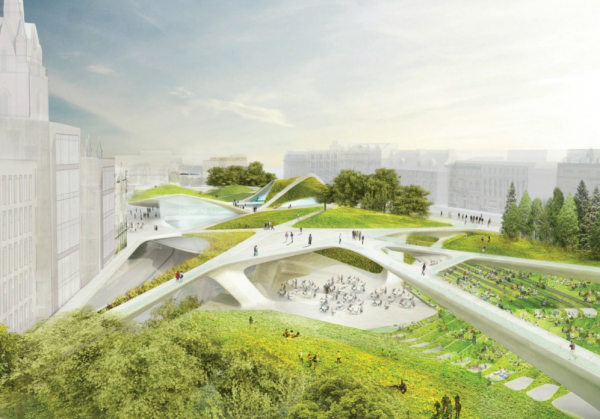 Image courtesy the architects.
As Tory group leader Fraser Forsyth told a local paper, the chances of the original DS+R scheme being realized were now in the realm of "unicorns and fairies," reports BDOnline. Though both parties seem to have abandoned the city garden plan, the alternative proposals are already prompting questions about funding.
-Author, Kelly Chan BLOUIN ARTINFO
Russia"s Lawless Art Collective Voina Wages Legal Warfare on Own Documentarian
James Franco on Skirting Populist Expectations in His "Gay Town" Show in Berlin
Bacon and Basquiat Shine at Sotheby's London's $116-Million Contemporary Sale
Miami"s Art Wynwood Returns for Second Year With Fashion, Pop Art and Street Art
Orange County Votes to Fund $10M for Paul Rudolph Center Renovations
Like what you see? Sign up for BLOUIN ARTINFO's daily newsletter to get the latest on the market, emerging artists, auctions, galleries, museums, and more.