There are about 20 Frank Lloyd Wright-designed homes on the market across the country at the moment, which the Wall Street Journal called the "largest number in recent years," in May. It would seem to be every architectural enthusiast's fantasy to live in one, given the scores of die-hard Wright fans who take pilgrimages just to ogle these residential buildings -- yet not even Wright houses are immune to the housing slump. The Wright homes located in and around Chicago, where nearly half of this recent crop are for sale, came on to the market between nine months and four years ago. Significant drops from the initial asking price have been as high as $700,000.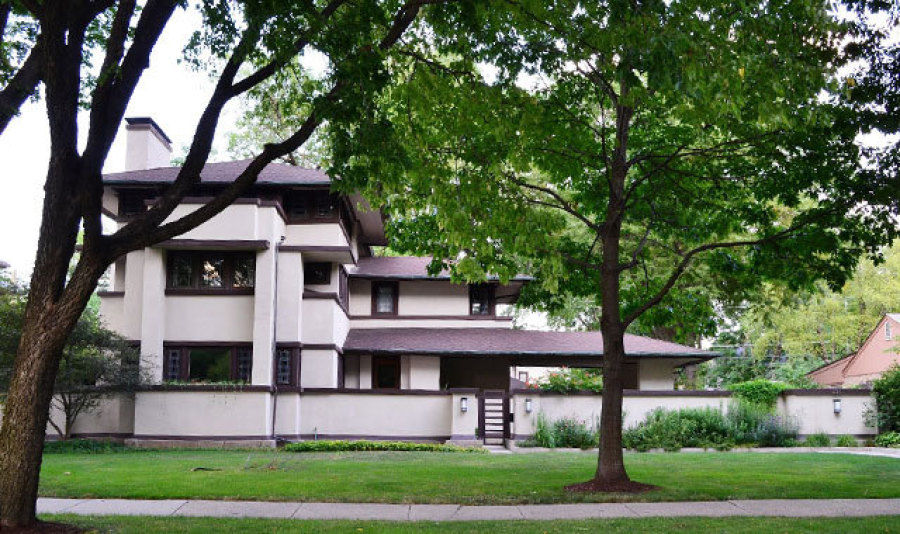 Frank Lloyd Wright's William E. Martin House/dami817.wordpress.com
"We price [Wright's designs] as art, but they sell as houses," realtor Laura Talaske recently told Chicago Magazine. She's now in the process of closing the sale of her own Wright home, the 4,200-square-foot, Prairie Style 1902 William E. Martin House in the Chicago suburb of Oak Park. Having bought the house in 1990 and since outfitted it with central air, she and her husband recently decided to downsize now that their children are grown. In 2010, they put their house on the market for $1.6 million, but three years later it had dropped to $1.2 million. That price is more in step with the neighborhood, where other comparably-sized homes go for as low as $900,000, whether or not they were designed by an architectural deity.
By architectural wonks, Wright houses are indeed considered works of art, but unlike a Monet, a Warhol, or various other two-dimensional treasures that collectors are willing to spend upwards of $1 million for, potential buyers expect living in art to be much more tedious than living with it. Famous Wright hallmarks include small kitchens, narrow doorways, built-in furniture, split levels, and unusual spatial geometries. There are also infamous hallmarks, the horror stories of leaking roofs, flooding basements, and the scrutiny of overzealous preservation groups that wish to keep everything exactly as is. Talaske, however, attributes those issues to "old house problems" -- they're often older than 100 -- rather than the architecture, and emphasizes the fact that a few "rare" instances that have been "blown out of proportion" in recent media.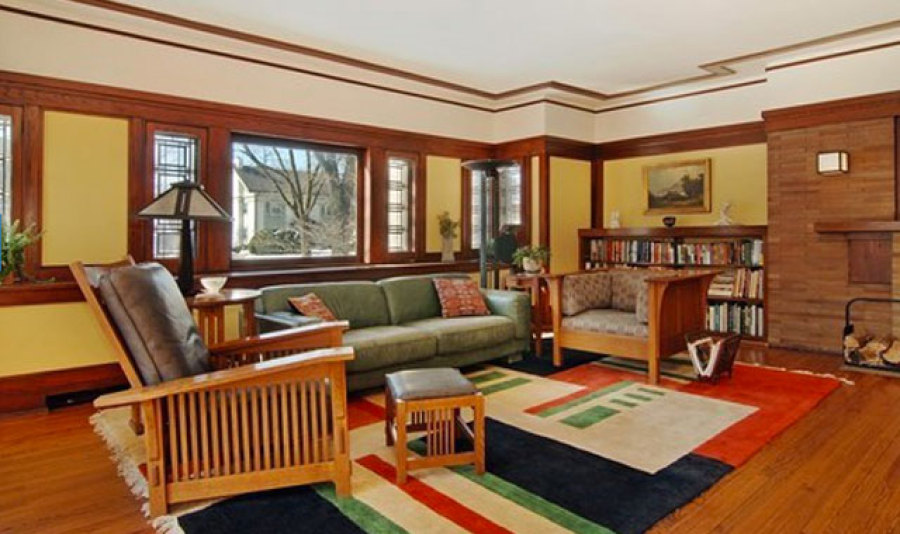 Interior of William E. Martin House / savewright.org
"These homes become difficult to sell as the negativity and hearsay becomes reality due to uninformed bloggers who disparage and perpetuate rare instances," Talaske told ARTINFO, adamant about setting the record straight. "They live like every other type of house -- of that era... There have been a couple of instances where Wright went out on a limb and did something a little unusual, and it didn't work out. I will be the first to admit that. The small percentage of those homes have now been driving the conversation... Know that if you haven't been in the house you really don't understand them. It's kind of like walking a mile in the Indian moccasins."
Those proverbial Wright moccasins once belonged to Kim Bixler, author of the 2012 book "Growing Up in a Frank Lloyd Wright House" about her childhood in the Rochester, New York 1908 Edward E. Boynton House. Her parents bought the house in 1977 for $110,000, and over the next 17 years, the titular experience made her well acquainted with Wright's more experimental constructions. Not only was her house one of those notorious leakers, it actually sagged. Prior owners had discovered that the downspouts Wright installed inside the walls in order to keep the exterior form pristine were frequently clogged with rotting leaves. (In the 1930s, the then-owner moved them to the outside, incurring Wright's wrath as he drove past the house.) Having interviewed all the living former tenants, she realized the house's polarizing nature -- everyone either loved it or hated it.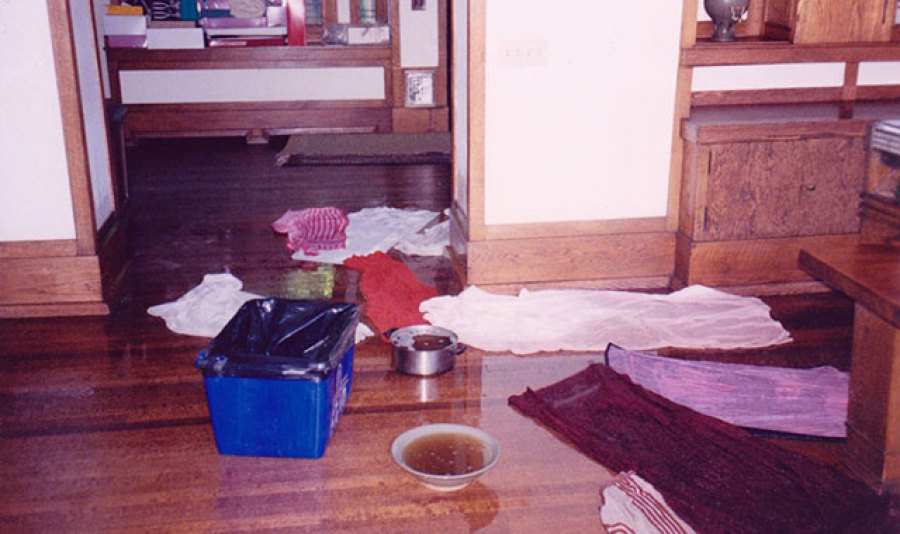 "You had to be vigilant," former Wright house resident Kim Bixler said of her childhood home's persistent leaks. / Photo courtesy Kim Bixler
"You had to be vigilant," Bixler told ARTINFO. "My mother and I, we had it down. If it rained, it was 'Grab the pots! Get the towels!'"
In 1993, her parents put the house on the market, where it sold for $425,000 after six months. At its last sale in 2009, the Boynton House went for $830,000 -- making it the most expensive on its city of Rochester block, according to Bixler -- thanks to the diligent maintenance of its following owners.
Despite the disparate experiences Wright homes seem to offer, their commonality is the fact that a Wright house refuses to recede to the background of its owners' lives; it prefers instead to offer constant reminders of its coveted status. For Talaske, it's in the quintessentially Wright details of the interior, the abundance of art glass windows in particular. "You can see the outdoors in every room," she said. "There's always something to keep the eye moving." Bixler too fondly recalls the beauty of her home, recalling that at age eight she and her friends recognized that it was special. It was then that she started giving guided tours to the strangers "begging to get in." As for living with persistent leaks, Bixler offers the words of wisdom from one couple who had come to look at the house: "He turned to his wife and said, 'Well honey, what do you expect when you keep a piece of art in the rain?'"
-Janelle Zara, ARTINFO
Like what you see? Sign up for ARTINFO's daily newsletter to get the latest on the market, emerging artists, auctions, galleries, museums, and more.