French artist Orlan is suing Lady Gaga and the French subsidiary of Universal Music for plagiarism in a Paris court. In the lawsuit, the artist accuses the singer of stealing from her to construct the visual universe of her third album, "Born This Way." According to Le Quotidien de l'Art, which broke the story, Orlan is demanding $31.7 million or 7.5 percent of the profits from the album and video.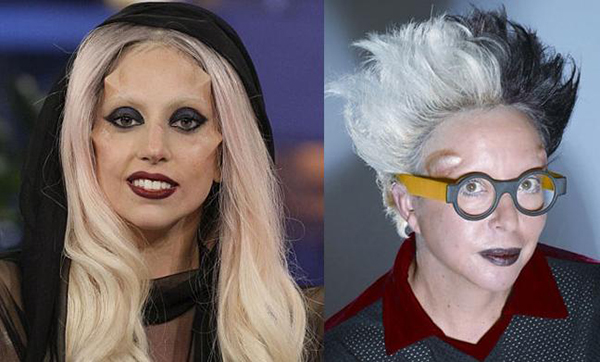 The lawsuit specifically mentions the beginning of the video of "Born This Way," which features Lady Gaga's made-up decapitated head. Indeed, it is very similar to Orlan's sculpture "Femme Avec Tête" ("Woman With Head") from 1996.
This isn't the first time Lady Gaga has been accused of freely taking ideas from the visual arts realm. She already made Orlan's facial implants her own (though it was kind of like raiding your best friend's closet for her high heels). And the famous meat dress she wore at the MTV Video Music Awards in 2010 was borrowed from a similar dress made by artist Jana Sterbak.
But intellectual property issues can be hard to pin down in imagery and performance. Where should be the line be drawn between inspiration and theft? In 2011, Belgian choreographer Anne Teresa de Keersmaeker accused Beyoncé of plagiarizing her work in a music video, but this didn't result in a lawsuit. Perhaps the current case will help settle some of these thorny questions.
-Céline Piettre, BLOUIN ARTINFO
More of Today's News from BLOUIN ARTINFO:
VIDEO: The Late Works of Ana Mendieta
Fair Break: Basel Architectural Tour
Pulp to Haute: 10 Summer Fashion Books

Like what you see? Sign up for BLOUIN ARTINFO's daily newsletter to get the latest on the market, emerging artists, auctions, galleries, museums, and more.