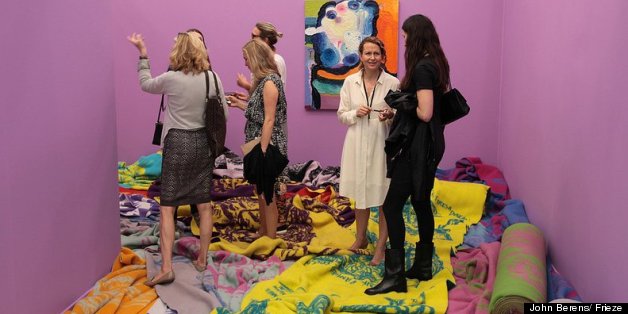 While Frieze New York has more exhibitors this year than last -- around 190 to last year's 180 -- there's still not enough room for everyone, and competition for entry was fierce. The second edition of the fair sees a reshuffling of galleries, with 60 joining for the first time, including heavyweights Marian Goodman, Peter Blum, and Luhring Augustine. Scads of others -- including Friedrich Petzel, Maccarone, David Nolan, Nicole Klagsbrun, Michael Werner, and Experimenter (Calcutta) -- dropped out. Whether due to fair exhaustion ("fairtigue") or to simply not making the cut this time, the turnover is a reflection of the pressures dealers face in today's art world.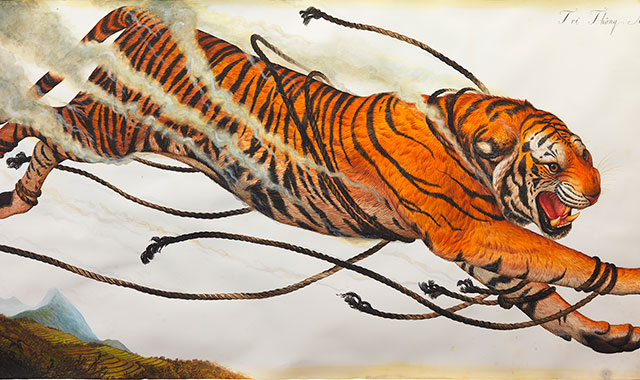 Paul Kasmin will bring Walton Ford's "Trí Thông Minh," 2013, to the fair
The fair's main section offers some 31 new exhibitors, including New Yorkers Paul Kasmin, Murray Guy, and Jack Shainman, as well as Mumbai's Project 88 and Paris's Kamel Mennour. "Paul Kasmin Gallery has participated in Frieze London from the beginning, so it was natural to want to continue in New York," the gallery's director, Bethanie Brady, said.
Newcomers in the Focus section include New York's Untitled, and dépendance from Brussels, while first-timers in the Frame section like Simone Subal from New York and Berlin's Circus will present solo booths by Frank Heath and Sophie Bueno-Boutellier, respectively.
As for the more intriguing question of why galleries didn't return -- there are roughly 40 -- the overwhelming explanation is exhaustion from the sheer number of fairs dealers now attend. "We couldn't do Frieze and then [Art Basel] Hong Kong right afterwards," said Gordon VeneKlasen, director of Michael Werner Gallery, "so we chose Hong Kong. It's just not possible for us to do everything in the world."
For some dealers, the decision was out of their control. "This year, very simply, I was not accepted," said Nicole Klagsbrun, who applied before deciding a few months ago to close her Chelsea gallery after 30 years in the business.
Though her decision was motivated by chagrin over the "whole system," which prioritizes fairs over gallery shows, Klagsbrun asserted that galleries need to stay in the art fair game to remain attractive to artists.
For younger galleries, the notion that entry to Frieze New York can make or break them instills a kind of panic. "They'll get to do it one year, and then they won't the next year, and they'll feel like they've done something wrong," said Phil Grauer of Canada Gallery, explaining his peers' reactions to the fair's modus operandi, in particular with respect to Frame, a section geared toward emerging galleries, those in business six years or less. "But it's the fair rolling through the new young meat."
While the Frame and Focus sections, which cost exhibitors less than the main section, are aimed at newer galleries, Grauer says the divisions have less to do with age than economics. "The main section is first class," he said comparing it to airline seating. "Focus is business traveler -- but it's pretty much coach. Frame is like you're running drugs for someone else. They let you in and then they kick you to the curb."
-Rozalia Jovanovic, BLOUIN ARTINFO
More of Today's News from BLOUIN ARTINFO:
Frieze Highlights: Dan Colen, Nick van Woert, Other Irreverent Stars Stand Out
Like what you see? Sign up for BLOUIN ARTINFO's daily newsletter to get the latest on the market, emerging artists, auctions, galleries, museums, and more.