In the current issue of Modern Painters, we wrote about a forthcoming show of Asher Penn's work at Andrew Roth Gallery in New York. The focus of that show was to have been appropriated Diane Arbus photographs, mounted on skateboard decks. After we went to press the decision was made to forgo this exhibition for legal reasons. Andrew Roth explains.
I visited Asher Penn in his studio in May, 2010. I bought a portfolio from him of an earlier work and I saw a new piece he had just begun: Diane Arbus Skateboards. He was mounting the entire sequence of small Arbus portrait photographs, as they had appeared in her first Aperture monograph, onto the grip tape of used skateboards. I had an immediate positive reaction to the work -- it seemed smart, challenging, sincere; it reinvigorated a critical moment from the history of the photographic book. I told him I would like to exhibit them. We agreed on a show in November.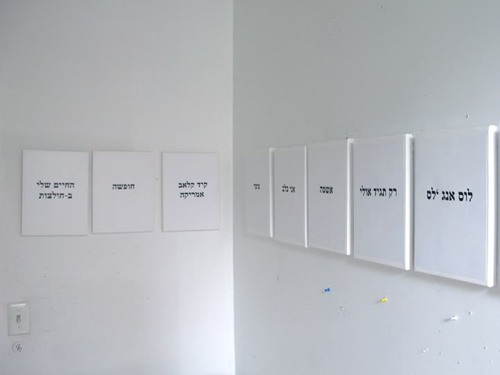 Asher Penn will exhibit "Hebrew Paintings" instead of his Diane Arbus Skateboard series. Courtesy of the artist.
A prolific book artist, Asher planned a four-volume set with original texts and images, a portfolio of Arbus Skateboard drawings, and a single over-sized volume of photographs that documented the production of the Skateboards. He also produced an original sound piece based on Arbus quotations that appeared in the foreword of the original monograph, to be presented at an alternative space downtown in tandem with our exhibition. It was a complex, well-orchestrated work utilizing an array of mediums. It all made perfect sense. The work was produced, the essays were written, the books were designed and the sound piece was complete.
Very quickly the project began to unravel. I suddenly realized I had to discuss copyright issues with my lawyer who was well versed in copyright law and had defended several high-profile artists over the last few years. He laid out the worse case scenarios and put forth several strategies. It became clear to me (against my lawyer's advice) that I had to approach the Arbus estate and try to procure copyright permission before going forward. It wasn't worth risking a lawsuit which could have cost hundreds of thousands of dollars, maximum: $150,000 each image, and there were 80 of them! (Plus lawyer's fees...) I was not willing to take the risk.
Having known (for many years) the lawyer who represents the Arbus estate (whose services I used several times in the past) I called him to chat about the project and to assess what he thought the estate's reaction would be. He assumed it was an artist who had been using Arbus images in collage work; I assured him it was not and I described the project. He warned me that in all likelihood the estate would not grant permission but I insisted that he at least pass along the statement that Asher had very conscientiously drafted. Within 24 hours I received word that the estate would not grant permission. They would not even read the statement. There was no discussion.
In place of the publicized show, Asher will be exhibiting "Hebrew Paintings," a new series of 100 Hebrew word paintings that he had begun at the same time as the Arbus project. He will be producing a bound volume, a pamphlet, a portfolio, and a poster. The Arbus Skateboards remain in storage, individually wrapped in plastic sleeves.
To read Asher Penn's Diane Arbus Skateboard project statement, click here.
- Andrew Roth for ARTINFO
Sign up for ARTINFO's Daily Arts Digest: http://www.artinfo.com/newsletter/
Follow ARTINFO on Foursquare: http://foursquare.com/artinfo