Last week in Brazil, the São Paulo Biennial hummed through its 30th edition while sales at this year's ArtRio were so far beyond expectation that galleries replenished stock mid-way through the fair. It seems clear that the burgeoning Brazilian economy is bringing art along with it, yet young Brazilian artists who are establishing their names at galleries like Fortes Vilaça in São Paulo and A Gentil Carioca in Rio de Janeiro still remain little-known outside of Brazil.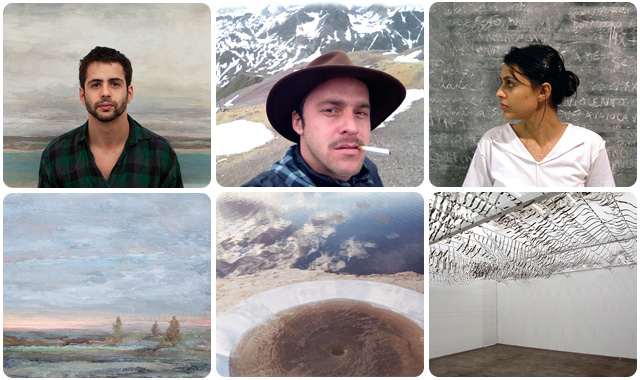 From left: Lucas Aruda, Thiago Rocha Pitta, and Cinthia Marcelle / Courtesy the Artists
As the first generation to come of age after the fall of the dictatorship, many young artists remain rooted in a social and political awareness rooted in history, while reaching far beyond these tropes in their artistic ambitions. Though in no ways a comprehensive list, ARTINFO offers this sampling of rising young Brazilian artists to watch.

Lucas Arruda. Born 1983. Lives and works in São Paulo. Arruda paints abstract landscapes in neutral, subdued tones. The works capture a rare serenity and convey an artistic and emotional intellect far beyond Arruda's years. Arruda stands as a strong representative of painting in Brazil, reflecting an Abstract Expressionist sensibility that transcends the limits of the movement to resonate in the present.
Sofia Borges. Born 1984. Lives and Works in São Paulo. Borges is a photographer interested in the ways in which the transition to digital photography contributes to an increased disparity between the reality of an image, and an image as it is presented in a photograph. Rather than attempt accurate documentation, Borges digitally manipulates light, space, and color to create timeless photographs, at once surreal and nostalgic. Borges is currently representing her home nation at the 2012 São Paulo biennial.
Adriano Costa. Born 1975. Lives and works in São Paulo. Costa juxtaposes simple, quotidian materials -- like umbrellas, paint rollers, and surprisingly crafted fabrics and textiles -- in his minimalist installations. At first the works seem haphazard, but with time they emerge as visual narratives, telling the story of Costa's reconciliation between form and content.
Cinthia Marcelle. Born 1974. Lives and works in Belo Horizonte. Marcelle uses film and photography to capture large-scale environmental interventions and installations that examine experiences of order and chaos. For the 2012 New Museum Triennial "The Ungovernables," Marcelle collaborated with Tiago Mata Machado to create "O Século" ("The Century"), an unexpectedly ordered video of refuse crashing down a deserted city street.
Sara Ramo. Born 1975, in Spain. Ramo is Spanish by birth, but she completed her studies in Belo Horizonte, where she produces much of her work. Ramo employs basic elements in her sculpture, photography, film, collage, and large-scale installations, re-appropriating materials into studies of objecthood, and using them as means through which to transform a foreign space while exploring chaos and order (similar to Marcelle, with whom she collaborates). Ramo's works were among the first to sell at ArtRio last week.
Thiago Rocha Pitta. Born 1980. Lives and works in Rio de Janeiro. Rocha Pitta's multimedia installations, videos, and photographs create and present natural processes beyond the realm of human control, forcing viewers into an awareness, and acceptance, of the present. Rocha Pitta is currently representing his home nation at the 2012 São Paulo biennial.
-Sara Roffino, BLOUIN ARTINFO
More of Today's News from BLOUIN ARTINFO:
A German Museum Restages the Seminal 1912 Exhibition That Made Modernism Cool
27 Questions With Irreverent Conceptual Artist Mark Flood
An Ultramodern New Wing Adds Flare to Amsterdam's Stedelijk Museum
NYFF: Brian De Palma's Grand "Passion"
9 Stunning Art Objects From Paris's Biennale des Antiquaires
Like what you see? Sign up for BLOUIN ARTINFO's daily newsletter to get the latest on the market, emerging artists, auctions, galleries, museums, and more.