At a ceremony at the Guggenheim last night, German artist Hans-Peter Feldmann was named the winner of the 2010 Hugo Boss Prize, a $100,000 biannual award in recognition of "significant achievement in contemporary art." Feldmann, at 69 the oldest to win the lucrative prize, will receive the check and a solo exhibition at the Guggenheim next year, running from May 20 to September 5.
Visit ARTINFO to see a slideshow of the party for the Hugo Boss Prize announcement at the Guggenheim.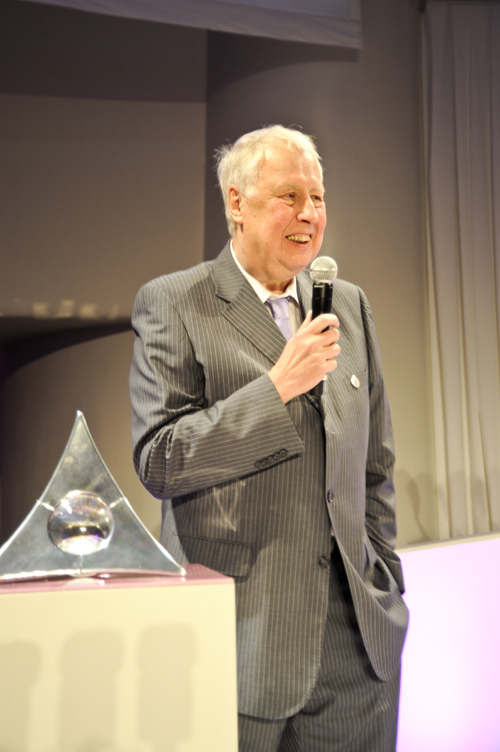 Hans-Peter Feldmann accepting the 2010 Hugo Boss Prize / Courtesy, Patrick McMullan Company
The jury, comprised of leading international curators and critics, issued a statement lauding Feldmann for his "long-standing engagement with personal, archival, and mass-media imagery takes on a new, surreptitious relevance." A conceptual artist known for his work with photography, assemblage, books, and other mediums, Feldmann is the epitome of an "artist's artist," a quiet but powerful influence on his peers and younger generations who is little known outside the art community. He is represented in New York by 303 Gallery, which put on a solo show of his work last fall.
Feldmann was considered by some to be an underdog in the race since most of his fellow nominees -- Cao Fei, Natascha Sadr Haghighian, Roman Ondak, Walid Raad, Apichatpong Weerasethakul -- are significantly younger than him, and the prize has typically gone to rising talents. Recent winners of the award include Palestinian artist Emily Jacir (who was in her 30s when she won the award in 2008) and British artist Tacita Dean (who was just over 40 when she nabbed the prize in 2006). Matthew Barney was the first artist to take home the award, in 1996, and had not yet turned 30 at the time. Considered a trans-Atlantic rival to Britain's Turner Prize, which is awarded annually to a British artist under 50, the Hugo Boss Prize carries no requirements regarding age or nationality.
Guggenheim director Richard Armstrong presented the award to Feldmann on a stage in the museum's rotunda, which had been cast in purple hues, its center filled with a giant bouquet of flowers and a bar. Guests represented every stretch of the New York fashion, entertainment, and art worlds, from actor Adrien Brody to the other nominees and a host of models and fashion executives.
After Feldmann received the pyramid-shaped award, he held it aloft and posed for pictures as the crowd applauded. Then he descended from the stage. It was about 10 p.m., and the party had a 1 a.m cut-off time. The bar was open, and the dancing began.
Visit ARTINFO to see a slideshow of the party for the Hugo Boss Prize announcement at the Guggenheim.
-ARTINFO
Sign up for ARTINFO's Daily Arts Digest: http://www.artinfo.com/newsletter/
Follow ARTINFO on Foursquare: http://foursquare.com/artinfo