Artist Michael Leavitt continues his assault on the wider art world in the nerdiest way possible: by making action figures. The Seattle-based tinkerer has crafted over 300 toy-sized sculptures to date, transforming artists throughout art history into satirical figurines.

Michael Leavitt's figure of Kara Walker (detail) / Courtesy Michael Leavitt and Jonathan LeVine Gallery
Leavitt continues his art-world parodying in his newest exhibition at Jonathan LeVine Gallery, which runs through October 8. The show will feature the likenesses of some of the most famous artists living today, including Takashi Murakami, Damien Hirst, Jeff Koons, and Matthew Barney. According to Leavitt, one motivation for his work is that accessibility has become an issue with regards to the the art stars. "I truly wish they were more accessible both to me and to the general public," the artist told ARTINFO.

"I think the contemporary art world's mystification of the artist has been a sad fallout from too many wrong-doings for too many years," Leavitt said. "I understand that much of it is necessary to build up a mythology and market value for an artist's work. But there's a balance to strike between the economics and wider mass appeal for the art world." Leavitt gives art stars mass appeal by miniaturizing them out of polymer clay in the style of their artwork. Murakami's face, complete with coke bottle glasses, is recognizable atop a smiling blue anime character stretched over his belly. Koons grins in grey suit jacket, but instead of legs, his lower half is comprised of a penis-shaped magenta balloon.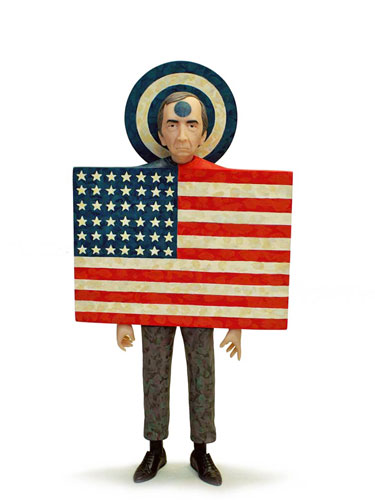 Michael Leavitt's figure of Jasper Johns (detail)/ Courtesy Michael Leavitt and Jonathan LeVine Gallery
See the full slideshow at ARTINFO.
While Leavitt talks about mass appeal, the figures themselves are not mass produced. Each piece is a one-of-a-kind, hand-crafted sculpture with opposable limbs and body parts. Collectors can buy the sculptures through Leavitt directly on his Web site, Intuition Kitchen Productions, although they don't come cheap.

Leavitt makes almost every step of his sculpture process available to his patrons and fans. The artist has posted preliminary sketches of every artist-figure, along with their Wikipedia links, on his Web site so that the average consumer can educate themselves about their new toys. Leavitt has even used his creations in stop-motion animations on YouTube and even documented his painstaking sculpting over a period of several days -- there is no secret to the artist's fervor.
When asked whether or not he sees a place for the Art Army in the comics and toys universe, he replied, "I'm fully interested in comics and toys. That's exactly why I started the Art Army, out of a love for superheroes and action figures. It runs deep from my childhood. This project has been an immensely satisfying way to document the cultural and personal influences that have formed me since I was a kid. I guess some day, I'll have to grow up but for now, it's pretty great to still be a Toys R Us kid."
-Alanna Martinez, ARTINFO
More of Today's News from ARTINFO:
The Blouin Creative Leadership Summit Returns as a Think Tank for Innovation and Global Problem-Solving
See the Extravagant Baubles of "Picasso to Koons: The Artist as Jeweler" at MAD
Argentine Artist Sticks a Massive Extraterrestrial Toothpick Into Paris's Tuileries Gardens
The 7 Top Shows to See This Week, From Lisa Yuskavage to Carsten Nicolai
Was Edgar Degas a Photorealist? New London Show Explores the Technological Side of His Dancers

Like what you see? Sign up for ARTINFO's daily newsletter to get the latest on the market, emerging artists, auctions, galleries, museums, and more.