Nancy Spector, formerly merely the Deputy Director and Chief Curator of New York City's Solomon R. Guggenheim Museum, has added a few syllables to her job title thanks to Jennifer Stockman, the president of the museum's board of trustees, and her husband David Stockman, who have endowed the position; now, Spector is the Guggenheim's first ever Jennifer and David Stockman Chief Curator, the museum's director Richard Armstrong announced last night.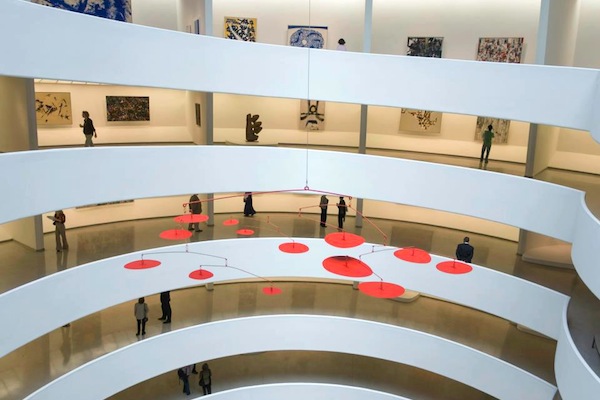 "Nancy Spector is the preeminent curator of contemporary art who has come to be known for her expectation-shattering installations," Jennifer Stockman, who was elected to the Gugg board of trustees presidency in 2005, said in a statement today. "David and I are thrilled to endow her position so her precedent-setting work can continue."
Spector, who has been at the Guggenheim since 1989, echoed the sentiment. "To be associated with Jennifer and David Stockman is a great honor," she said in a statement. "The museum is extraordinarily fortunate to have their untiring support, engendered no doubt by their empathetic and enthusiastic engagement with the arts. They are especially impassioned about the creative process and Jennifer, in particular, has been such a strong and vocal advocate for our curators. Her support for our most radical exhibition ideas and collection-building initiatives means so much to the staff. It is very touching that David and Jennifer Stockman have chosen to endow the position of Chief Curator, which signals a willingness to champion the kind of conceptual risk-taking for which we are best known."
-Author, Benjamin Sutton BLOUIN ARTINFO
More of Today's News from BLOUIN ARTINFO:
Experimental French Fair Cutlog to Take Over LES School During Frieze New York
Nathan Lane on Channeling a '30s-Era Burlesque Republican in "The Nance"
Remembering Aaron Swartz's Ethically Engaged Internet Art Collaboration
How Cult Comedian Andy Kaufman Became Today's Hottest Performance Art Star
Femme Fatale: John Cale Pays Tribute to Nico at BAM
Like what you see? Sign up for BLOUIN ARTINFO's daily newsletter to get the latest on the market, emerging artists, auctions, galleries, museums, and more.