Spencer Tunick, the troublemaking American photographer famous for shooting large numbers of naked people in interesting places, may have just made it more difficult to strip down in Israel.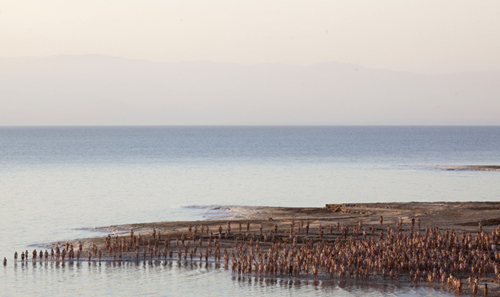 More than 1,000 nude Israelis pose for American photographer Spencer Tunick's mass shoot at the shores of the Dead Sea. / Photo by Uriel Sinai/Getty Images

In response to Tunick's nude photo shoot staged in the country last year -- in which over 1,000 Israelis posed nude on the shores of the Dead Sea -- a member of the Israeli parliament submitted a bill that would mandate one-year prison terms for anyone who gets naked in public for commercial or artistic purposes. It has been dubbed the "Spencer Tunick bill," according to Haaretz, which first reported the story.
The politician leading the charge is MK Nissim Zeev, the same man who sought to prevent Tunick's original photo shoot in 2011. At the time, the ultra-Orthodox leader called the shoot "a act of prostitution in the guise of art." (This is the same politician who said that gay people must be made aware of "how their lifestyle is destroying our existence.")
The bill directly calls out Tunick's artwork, quoting head of Tamar Regional Council Dov Litvinoff, who overseas a region that borders the Dead Sea, decrying the photo shoot. "Such a mass shoot, which offends a large population in Israel, which comes to stay and travel in the region, does not add to this [natural] marvel but could very well detract from it," he is quoted as saying.
Zeev, for his part, argued in the bill that such displays infringe on the human rights of the offended citizens. "When progress in 'the public discourse' comes at the expense of a broad public of Jews, Muslims, Christians and members of other religions in the country, and constitutes an insult to religious precepts regarding modesty and a serious transgression of forbidden sexual relations, and infringes on religious sentiments of religious citizens -- this is a violation of their rights and a fundamental restriction must be placed on it," he wrote.
The Ministerial Committee for Legislation votes Sunday on whether it will support Zeev's bill. Meanwhile, Tunick has made his own concession to scandalized citizens of the world, pledging to use body paint for the first time in his upcoming shoot of Munich residents, who he will photograph surrounding the city's opera house to celebrate Wagner's Ring Cycle. Mass nude photography just isn't what it used to be.
-Julia Halperin, ARTINFO
More of Today's News from BLOUIN ARTINFO:
Despite Gripes About Thwarted VIPs, Art Basel's Languorous Two-Day Preview Nets Serious Sales
"Napoleon III Is Kitsch": Wim Delvoye on His Irreverently Lavish Exhibition at the Louvre
Australian Company Illuminart Turn Gotye Song Into Playable Sculpture
A French Fashion Institution and Photographer Philippe Jarrigeon Take a Twisted Look at Women's Ready-to-Wear
An Architect's Aria: Louis Kahn's Turbulent Life Becomes an Experimental Opera
Like what you see? Sign up for BLOUIN ARTINFO's daily newsletter to get the latest on the market, emerging artists, auctions, galleries, museums, and more.