For years, a faction of scholars have maintained that "The Battle of Anghiari," a missing fresco by Leonardo da Vinci, still exists, hidden beneath another painting in Florence's Hall of the Five Hundred. If this sounds like the stuff of Hollywood, well, soon it will be: "The Leonardo Job," a new film about two rival thieves who are hired to locate and steal the painting, is in the beginning stages of production.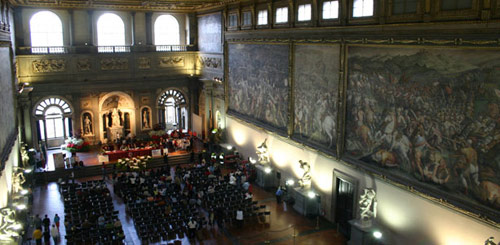 Created for the Palazzo Vecchio's Hall of the Five Hundred in 1505, Leonardo's lost "The Battle of Anghiari" will be the subject of a new film written by David Twohy. / Courtesy IceNineJon via Flickr
David Twohy, who wrote and directed the sci-fi thrillers (and Vin Diesel vehicles) "Pitch Black" and "The Chronicles of Riddick," as well as the psychological thriller "A Perfect Getaway," has written the screenplay and will also direct, Alcon Entertainment announced in a press release. The film's competing criminal protagonists, meanwhile, will use "high tech and old tricks" to locate Leonardo's masterpiece behind another fresco, encountering danger when "they discover they are not the only ones pursuing the hidden treasure," according to the release. This sounds a bit like "The Da Vinci Code" meets "Ocean's Eleven" -- meets Maurizio Seracini, the Italian art expert who for years has been campaigning to employ lasers and other gadgets to search for the missing "Battle."
To provide some backstory in brief: Leonardo created "The Battle of Anghiari" for Florence's Hall of the Five Hundred in 1505, and extant studies for it show three men in battle on horseback fighting for a standard -- a scene known today because Rubens copied it in a 1603 drawing that now hangs in the Louvre. However, Leonardo used oil paint for the fresco -- a notoriously problematic technique -- and when Cosimo I Medici had the hall renovated and enlarged for his court in the 16th century he commissioned Giorgio Vasari to paint over Leonardo's work.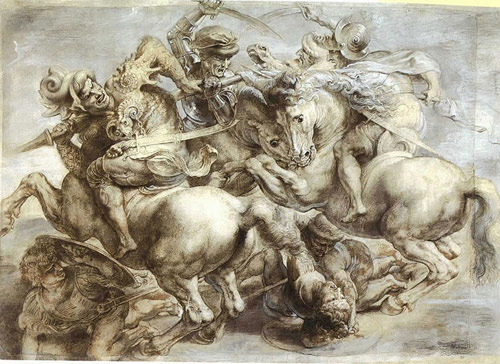 Peter Paul Rubens's copy of "The Battle of Anghiari" / Courtesy Wikimedia Commons
Seracini, however, believes that Vasari preserved Leonardo's painting by building a wall in front of it before painting his own "The Battle of Marciano in Val di Chiana" -- a theory that the scholar bases in part on a small banner in Vasari's painting that reads "Cerca Trova" ("seek and ye shall find"), suggesting that he left a clue for future generations to recover the "Battle." Using laser, thermal, and radar scans, Seracini says he has determined that there is an air gap between Vasari's wall and another wall behind it. According to an article last month in the New York Times, National Geographic has pledged $250,000 for further testing to locate the painting, and Matteo Renzi, Florence's young mayor, supports the project enthusiastically.
Interestingly, the Hall of Five Hundred project marks the only time that Leonardo and his younger rival Michelangelo worked together on the same location, and both their contributions have since been lost. Before starting on "The Battle of Cascina" on the wall opposite from Leonardo's painting, Michelangelo left for Rome when he was invited there by newly-elected Pope Julius II. According to Jonathan Jones, some of Michelangelo's contemporaries considered his cartoon for the painting his greatest artistic achievement, but, except for some fragments, it has been lost -- either destroyed by a rival artist, shredded by souvenir-seekers, or spirited away by a gentleman from Mantua. Perhaps it's another Hollywood movie in the making?
-Kate Deimling, ARTINFO
More of Today's News from ARTINFO:
Smart Phone? Not Exactly. Meet the $60,000 Mobile Device That Won't Break -- Or Tweet
Temporary Park51 Site to Open With Photography Show Promoting Tolerance
Photographer Charlotte Dumas Tells the Story Behind Her Portraits of 9/11 Rescue Dogs
"The Girl Who Had Everything": See Elizabeth Taylor's Mythic Jewelry Collection Before It Heads to Christie's
Sotheby's Expands Beyond the Auction Floor With Its New S2 Art Gallery
Like what you see? Sign up for ARTINFO's daily newsletter to get the latest on the market, emerging artists, auctions, galleries, museums, and more.