Without the influence of Pablo Picasso, there would be no Francis Bacon, no Henry Moore, no David Hockney. The great Spanish modernist's influence can be felt in the work of all those who made the avant garde in Britain -- and yet the country was relatively late in making sense of Picasso's radicalism. The exciting "Picasso and Modern British Art" show currently at Tate Britain gives the quintissential modernist his due in grand style, assaying his protean influence.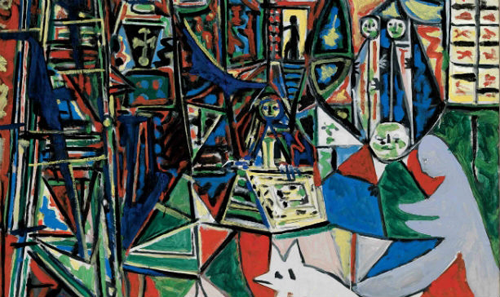 Pablo Picasso, Las Meninas (group) 2 October 1957 (detail)
/ Photo: Museu Picasso, Barcelona © Succession Picasso / DACS 2011
Before the First World War, only a small group of aficionados in the famous Bloomsbury Group collected Picasso's early experiments. Critic Roger Fry's two post-impressionist exhibitions of 1910 and 1912 did a little to help, and so did Picasso's stay with Sergei Diaghilev's Ballet Russe in the summer of 1919. Between the 1920s and 1950s, "Señor Picasso" was shown regularly in galleries and museums -- his "Guernica" toured the UK -- but he failed to impress the British public. But it was only in 1960, and a major Tate retrospective, that the Spaniard got his due.
Assistant curator Helen Little took a moment to talk with ARTINFO UK about five key works in "Picasso and Modern British Art."
For images from the exhibition accompanied by quotes from Tate's Helen Little, click on the slide show.

A version of this article originally appeared on ARTINFO UK.

-Coline Milliard, ARTINFO UK, BLOUIN ARTINFO
More of Today's News from BLOUIN ARTINFO:
The Bruces Are Back! A Q&A With the Bruce High Quality Foundation About Their 2012 Brucennial
A Biennial Scorecard: Culling the Highlights of the Whitney's Signature Survey
And the Pritzker Prize Goes To... Chinese Architect Wang Shu
Filmmaker Joshua Marston on His Albanian Drama "The Forgiveness of Blood"
Faberge's High-Art Easter Egg Hunt Taps Zaha Hadid and Mr. Brainwash to Help Save the Elephants
Like what you see? Sign up for BLOUIN ARTINFO's daily newsletter to get the latest on the market, emerging artists, auctions, galleries, museums, and more.