By mapping all of 311's graffiti complaints by neighborhood, Gothamist has created a handy guide that most likely best reflects which areas of New York City are most heavily tagged, but in so doing they passed along a link to a far more useful resource: GrafRank, a side that generates maps of cites' street art concentrations based on geo-located Flickr photos of graffiti.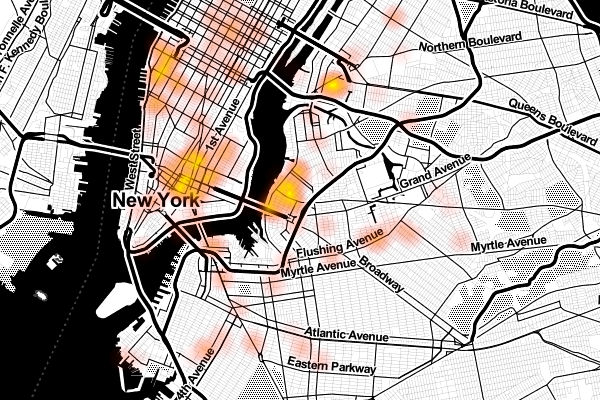 Unlike the Gothamist map, which singles out the Lower East Side, Williamsburg, and Flushing, Queens, as the city's top destinations for graffiti writers and lovers, the GrafRank map more accurately shows Long Island City -- which is home to 5Pointz -- Chelsea, Soho, and Williamsburg as the city's most heavily trafficked street art sites.
GrafRank also charts the frequency with which certain street artists' names recur, providing a useful index of which artists are especially active and visible in a given city at a given moment. Nick Walker, for instance, is big in New York right now -- possibly thanks to his recent and well-received "Vandal" piece on Eldridge Street -- while Invader continues to dominate in Paris.
-Author, Benjamin Sutton BLOUIN ARTINFO
More of Today's News from BLOUIN ARTINFO:
SHOWS THAT MATTER: Exploring Henry Darger's Mysterious Universe at Ricco/Maresca
21 Questions for Time-Stopping Artist and Filmmaker James Nares
All the World's (Really) a Stage at New York's Under The Radar Fest

New York Dealer Couple Must Pay Collector $18 Million for Running Off With His Art
John Malkovich Will Liaise Dangerously Again as Casanova
Like what you see? Sign up for BLOUIN ARTINFO's daily newsletter to get the latest on the market, emerging artists, auctions, galleries, museums, and more.