On Tuesday evening a developer was selected for the Seward Park Urban Renewal Area (or SPURA) site on Manhattan's Lower East Side, which currently consists mostly of parking lots and abuts the Williamsburg Bridge. Parsing the winning proposal, designed by SHoP Architects and Beyer Blinder Belle, Curbed points out the curious inclusion of something called the Andy Warhol Museum. UPDATE: See below for an official statement from Pittburgh's Andy Warhol Museum.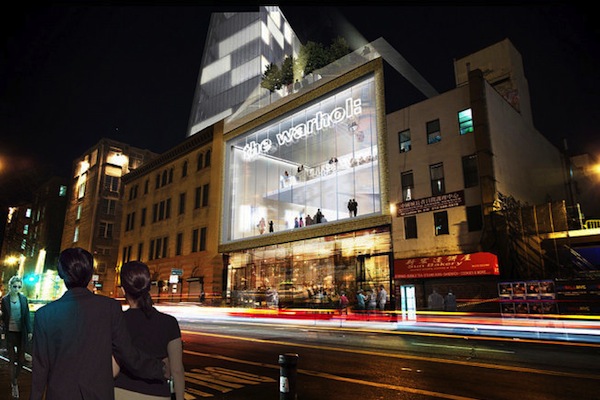 Image courtesy the Office of the Mayor of New York City. Via Flickr.
The press release about the project from the mayor's office casually drops news of the museum project amid the mega-development's other features:
the project, to be called Essex Crossing, includes a 15,000-square-foot open space, a new and expanded Essex Street Market, a dual-generation school operated by the Educational Alliance, a community center run by Grand Street Settlement, a rooftop urban farm, the Andy Warhol Museum, 250,000 square feet of office space and a diverse mix of retail space.
But exactly what this planned institution may be -- beyond a speculative bit of creative license on the architects' part -- is anybody's guess.
UPDATE: The Andy Warhol Museum in Pittsburgh issued this statement in response to the news:
The Andy Warhol Museum, one of the four Carnegie Museums of Pittsburgh, along with the other collaborators of this potential gallery space/annex in the Essex Crossing development, are excited about the possibilities and opportunities it could bring for us and to Manhattan's Lower East Side. Our hopes for this collaborative gallery, which would feature Warhol's work, is to further energize this exciting urban development project in Warhol's beloved New York.
-Benjamin Sutton, ARTINFO
Like what you see? Sign up for ARTINFO's daily newsletter to get the latest on the market, emerging artists, auctions, galleries, museums, and more.