BRUSSELS -- Jeff Koons delivered a walking lecture consisting of equal parts sex and art history last Saturday, as he opened a small but broad show at Galerie Almine Rech, his first show in the Belgian capital since the erotic "Made in Heaven" series in 1992.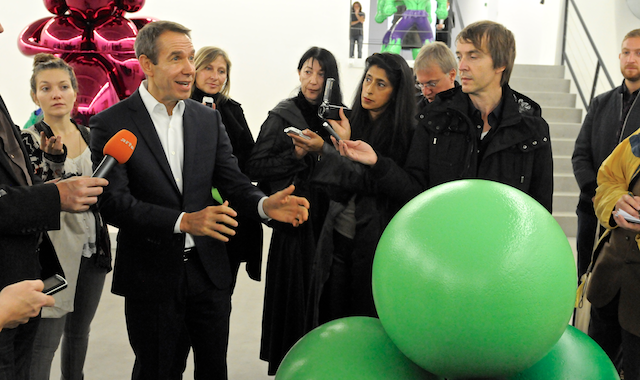 Jeff Koons presents his work at Galerie Almine Rech, Brussels. /© Photo : Nicolai Hartvig
A mini-retrospective of sorts after a summer of major shows -- at Basel's Fondation Beyeler, and a double-exhibition in Frankfurt at the Schirn Kunsthalle and Liebieghaus Skulpturensammlung -- the Brussels exhibition brings together 17 works, from the "Celebration" series (1994 onward), through "Popeye" (2002) and "Hulk Elvis" (2005), flanked by the artist's latest works from the "Antiquity" series.
Here, his "Balloon Venus (Magenta)" (2008-2012) stood out, a bulbous and winding female figure referencing a new source of inspiration, the Venus of Willendorf. "If you walk around the piece, you can look inside the Venus and everything is revealed; so there's a little aspect of violence, nothing is held back of her inner being," Koons explained, likening the shape to Max Ernst's "Men Shall Know Nothing of This" (1923).
"It's kind of a view of the cosmos," he said. "You have two crescent moons and you realize that it's somebody having sex, there's kind of a masculine-feminine presence, but it is only one person and they're actually having sex with themselves. The Venus of Willendorf is truly a symbol of fertility because it can procreate on its own. The Venus's breasts are full, they're voluptuous, her stomach, a real symbol of fertility. But if you look and you let your mind start to go, you realize that the breasts could actually be testicles and that the stomach could actually be a phallus and that it's actually going in on itself, and procreating."
Per Koons' trademark, there were art historical references aplenty. Paintings of circular dots, revealing themselves as pointillistic pornography from afar, were in homage to Salvador Dalí. Gustave Courbet's "L'Origine du Monde" was a heavy presence, as Koons appeared to look for life's meaning in centralized landscapes and the questioning of gender and sexuality. A stack of green, black, purple -- and one single blue and white -- cannonballs represented a Sol LeWitt-style, molecular breakdown of the Hulk, who also appeared as a quasi-Eastern guardian god in "Hulk (Friends)" (2004-2012), and as a reference to Andy Warhol's "Double Elvis" in "Hulks (Bell)", with two figures of the temperamental green superhero carrying an antique bell.
"I like to play with this masculine-feminine tension, to be able to have a dialogue with all these works together," Koons said of the exhibition. "We have images here that are purely high testosterone -- look at the Hulks. And then others have these feminine aspects, to have an equilibrium and balance."
The show also boasts a few deliberately ambiguous works, for good measure. Speaking of his sculpture "Lobster" (2007-2012), Koons said: "If you look at its arms, very strong, but they could be fallopian tubes and its body could be the womb. If you look at its tail, it's almost like a stripper with a boa doing a feather dance, and also has tentacles that are like Dalí's mustache." In "Dogpool (Panties)" (2003), where a phallic tail spraying water is balanced by an erotic image of a woman's panties, its string references Marcel Duchamp's "Standard Stoppages."
Koons' latest work is "Antiquity (Farnese Bull)," a painting finished only days before the opening at Almine Rech. Alongside bronzes of Priapus and Aphrodite, it incorporates the image of a Celtic idol that the artist bought on the Internet. "If you look at the back of it, it has either two rear end cheeks or two testicles. We have a satyr symbol raising life's energy and moving forward," Koons explained. The drawings atop the image hark back to the artist's "Goat," a 2002 book project paying tribute to Muhammad Ali.
"We had to sign this book, sign some 10,000 sheets of paper," the artist remembered. "Sometimes I would open a box of pages and see that Muhammad Ali had made beautiful drawings for me. You would have a sun, a cloud, and some birds, a boat on the water, some mountains, so really just symbols of mother nature. And in times of antiquity, some of the greatest sculptures that we have are of boxers."
-by Nicolai Hartvig, BLOUIN ARTINFO
More of Today's News from BLOUIN ARTINFO:
The Story of Hans Bellmer, Max Ernst, and France's New Concentration Camp Museum
Frieze Style: 10 Classy or Outrageous Outfits Glimpsed at the London Fair
Q&A: Milliner Piers Atkinson on His Retrospective Collection
Eric Clapton's Richter Rocks Sotheby's London, Scoring a Record $34.2 Million
5 Art-Market Trends Revealed by the Recent Hong Kong Auctions