Until recently, a huge, colorful Keith Haring mural featuring his loose-limbed, dancing figures was in danger of being cut into pieces or sold off. Now a major fundraising effort is underway to ensure that Haring's only outdoor artwork in France will remain at Paris's Necker Children's Hospital. Gallerist Jérôme de Noirmont, who represents Keith Haring's estate in France, recently mounted an exhibition of celebrity photos by Alexandra Golovanoff, with the proceeds going to the mural restoration project. ARTINFO France spoke to Noirmont about the decision to integrate the mural into the hospital's new design, the need for private fundraising in France today, and what the mural meant to him when he took his kids to the emergency room.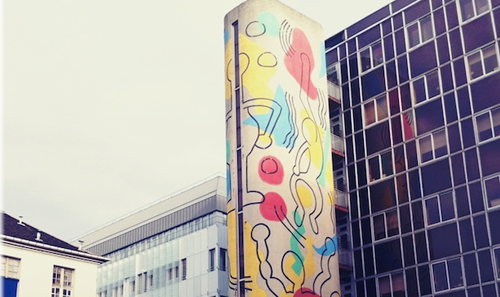 Necker Hospital's Keith Haring mural / © The Estate of Keith Haring
Why is Necker Hospital's Keith Haring mural in such urgent need of restoration?
In 1999, I curated the exhibition "Keith Haring: Made in France" at the Musée Maillol, which covered all the artist's shows in France (in Bordeaux, Paris, Marseille, and Le Mans). That was the first time that many people realized that there was a huge mural by Keith Haring at Necker Hospital. A few years later, Necker Hospital called me to tell me about the plans for a total renovation of the hospital, and to bring up the possibility of moving, cutting up, reinstalling, or selling this "tower" supporting the mural, which didn't fit into the architectural design.
Given the importance of the work, and after speaking with me and with the hospital, the architect finally decided to integrate the tower into his design -- something that is quite rare for an architect to do. He integrated it into the garden, which will be a green space in the middle of the hospital. The tower, which currently encloses a staircase, will become a kind of totem pole, and will be open to the public.
So it's not just a restoration, it's a total rethinking of the work.
Yes, and that's why the budget for the restoration is so large. First the tower must be made independent, since it is connected to another building that will be destroyed in March 2013. The tower's foundation must be totally redone, the staircase entrances need to be closed up, and the roof must be redone. Plus, the exterior layer of concrete has suffered a lot. These tasks represent 80 percent of the restoration costs, and the rest is dedicated to the restoration of the painting itself.
This is Keith Haring's only outdoor work in France, which he gave to Necker Hospital in 1987. He came and painted the mural on a cherry-picker. In addition to its cultural significance, it's also a work that gives a lot of joy, because of its pop appearance and its child-like artistic vocabulary. I've sometimes taken my children to the ER at Necker Hospital, and I think that this mural gives a lot of joy to both children and parents, who are feeling a certain amount of anxiety in that situation.
What is the total cost of the restoration?
A little over €700,000 ($934,000). For this project, Artcurial organized a sale of mailboxes painted by street artists, and €80,000 ($107,000) was raised that night for the mural. Donations are another important source of financing. Florence Mahé Dombis [head of charitable giving at Necker Hospital] is looking for individuals and companies, who can be anonymous or not, to raise this huge sum. We can't count on the state or the city of Paris. But we hope that they will soon come on board with the project.
Soon we'll have another source of funding: another auction will take place at Sotheby's during FIAC, and will bring together several artist donations. The Haring Foundation will offer an original sculpture by the artist, as well as important silkscreens, along with works by other artists from Haring's personal collection. And other artists will be asked to donate works: those who knew Haring, those who are very concerned with issues of childhood, and those who create outdoor artworks. In 30 years, they will also be happy that someone is trying to preserve their works! Sotheby's won't take any commission on the sale, and they will finance the printing of the catalogue and exhibit the works in their offices before the sale.
Is this the first time that your gallery has been involved in such a large-scale project?

I don't want to emphasize my own role in this project. I'm touched by the exceptional job that Necker Hospital has done, because I represent Keith Haring's estate. I also have a grand idea of France's cultural heritage, and I find that our institutions don't always have the means or the will to do what is necessary. This is a collective project for a work that is also socially conscious.
-Grégory Picard, BLOUIN ARTINFO France
More of Today's News from BLOUIN ARTINFO:
Navigating the Art Loan Biz, A Surging Industry Attracting Both Big Banks and "Loan-to-Own" Sharks
Gagosian Geneva Spotlights a Scintillating Suite of Classic Works by Expat Minimalist Jo Baer
Fan Fiction Meets Graphic Design in the Groovy Online Subculture of "Alternative Movie Posters"
Exeunt Exit Art: Director Papo Colo and Curator Rachel Gugelberger on 5 Works From the Space's Storied History
MTV Teams With MoMA PS1 and Creative Time to Put Contemporary Art Between the Commercials
Like what you see? Sign up for BLOUIN ARTINFO's daily newsletter to get the latest on the market, emerging artists, auctions, galleries, museums, and more.