Linda Emond has been an "actor's actor" and a critical darling since she made her New York stage debut, in 1996, in Leslie Ayvazian's "Nine Armenians." Role after challenging role followed for the New Jersey-born actress, including Craig Lucas's "The Dying Gaul" and a Tony-nominated turn in Yasmina Reza's "Life x 3." But it was her hour-long monologue in Tony Kushner's "Homebody/Kabul" in 2003, where she played a London housewife tragically obsessed with Afghanistan, which garnered everybody's attention, including that of Mike Nichols. When the director started making a list of actors for his new Broadway revival of "Death of a Salesman," there was only one he would consider for Linda, the patient, overwhelmed wife in Arthur Miller's domestic tragedy.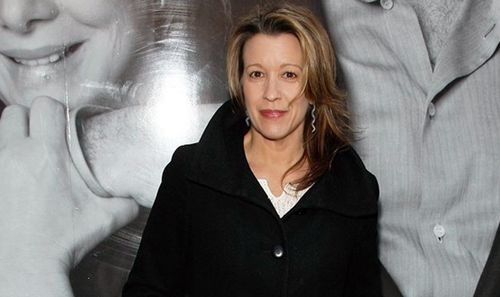 Emond: "I just had a blackout! That's probably a protective measure because I'm still working on Linda and continue to do so." / Photo by Jemal Countess/Getty Images
"I knew that if I ever did a production of 'Death of a Salesman,' it would have to be Linda -- there is no greater actress," says Nichols, who has worked with more than a few, including Meryl Streep. When Emond got the call from Nichols, she was in the midst of preparing for her role as the dutiful, if torn, lesbian daughter of a bitter Brooklyn Socialist in Kushner's "The Intelligent Homosexual's Guide to Capitalism and Socialism With a Key to the Scriptures." At 55, Emond says that it has been both "exhilarating and frightening" to try to scale "Death," which seems to grow "deeper, wider and more demanding" as the cast -- which includes Philip Seymour Hoffman, as Willy, and Andrew Garfield as Biff -- dive into it. "It's big and Greek," says Emond, "even if you are saying lines while standing in a little kitchen."
Has Nichols been intimidating to work with?
I've always been in awe of the man's career and the breadth of work that he's done. One of my favorite routines has always been the Elaine May-Mike Nichols sketch where they're at the Emmys and she presents a mock award for mediocrity. I'm paraphrasing, but when she announces Mike's name, you can never forget the over-the-moon expression on his face as he runs down the aisle. Couple that with "Who's Afraid of Virginia Woolf?" and "The Graduate" and talk about daunting! But, on a personal level, I've known Mike through Tony [Kushner] for years and all that fades in the background. He's just this lovely, supportive, and generous man.
I heard the first weeks of rehearsal were tough.
Rehearsals were never tough. It was an incredibly open environment. Mike does not comparmentalize his honesty. He's candid about everything -- his personal life, his deep and larger feelings about the world -- and therefore, indeed, he was very honest about his insecurities. But not in a debilitating way. You have to walk in with no ego, so that you can be as honest and open and human as you can. Mike's insecurity is sort of charming. "That was an awful note I gave you, just awful," [he would say], and many times it wasn't awful at all. Facing a play like this, it's not pleasant where you have to go, but it's deeply rewarding, and Mike helps you get there.
What's the hardest part of preparing for a role like this?
You have to be prepared to fail. You have to make mistake after mistake after mistake and that can be embarrassing. But that's how you grow. He wanted us to fail. To not be afraid of failing. To get past that.
What can you draw from your own life in creating Linda?
I just had a blackout! That's probably a protective measure because I'm still working on her and continue to do so. I will say that I've been very moved by how misguided these people can be, how damaged and lost and yet heroic at times. How beautiful they are in simply being human. I don't think you can look at this family and say, "That's them, not me." It's a great reminder that we're all fallible human beings with our weakness, delusions and foibles.
The play was written in 1949, and Willy treats Linda dismissively, if not cruelly, at times. You can feel the audience flinch when he tells her to "shut up." Is it difficult to play these scenes now?
Linda's a woman of her own time, no question about that. Her dreams were only his dreams. But I take it in the moment. One person's dismissive is another person's "I don't really care." Linda recognizes Willy's sudden desire to be involved again and to be really engaged with his sons's lives so she immediately forgives him. It's understandable that she would acquiesce because she is as excited as he is, and hopes that this will make him not grab the rubber pipe that is down in the basement and do something terrible [to himself]. Elia Kazan [the original director of "Death of a Salesman"] once said, "She's terrifyingly tough." She'd have to be to be with Willy. That doesn't mean that certain people don't accept certain things in the name of love. This is a couple that truly loves each other.
Was there a line or scene in the play that provided a "eureka" moment?
Have you read Miller's stage directions at the beginning? "Linda, his wife, has stirred in her bed ... Most often jovial ... " Jovial? Really? " ... she has developed an iron repression of her exceptions to Willy's behavior -- she more than loves him, she admires him ... " I just followed the guy. In there, I don't see a lot of feelings of abuse.
Has being in the play made you more forgiving of yourself?
I'm harder on myself than anybody else, that's for sure, but I'm a fairly forgiving person. I think I'm more affected when Willy admits to feeling "temporary." We are temporary. It's the core of our existence. That spurs me to make better and better choices in my life and that's something that this play has affirmed ... My dresser likes to say, "Spoiler alert. Its called 'Death of a Salesman.' And when Willy gives away his money and says, "Take all of it. I don't need it anymore," you can hear people gasp in the audience almost every night. "Oh, no!" That just shows their desire for Willy to live and live and live. And somehow make it through.
Read more theater coverage on Play by Play

This article has been updated (March 14, 2012).
-Patrick Pacheco, ARTINFO
More of Today's News from Blouin ARTINFO:
Discovering Elaine Reichek's Sharp Conceptual Embroidery at the Whitney Biennial and Nicole Klagsbrun
Radiant Babies and Subway Drawings: See Keith Haring's Early Artwork From the Brooklyn Museum Retrospective
When Muslims Rescued Jews: "Free Men" Tells an Unknown Story of the French Resistance
Art For Tots: Misaki Kawai Dreams Up a Sculptural Wonderground For the Children's Museum of the Arts in SoHo
In Search of the "High Line Effect": Grading 5 Attempts to Replicate the Magic of NYC's Postindustrial Park
Like what you see? Sign up for Blouin ARTINFO's daily newsletter to get the latest on the market, emerging artists, auctions, galleries, museums, and more.