Chances are, no one is going to sell you George Washington's bones, but if you are intent on owning a bit of the first U.S. president, locks of his hair -- and that of other historic figures -- are turning up at auction and going for hair-raising prices.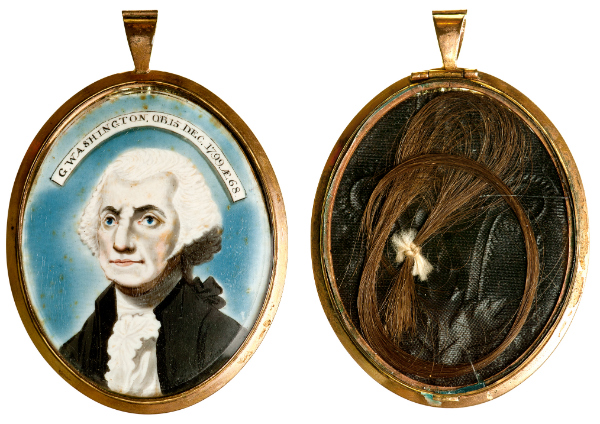 As the New York Times reports reports, recent sales of hairy treasures include a bit from the scalp of Abraham Lincoln (sold for $38,837), mustache hair plucked from the death mask of bank robber John Dillinger ($5,400), a small cut from British naval hero Horatio Nelson ($12,000), and a braid from the tresses of Robert E. Lee ($12,500), gaining a bit more than a lock from his rival, Ulysses S. Grant ($5,975).
If you want to get in on the follicle frenzy, next week some of Edgar Allan Poe's hair, "obtained by leaning into the writer's coffin," is going to auction in a box of Poe objects (expected to go for at least $30,000) at a Profiles in History auction in California. In fact, many of the locks from famous people were removed after they were deceased by some enterprising opportunists, like the George Washington hair that sold this June, which was extracted by a stonemason during the reinterring of the dead president's body in 1837 at Mount Vernon (to put that in grotesque perspective, Washington died in 1731).
Louis Mushro, whose hair wares are available on eBay (and include quite an impressive variety, with Marilyn Monroe, Mother Theresa, George III, Al Capone, Geronimo, and a multitude of others now in the listings), is cited one of the main sellers. The article also includes collector John Reznikoff, who "has acquired about 140 locks from figures as varied as Beethoven, Napoleon and Eva Braun," including those from Lincoln and John Wilkes Booth, "both harvested at the gory death scenes." Alas, most of Reznikoff's stock is off the market, although he told the Times: "When they go for a significant price [...] it just validates what I've been doing all these years."
Sure, it's all a bit ghoulish, but you can't get much closer to history than running your fingers through its hair. And while hair isn't a terribly common keepsake now, the Victorians were quite into using it in their elaborate mourning jewelry as a tangible memory of the deceased. While we have photography, video, and even 3D printing on the horizon to capture the lasting image of your loved one, there's still something very visceral about being able to touch the hair of someone long gone.
-Allison Meier, BLOUIN ARTINFO
More of Today's News from BLOUIN ARTINFO:
Locks of Historic Hair, From Lincoln to Monroe, Fetching Record Prices at Auction
Kutlug Ataman's "Mesopotamian Dramaturgies" Rework History at Sperone Westwater
"The Unknown Hipster Diaries" Are Published in Earnest Hardcover Form
YEAR IN REVIEW: The 10 Juiciest Items From Our Indefatigable IN THE AIR Blog
SHOWS THAT MATTER: The Legacy of Invention in Chagall's Jewish School of Paris
Gert & Uwe Tobias Build a Folkloric Installation for a Secluded Florida Resort
Like what you see? Sign up for BLOUIN ARTINFO's daily newsletter to get the latest on the market, emerging artists, auctions, galleries, museums, and more.