On July 27, 2012, the Summer Olympics will open in London -- and every single person in the U.K. is going to know it. British conceptual artist Martin Creed's "Work No. 1197: All the bells in a country rung as quickly and loudly as possible for three minutes" will kick off the sporting event with noise everywhere.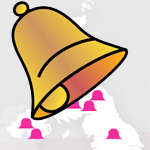 Iillustration by Artinfo
The work is pretty much what it sounds like -- Creed will orchestrate an epic ringing of every possible bell in England, from church bells to school bells to bicycle bells for three minutes straight. "'It's by people and for people. On the morning of the opening of the Games it's a massive signal that something is happening," Creed said in a press release.
The London Olympics has also launched All the Bells, a Web site that is probably the first ever social network meant only for bell-ringers. Professional bell-ringers can sign up to help out in a bell tower, while amateurs can sign up to join ringing groups organized in an interactive map. This is a U.K.-only event, but maybe some guerrilla ringers will pop up here in the U.S., too.