Arguably the world's most important furniture trade show, Salone Internazionale del Mobile (or, the International Furniture Fair of Milan), opens its 51st installment on April 17, presenting the newest creations from over 2,500 designers -- including design stars like Marcel Wanders and Philippe Starck; powerhouse manufacturers like Kartell and Bisazza; and emerging talents like Postfossil and Studio Juju. The mammoth fair is open to the public on April 21, and for those outside the trade, the entire five days will be chock-full of interactive events and installations, beyond all the beautiful objects to ogle.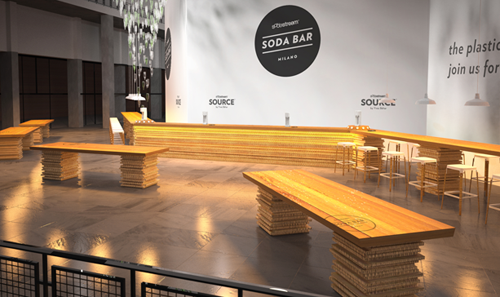 Yves Behar's Soda Bar at MOST / Courtesy MOST

MOST WITH TOM DIXON

British design and manufacturing company Tom Dixon is setting up "MOST," a sprawling exhibition that encourages visitors to peruse various high-tech and high-concept designs at the National Museum of Science and Technology Milan. Aside from the Warhol Factory-style mise-en-scene, a major draw will be the multisensory installation of Dror Benshetrit's new collection for Tumi. It's a luggage exhibition like you've never seen: an action-packed film and photo installation by Jules Wright chronicling a secret agent's transcontinental trek, trusted luggage in hand. SodaStream, in collaboration with gadget wonk Yves Behar, is hosting the Soda Bar, a very special, sustainable, bottle-free refreshment stand showcasing Behar's new home soda system and chandelier installation. Other exhibitors include Areaware (which plans to present the world's largest Cubebot), David Weeks Studio, and Objekten.
Museo Nazionale della Scienza e della Tecnologia, Via San Vittore 21; April 17-22; most.tomdixon.net
HACKED

Promising visitors "100 Hours of Rebellious Imagination," British curator Beatrice Galilee is taking over an entire floor of the historic department store La Rinascente for "Hacked," five days of avant-garde, experiential presentations with a penchant towards the anarchic. Options include exchanging lunar rocks and space dust at the "Moon Colony Trading Post" on Tuesday, the 17th; constructing a Lumiphone of your own (that is, a hybrid light and music device) at "Make Your Own Instrument" on Wednesday, the 18th; and witnessing the contest of man versus machine as Dominic Wilcox competes with a 3-D printer to construct replicas of the nearby Duomo on Thursday, the 19th.
La Rinascente, Piazza del Duomo 3; April 16-21; hackedmilan.it
THE SECRET GARDEN

Celebrated glassblowers Barovier&Toso and marble maters Citco have enlisted the help of Paola Navone and Zaha Hadid Architects to transform Milan's largely unknown Botanical Garden into a whimsical installation. Navone will be installing Barovier&Toso's Murano glass chandeliers in simulated "nests" interwoven with hazelnut trees. The interior of Hadid's pavilion is a jigsaw of marble fragments fit together to form patterns on the walls.
Orto Botanica di Brera, Via Fiori Oscuri, 4; April 17-22; barovier.com/en

HANDMADE BY MCQUEEN, HANDPICKED BY WALLPAPER*

Alexander McQueen, the fashion designer whose legacy extends far beyond his untimely death, is the focus of this special installation by Wallpaper*. The design magazine celebrates McQueen's handmade craftsmanship with examples of laser-cutting and hand-stitched pleating from his eponymous brand's spring/summer 2012 collection, which was directed by his successor, Sarah Burton, at the label's Milan flagship store.
Alexander McQueen, Via Verri 8; 17 - 22 April; wallpaper.com
PERSPECTIVES

A show by Belgium is Design, "Perspectives" surveys the quirky landscape that is Belgian innovation. Twenty-five designers, including the well-established and emerging, present their prototypes, products, and other projects that address social issues like economic stability, sustainability, environmental impact, and aging populations. Don't miss Alain Gilles' Nomad Portable Solar Lamp (2012), a stylish LED lantern powered by the sun, and Linde Herman's Size 27, an innovative pair of assemble-at-home moccasins.
Triennale di Milan, Viale Emilio Alemagna, 6; 17-22 April; belgiumisdesign.be
WITH MOVEMENT
A creative label based in the Netherlands with offices in the UK, Laikingland is putting together a program of kinetic design as only the Dutch can do it. The lineup of superstars, including Maarten Baas and Tord Boontje, is sure to be a very dynamic presenentation.
Ventura Lambrate, Via Venture 2a; 17-22 April; laikingland.blogspot.co.uk
BE OPEN

Listen to the likes of Julian Schnabel, Sass Brown, and Ilse Crawford discuss the potential for design to transform our social and economic climate.
Università Degli Studi di Milano; 17-28 April; www.beopenfuture.com
To preview a few of the highlights from these years International Furniture Fair, click the slide show.
-Janelle Zara, ARTINFO
More of Today's News from Blouin ARTINFO:
Drama in White: Comme des Garcons's Spring/Summer 2012 Collection is the Subject of a Paris Exhibition
Can Katie Holmes Match Carey Mulligan in a Modern Movie Adaptation of "The Seagull?"
College Librarian Discovers Lost Biblical Engraving by Paul Revere Hidden in 18th-Century Textbook
27 Questions for Artist and Critic Mira Schor
"Remote Control": London's ICA Dissects the Conflicted Love Affair Between Artists and Television
Like what you see? Sign up for Blouin ARTINFO's daily newsletter to get the latest on the market, emerging artists, auctions, galleries, museums, and more.