The Milwaukee Art Museum and Milwaukee County War Memorial, a Midwestern complex by two master architects of their respective times -- Santiago Calatrava and Eero Saarinen -- is planning a long-overdue $15 million overhaul that includes a glass extension that would serve as a new entrance.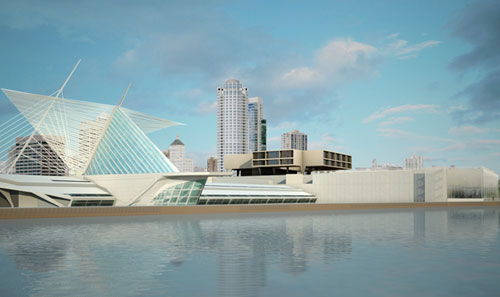 Rendering of Milwaukee Art Museum's proposed improvement / Courtesy Milwaukee Art Museum
The museum's proposal addresses some basic needs that would vastly improve the institution and its visitors' experience. While Calatrava's 2001 wing of the museum will remain untouched, the rest of the interior, which comprises David Kahler's 1972 extension and Saarinen's original 1957 War Memorial building -- a cantilevered cruciform structure that housed the museum in its basement when it was still called the Milwaukee Art Center -- will have walls knocked down, floors refinished, and galleries completely redesigned. The two older sections have been criticized for their convoluted, maze-like hallways, and the marathon visitors must endure just to get from the north parking lot to the permanent collection gallery. A glossy new 8,000-square-foot, $5 million (a paltry sum compared to what Calatrava might have charged) atrium clad in glass with a ceramic screen would extend the Kahler building by 200 feet, as well as provide an extra vantage point to gaze at both Lake Michigan and the Calatrava wing -- and a more direct entrance for visitors. The new extension, designed by Jim Shields of Milwaukee's HGA Architects and Engineers, would include a new café, specially commissioned artworks, and a ticket desk.
There are also plans for creating an urban park and perform a comprehensive restoration of the visibly crumbling, leaking Kahler and Saarinen buildings, but the trickier part of the overhaul is rethinking ownership of the spaces. While Calatrava's wing is completely owned and operated by the Milwaukee Art Museum, Kahler's and Saarinen's are owned by Milwaukee County and operated by the War Memorial Corp., a non-profit organization that also oversees the Charles Allis Art Museum and the Villa Terrace Decorative Arts Museum. The museum is pursuing a direct lease with the county and removing its current landlord so that it would have full control over the buildings, including their temperature and humidity rates. (The current lack of climate control puts the museum's accreditation with the American Association of Museums at risk, making it difficult to obtain artwork from peer institutions for temporary shows.)
The museum made its case to the County Board's Parks, Energy, and Environment Committee today, which left the issue to veterans and art groups to hash out before returning to the board in about a month. The War Memorial Corp. is reticent to relinquish control of the building for fear its programming would lose its focus on veteran's affairs. But at least one board member sees the logic in handing control to the museum. "We have veterans running an art museum," Supervisor Gerry Broderick, who chairs the parks committee, told the Milwaukee Journal Sentinel. "On its face, there's an absurdity about it."
The museum hopes to begin construction in fall 2013 and finish within one year, which would require spaces in the Saarinen and Kahler sections to close for months at a time, but museum director Daniel Keegan has stated that the institution will make an effort to remain accessible for veteran holidays.
-Janelle Zara, BLOUIN ARTINFO
More of Today's News from BLOUIN ARTINFO:
Join the Crew of Tom Sachs's DIY Mission to Mars at Park Avenue Armory
Don't Expect Aaron Sorkin's Steve Jobs Biopic to Present a Shiny Apple
David Chipperfield Reveals the Theme for His 2012 Venice Architecture Biennale
Bergdorf Goodman to Celebrate its 111th Year With a Special Collection, Documentary, and New Boutiques
Like what you see? Sign up for BLOUIN ARTINFO's daily newsletter to get the latest on the market, emerging artists, auctions, galleries, museums, and more.