What would happen if fine art turned into nail art? As the nail art trend takes over fingertips around the globe - appearing on everyone from Tilda Swinton to Jemima Kirke, and invading galleries and art fairs -- ARTINFO combed the Internet to find examples of the best art-inspired manicures. We saw Salvador Dalí's "The Persistence of Time" stretched out over five fingers, Frida Kahlo's 1940 self-portrait, Kaws's cartoonish characters standing out against bold backgrounds, and more.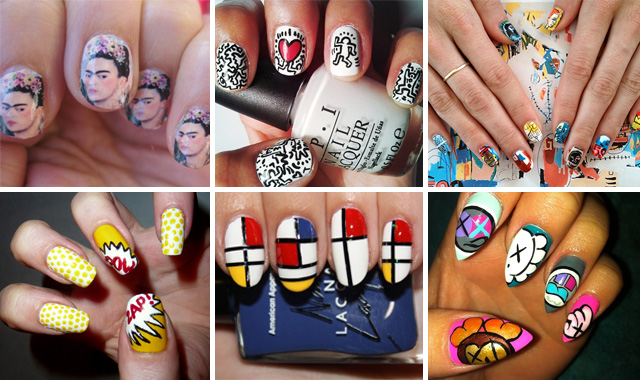 Nail art inspired by Frida Kahlo, Keith Haring, Jean-Michel Basquiat, Roy Lichtenstein, Piet Mondrian, and KAWS
/ Illustration by ARTINFO

Click on the slide show to see 17 works of art-inspired nail art.
- Ann Binlot, BLOUIN ARTINFO
Collector Peter Cohen Makes the Case for Amateur Photography's Place in Art History
Jean Nouvel Reportedly Beats Out Hadid and Gehry for China's New Art Museum
Preview the Venice Architecture Biennale's U.S. Pavilion, An Exercise in Democratic Design
Shakespeare in the Prison: The Mobile Shakespeare Unit Takes "Richard III" on the Road
BBC Capitalizes on Hitchcock Fever to Greenlight a New "Lady Vanishes"
Like what you see? Sign up for BLOUIN ARTINFO's daily newsletter to get the latest on the market, emerging artists, auctions, galleries, museums, and more.